***Please click on the little Update button to see the latest news! We are trying to fill a donkey cart with vegetables, to help one of the sons of this family start a business!
But here is the background story:
The father of this family has a debilitating disease, and his family is caught in Gaza, "the world's largest outdoor prison." Extreme unemployment, contaminated water and unending restrictions lead to poor health, frustration and despair. They need money for all the necessities—food, fuel, medications, school supplies-- but also to build a greenhouse to grow their own food. Above all, they need the gift of hope.
 Family to Family:Helping One Gazan Family Survive the Occupation
Since starting the campaign in February, 2016, 157 people from 3 countries have come forward in our people-to-people campaign to help a struggling family in Gaza. Together we have raised ongoing contributions to their daily expenses in an impossible situation. 
BACKGROUND ON THE CAMPAIGN
 In 1989, Heather Spears, a Canadian artist and writer, now living in Copenhagen, Denmark, went to The Middle East to draw the children of the first Palestinian Intifada.
 In 1990 she returned to Israel/Palestine to draw images of Israeli soldiers. But after witnessing the Temple Mount massacre where soldiers opened fire on Palestinian Muslims worshipping at the Al Aqsa mosque, her focus changed. Instead she used art to document the wounded, and the Palestinian paramedics who risked their lives to save the injured and transport the dead. One of the paramedic students she drew and interviewed was a young man named Said*. He appears below on the right, attending a wounded patient.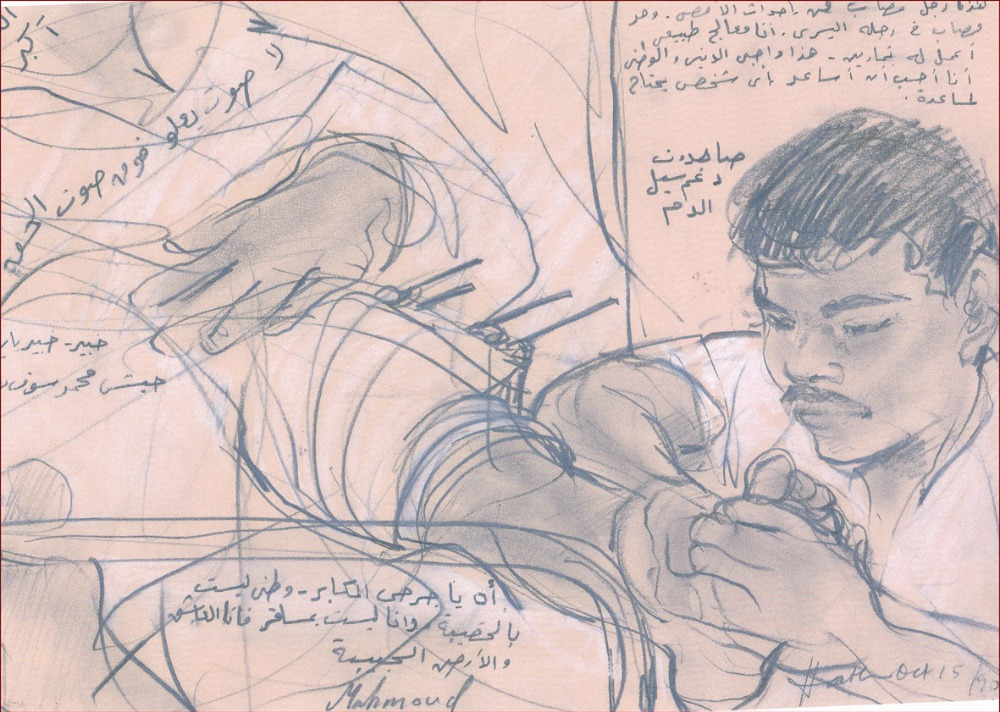 Now, 25 years later, this chance meeting has grown into a family to family relationship that goes beyond borders and has touched the lives of hundreds of ordinary people living far from the conflict.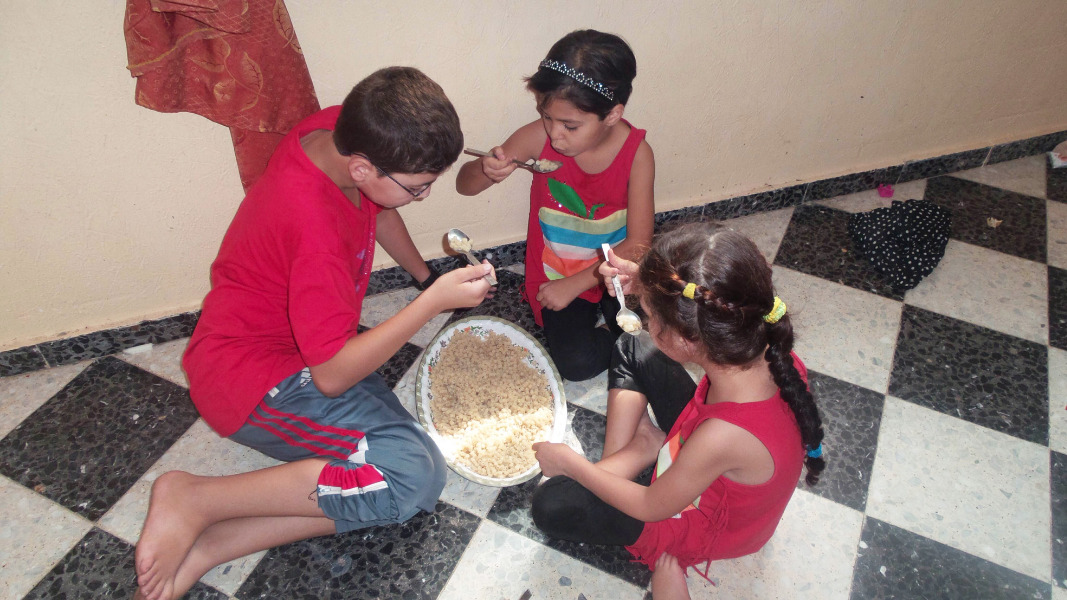 "Will they [the rockets] stop if I give them my toys? Will they stop if I give them a Shekel?"
The Family Said*
  Said is a strong father, caring as well as he can for his own and his extended family.  When we began this campaign, he suffered from a painful parasitic bowel disease requiring on-going medical treatment and medication. The parasites have been taken care of, but his health remains increasingly shaky. Recently he was diagnosed with both hypertension and diabetes. His illness means he can seldom work and also there has been no work for a long time. He canno support his family without help. Despite this, during the bombardments he was out to assist the wounded whenever he could. He is often in despair. 
Noor*
Noor is the wife and mother who holds everything together behind the scenes. We see photos of her surrounded by her family, serving food or, as here,
coordinating the opening of a package from us. The stress of living in the occupation and worry for her family has had an impact on her health but she mostly stays strong.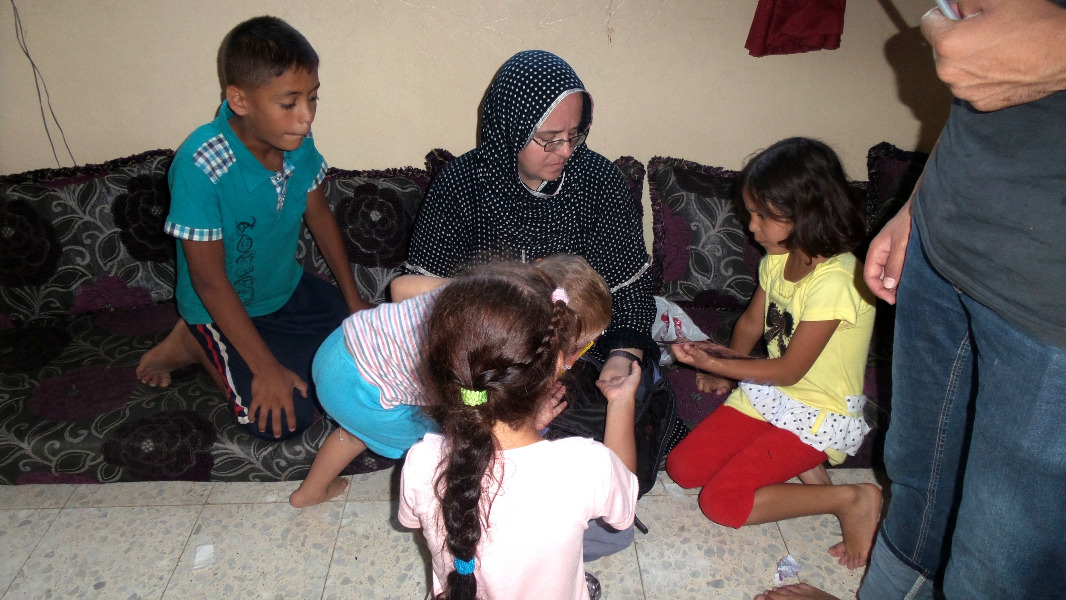 Said and his wife Noor have eight children now, four girls ages 25 (married now with a son who was born in October, 2016), 10 and 9, and four boys ages 23, 22, 17, 5. They are adamant about the children's continued education, and keeping them protected from the conflict. Said will not allow the boys to join in any of the almost daily confrontations which too often result in arrests of children as young as 9. One son has been suicidal, and their ten-year-old daughter has severe PTSD with seizures and hallucinations. She is currently in treatment provided by the Gaza Community Health Program, an NGO. Another daughter has malformed legs from malnutrition and there are days when the children go to school with no food.
 (*We have changed the names of the family members to protect their identities out of fear of possible retribution.)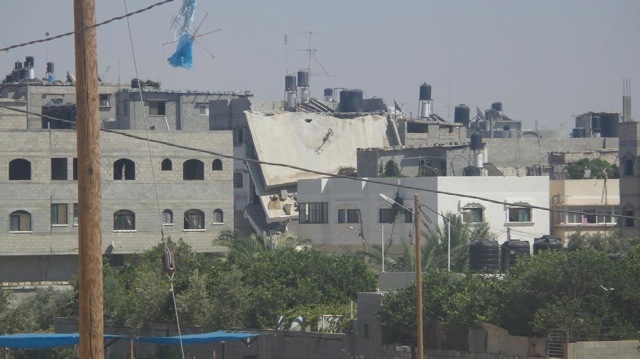 The smashed house in this photo above was Said's sister's house. Homeless, they had to crowd into Said's house - making a total of 27 living there at that point. There are no materials to rebuild the house, and so the sister and her family move about at present, staying with Said and Noor from time to time. 
Gaza in Ruins
. The local power plant was bombed in June, 2006, and again in July of 2014. Since that time, power has been intermittent.  Their water utility is crippled by the power outages, so that sewage flows openly into the sea. Gaza's only freshwater aquifer is severely contaminated; warnings are issued regularly from the UN that the water in Gaza has reached crisis.
 Almost no construction equipment or materials are allowed into Gaza, and so houses and hospitals that have been destroyed cannot be rebuilt. Food is extremely expensive. Unemployment is the world's highest at 43 %, with no jobs available for the two older boys, who nevertheless search all the time. When the electricity is cut off, the family huddles together under blankets. Most days they make a fire outside in order to cook.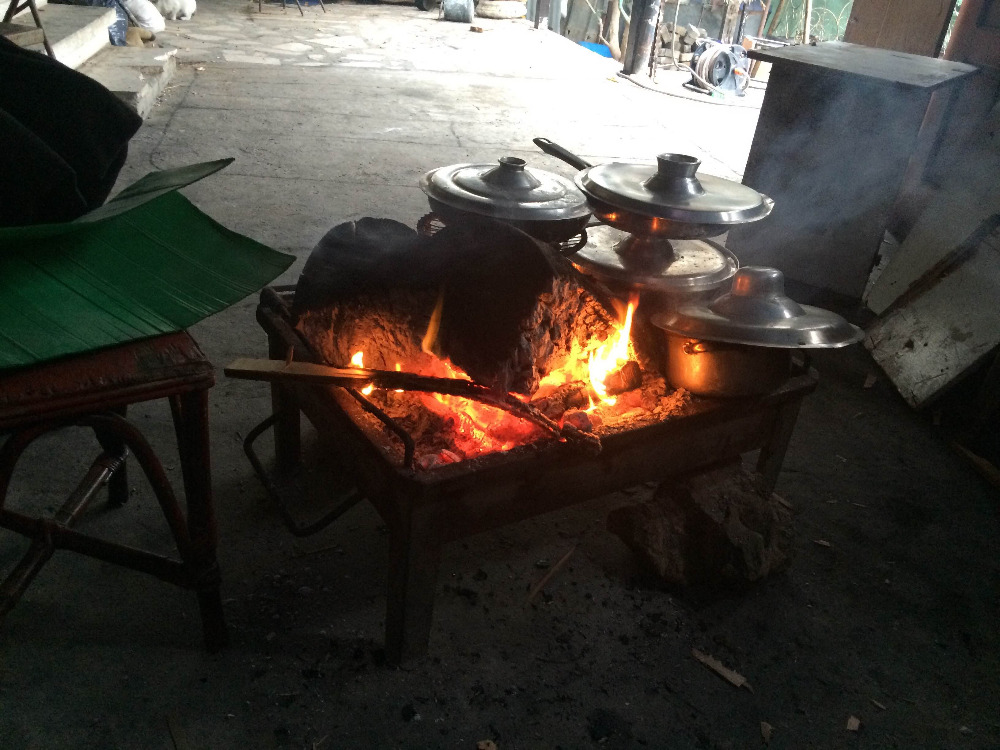 What is Our Goal?
  Said and his family live in Gaza, considered by many to be "the world's largest outdoor prison." Unemployment, contaminated water and unending restrictions on travel and other essential services and materials lead to shortages of food, poor health, frustration and despair. To help them survive, we send money when we can, to provide them with essentials—food, fuel, and medications, eye glasses, clothing and school supplies. But another goal is to help them acquire the materials needed to build a greenhouse to grow their own food and for sale locally. (This project did happen and is ongoing, although it is  garden rather than a greeenhouse. Recently new photos came showing a new planting going in.) A friend of theirs has entered upon a similar venture, and we are excited that this may be the beginning of something more permanent as a source of income. We are also looking into a project to put solar panels on the roof of their house.
 But above all else, they need the gift of hope. 
What Have We Accomplished?
We send donations by MoneyGram every month through a dedicated account at a credit union in Peterborough, Ontario. We know our support is reaching them and helping because they send photographs of their growing children, photos of the children wearing clothes we have sent, and scans of receipts and other documents. Most of this is to let us know about their lives, but it is also to document that they are indeed doing what they say they are doing with our money.
We Need Your Help.
The Palestinian people endure unthinkable suffering. Said's family is no exception. They need our help, and just as important, they need to know that they are not alone. Join us in supporting our campaign by making a contribution; in doing so you will be helping to alleviate their suffering while at the same time demonstrating the hope for peace. Will you help?
 Who We Are.
Heather Spears, Copenhagen Denmark,
Margaret Slavin, Peterborough ON Canada
Hallie and Bill Appel, Seattle, WA
Michael Johnson, Orcas Island, WA
Sandy Strehlou, San Juan Island, WA
Carol Dixon, Ottawa, Ontario, Canada
Lorna and John Devan, Peterborough ON Canada