Once in a great while people have an opportunity to make a tremendous impact in the lives of other people.  All it takes is a commitment at the right time and place for a lasting difference to be made.  Not only for the people that are being helped, but in the generations that follow.  This is the story of a family who has made that commitment and are approaching the final stages of a long and arduous labor of love.  The Surita Family has stepped out in unreserved faith and been rewarded for their patience with the  blessing of five children from Sierra Leone to raise and love.  While many stories of this type paint a picture of familial bliss and effortless adoption the reality is somewhat different. For a while many obstacles had to be overcome and emotional highs and lows endured to arrive at this crucial point in the process.  
     Joe and Shelly Surita, along with their two daughters, Taylor and Gabri, began this journey six years ago when they began sponsoring a child in Sierra Leone. Joe and Taylor travelled to Sierra Leone for mission work and to meet the their sponsored child and the other kids at the orphanage. While there, they met a young girl who had recently arrived at the orphanage, named Isata. Immediately she won Joe's heart. Joe knew that he needed to start sponsoring Isata and potentially become her "forever family". During that same trip, Taylor and Joe had made strong connections with two boys during their trip and while returning found out they were actually related and had two more brothers. The boys names are Musa (14), Bundu (13), Alhaji (12), and Mohamed (9) . Upon returning to the United States, the family sat down, talked, and prayed about becoming "forever families" for all five kids and eventually adopt them.
     During the process of becoming "forever families" for the kids, they were told that the brothers had a "forever family" that was slated for them but something had happened so that the family would not be able to adopt. The orphanage asked if The Surita's were still interested in becoming their "forever family" and of course, they agreed. Joe and Shel knew from the beginning that the Lord put these children in their hearts and lives to bring home. Even after becoming a "forever family" for all five kids, there was still an obstacle in the way for the adoption to occur,  an adoption ban. After months of prayer and waiting, the Lord began moving and the country lifted the ban allowing adoptions to move forward again. This began the difficult road to adoption.  
     Part of the adoption process in Sierra Leone involves finding surviving relatives of orphans, seeking permission for them to be removed from the country, and be raised by another family. This is a time consuming endeavor, because at times there are no surviving family. Even if a family member can be found, they may be unable to travel to the city to be interviewed and complete required paperwork. An additional complication sometimes arises when surviving family does not agree with the adoption; either for religious or cultural reasons.  Such was the case with the five children.  During the several years, the family would go visit the children yearly and Skype with them on Saturday's and Wednesday's.  Taylor even served at the orphanage for four months to spend more time with them and all of the family took turns going on the visits so the kids could get to know their new family.  Another additional delay was caused by an Ebola outbreak in the region that resulted in a two year quarantine. Once again all the family could do was wait and pray.  After six long years, a court date was set to hear the families of the orphans responses to the potential adoption of the children. Joe and Gabri travelled there to represent the family.  At the end of a nail biting week they have finally had a formalized adoption granted by the courts of all five children!
     Now begins the  process of getting visas, passports, making travel arrangements, medical examinations, required additional fees, and integrating the children into their new home.  The addition of five new family members and providing all of the things they will need in their new home is a daunting task when all five children will arrive at once.  The children have lived in the orphanage an average of 6-8 years and have few belongings of their own. When they leave, everything they will need when they arrive will have to be provided by their new parents from clothes, furniture and everything in between.  Many children that have previously been adopted from this orphanage have benefited from an increase in nutrition when living in the U.S.  and so in the first few months they may experience significant weight gain and growth as their bodies catch up to their natural healthy weight.  This means clothes are outgrown quickly for the first few months in their new surroundings. These basic needs follow the potentially expensive transportation costs of flying five children who have never flown before and their new family from the U.S. to Sierra Leone and back.  Because of all these practical needs that this family has assumed the responsibility for and will endure, we are asking for anyone who feels led to join us in committing to prayer and/or providing blessings to the family to help show our love and support during this joyous time.  We are asking for prayers for safe and Spiritually covered travels for the family, for a smooth and uneventful process of getting visas, passports, and medical exams approved, for health of each of the children and parents during this time,  for the Lord to go before the family by providing Mercy and Grace as they begin to blend their, that the Lord would provide the family with a strong community to love and support them, and most importantly we ask that you join us in giving  praises and thankfulness to Jesus, who has had His ever faithful hands on this entire endeavor from the very beginning and will until the very day that the children are able to come home.  Any financial gifts will be used to offset the costs of additional adoption expenses, airfare, provide initial clothing, home furnishing, and generally assist with getting the children established in their new home.  This family did not undertake this adoption without adequate financial means to see it through and God will provide for the calling He has placed in their hearts.  But wouldn't it be wonderful to be a part of such a great story by helping to be a blessing to them?  When parents bring home a new baby it is traditional for friends and families to shower the family with love, blessings, and gifts that will help with the additional of a new family member.  How many parents come home with five "babies" at once?  While The Surita's would never ask for help like this, we feel that helping gives us the opportunity to be a part of God's plan for this newly formed family and to be a small part of that tremendous impact that comes along once in a great while.  We ask you to join us in this commitment and make a lasting difference, not just in these children, but potentially all of the generations that come after.  We are forever grateful to you for taking the time to read this and for praying over this family's needs. We know that The Surita's will also not forget the help that so many gave to be a part of this amazing beginning in their new lives together.
In Name of Jesus, 
Terry and Mynda Miser 
** please feel free to contact us with questions or concerns. 
Some Photos!!
2013-2018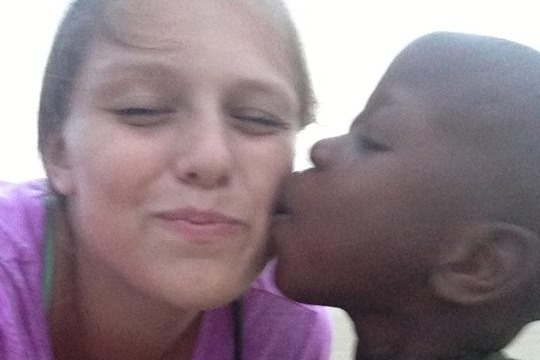 Organizer and beneficiary
Mynda Miser 
Organizer
Collinsville, OK