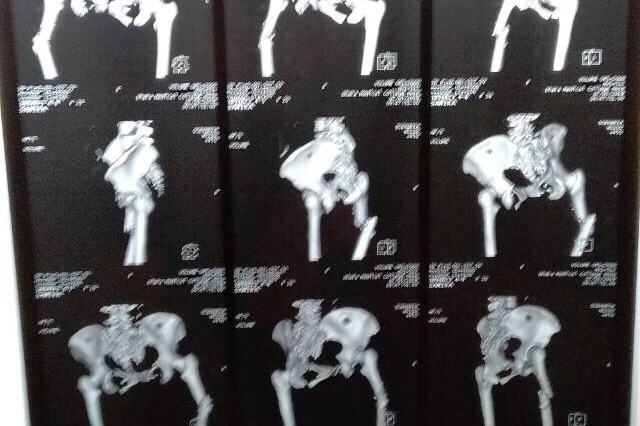 Dear World,
I am Syedur. My friend Kazi and I have started this campaign for Samira, my cousin. I am about to share the most tragic story that I am encouring up close and this is Samira's story.
Everyone loves to go on vacation with family and like everyone else 19 year old Samira Ahmed, who just finished her high school, decided to visit the world largest beach Cox Bazaar on 17th June,2018 during the Eid Holidays. Cox Bazaar is 396km away from the capital city Dhaka and a total of 11 members started their journey on a microbus.
On the way their vehicle got involved in a severe tragic hit and run accident. A local bus hit the microbus  from behind at a speed of about 120 Km/h which made the vehicle spin 360 twice after impact and then it flipped 3 times on the side of the road. Samira's father , Shamim Ahmed died instantly. Also one of her cousin , Jannat passed away 3 days after the crash. The right back side of the vehicle where Samira was sitting broke apart and she was sent spinning on the road shortly after impact.
 The most amazing part is she survived the crash and was conscience throughout. However it took a huge toll on her bones. Her left collar bone(1) of the ribs was broken along with her right femur(2) was broken(right left), several bones in the pelvis(3) were shattered and and last not least is all her lower bones of her spinal cord(4) was disorganized as it shifted to 20 degrees.   
Not only did she have several wounds but her lower body was damaged severely. The only silver lining was that luckily the bones shards did not hit her internal vital organs which is the kidneys but it did cause few complication. Her condition was so severe that she was rejected from 5 hospitals for treatment as she had a 5% chance of survival. Finally she was admitted to Dhaka Medical College which is a government hospital and as per rules they cannot deny treatment to any citizens of Bangladesh.
The doctors had no clue what to do with her considering the severity of the wounds. Most doctors were perplexed when they found her conscience in this condition. All doctor had the same advice that she may fail anytime so we need to keep her mentally strong at all times which initially made all her relatives to hide the news of her father's death from her. Also we had to hide the fact that her mother was admitted to a different hospital whose condition was also severe as her collar bone of the ribs shifted 2 inches downward and her neck bone curved at a dangerous angle.
While her other relative was fighting for her mother in another hospital, Samira's uncle Alauddin Ahmed started the battle for Samira's survival for life. Initial surgery was very vital for her. There were many complications which not only included financial issues but also she needed blood constantly since her body was undergoing the healing process to connect her severed bones. Also the family was short on manpower as from the total 11 there were 2 casualties and the rest 9 were all injured from the crash.
After a series of blood test, ECG , a dozen of X-Rays and ultrasonography doctors performed her first surgery on 24th June, 2018 where they cut a stoma in her stomach to install colostomy bag so that she can start eating and excrete like a normal person. Since her accident from 18th June Samira was not allowed to eat anything which is not even a drop of water. On a scale of 1 to 10 I would give her a solid 9.9 of the pain she experienced with her broken bones and I can never explain in words the screams she made when we moved her a little. Whenever she was moved for medical test all the bones in her body rearranged which caused her immense pain followed by high fever.      
The surgery was a success and her life was out of danger. She was allowed only small sips of water on 27th June which is almost 10 days after the accident. Later on 29th June with few restriction she was allowed to eat again.
 While she was gaining her health back the doctors were planning on the next course of action. Also her uncle Allauddin Ahmed was struggling to secure funds for her medical expenses and Samira needed 11 injections a day apart from bearing the hospital regular charges. Mr. Allaudiin Ahmed is a 62 year old man who made his mission to save her niece's life despite he did not have much as he is already retired person.
In the midst of this chaos her Uncle was able to secure funds to continue her treatment as by now the family understand that she needs long time treatment but there always a shortage when it came down to Samira's treatment. After Samira felt a little bit better the doctor announced her next surgery on 8th July where the doctors installed a metal nail through her right femur.  
Almost after 20 days after the 2nd surgery the doctor in DMC had nothing more to offer for her as they never had a case like this. The doctors asked her to leave the hospital as they already knew how the family was struggling to secure funds and no doctors could not assure her whether she can walk back again.
The family was running low on funds but as her news spread all her relatives started seeking good Doctor who can fix her spine and pelvis. Finally we were lucky to find a Professor who was ready to take her case and he is our country's best we had for now as he had prior experience of dealing with 3 similar cases such as these. Only issue was the family was already in debt and did not have the financial resources to support her future medical expense.
That where Samira's family needs all your help. Throughout the article I could not share any of her photos because of privacy concerns from the family but this family needs all the support they can get.
With a leap of faith Samira has been moved to the new hospital on 3rd September to Bangladesh Spine and Orthopedics hospital under Professor Shah Alam who is taking care of her future treatment. The doctor assured that she can walk again after her next major surgery which includes the pelvis and lower spine.
Please keep her in your prayers and we would be very grateful if you come forward to help. She is a 19 year old girl and she has a long life ahead of her. She has been lying in hospital bed from 18th June till now. Please help save Samira back at her feet again so that she can return to her normal life.

Organizer
Kazi Hoque
Organizer
Montreal, QC