Sponsor a family in Uganda
Since arriving in Africa for my medical volunteer trip, I have encountered endless devastating situations. I expected poor and vulnerable, but the reality is absolutely unsettling. My time in the village has given me the ultimate African experience, showing me firsthand the real life struggles these people face daily. It has become impossible for me to not help these genuine, loving people. The hospital is lacking basic supplies to treat patients and keep the center running, and children in the village are going days without eating. In most situations they have been abandoned by their parents and left to fend for themselves completely. I have taken it upon myself to try to fill these gaps and prolong lives to every extent that I am able.  My mission is to provide the hospital with crucial supplies (gloves, tape, sanitation wipes, IV cannulas, etc) and provide children the basic necessities to survive, that we often take for granted (food, hygiene products, clothing). I have witnessed an unbelievable amount of suffering in my weeks here in the District of Ngora and have also realized how easy it is to help. However, I can't do it alone. People in the village live on less than $1 a day. With that being said, by donating only $1 it would provide all 3 meals for a family or a 3 day treatment for malaria. Below I have mentioned some things I would like to donate as well as the price. I have also outlined some of the scenarios I have come across to give you a better understanding of just how desperately help is needed. "Alone we can do so little, but together we can do so much".
 I spoke to my current host about this fundraiser and brainstormed ideas to help this poverty stricken community. She is very involved with sponsors all over the world and assured me that donations would be given to the poorest of the poor. With the donations I receive I will contribute to the areas of the highest need first and foremost. I intend on documenting my progress and posting pictures so donors can see how big of a difference they are making. If requested, I can also send pictures of the families that your donation contributed too. Please consider helping me change the lives of these precious people here in Uganda. Every little bit counts!
Basic Needs
Lotion $0.60
Bar of Soap $0.75
Tooth Brush $0.15
Tooth Paste $0.60
Twin Mattress $12
Blanket $2
Close toed Shoes $4.25
One pair of socks $0.30
Shirt and Pants/Dress $3
One pair of underwear $0.30
18L Mineral water $3.50 
Hospital Supplies
Malaria Medication for one person (IV treatment for 3 days) $1.25
IV antibiotics $2.80
Normal Saline $0.45
Tubing for IV fluids $0.30
Urinary catheter $2
Tape $0.80
One IV cannula $0.30
Mosquito net $2.25
Box of gloves (100 count) $3.25
Hand Soap $1
One syringe for medication $0.15
Scissors $0.30
Box of Gauze $2.80
Betadine $1.30
Food
Loaf of bread $1
Bananas (6) $0.30
Avocados (6)$0.30
Chicken $3
Cow (2 lb.) $2.30
Rice (1kg) $1.00
Beans (1kg) $0.85
Scenario 1)
I walked into the children's ward and noticed a little boy having a seizure. When I went to assess him, his body temperature was very hot. I checked his temp (the hospital had no thermometer except for what I had donated at that moment) and it was 104.5. I asked the nurse for some Valium (stops seizure) and Tylenol (fever). Unfortunately, the hospital was out, so I had to give the grandmother some money to go to the pharmacy. Several hours later she returned with only 1/3 of what I had given her money for. She bought the medicine; but only minimal, and decided to keep the change for herself. This is a prime example of the hospital lacking basic needs to treat everyday situations. I am regularly handing out money to family members to go to the pharmacy to get critical medications. More often than not, the parents are untrustworthy and take the money for themselves - rather than helping their sick children. If I am able to buy medications to stock the hospital for these emergency situations, this can be avoided. The government stocks the hospital every 2 months, but supplies generally run out within a few weeks. At that point, it is the nurses' responsibility to supply medications if we want to continue treating patients. As I'm sure you can imagine, these people are incredibly SICK. Although my personal funds are limited, what kind of person would I be to turn my back on these struggling people?
Scenario 2)
Everyday on my way home, the neighborhood kids come running up to me wanting to play. There is a certain family of 6 children, all under the age of 10. I noticed that there has never been an adult with them and expressed my concern to my current host. She proceeded to tell me that the mother runs away often (husband beats her) and the father is a drunk. These poor children have been wearing the same clothes since I arrived in the village and are always noticeably hungry. One day I asked the kids if I could come into their "hut". Inside I found nothing except a few blankets on the ground for them to sleep on. Ever since that day, I have been bringing these kids food every evening and supplying them with the means to bathe themselves. Unfortunately there are many similar cases to theirs where kids are left to fend for themselves and care for one another.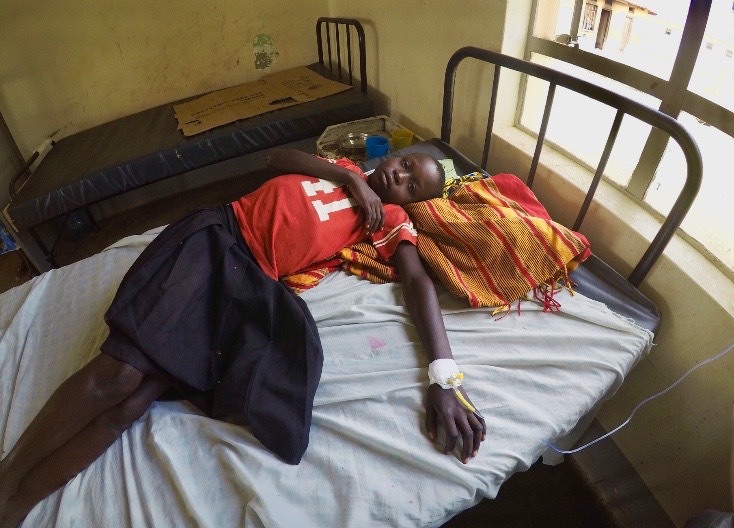 Organizer
#1 fundraising platform

More people start fundraisers on GoFundMe than on any other platform. Learn more

GoFundMe Guarantee

In the rare case something isn't right, we will work with you to determine if misuse occurred. Learn more

Expert advice, 24/7

Contact us with your questions and we'll answer, day or night. Learn more