Support LGBTQI+ Shelter in Tijuana
$11,559
of $25,000 goal
Raised by
121
people in 4 months
Help us raise money for Casa Arcoiris, a new LGBTQI+ shelter in Tijuana providing safe space and services to migrants, asylum seekers and deportees.

Ayúdanos a recaudar fondos para Casa Arcoiris, un albergue LGBTQI+ nuevo en Tijuana que provee espacio seguro y servicios para migrantes buscando asilo o siendo deportadxs.

[Ingles, Español abajo]

Casa Arcoiris is proud to be the first shelter in Tijuana that focuses on the specific needs of the migrant LGBTQI+ community. As the only shelter in Tijuana that seeks to provide a safe and comfortable space for trans, non-binary and the larger LGBTQI+ migrant community, we currently have the urgent need to raise funds for our everyday operations, and to be able to buy our own house/shelter facility.

Over 250 LGBTQI+ migrants, principally asylum seekers, have passed through Tijuana in 2018 and have received shelter, medical attention and legal services from projects related to Casa Arcoiris. Your support will help us sustain our work to provide these human rights for the increasing numbers of LGBTQI+ migrants.

Help us accomplish our goal to establish a permanent shelter in Tijuana by donating and sharing our fundraiser with your networks!

WHO WE ARE
Casa Arcoiris is a grassroots organization founded in the summer of 2018 by local Tijuana activists to support LGBTQI+ migrants as they prepare to petition asylum in the United States or Canada, or adapt to new lives in Tijuana or other parts of Mexico.

Our project is one designed to last, with the capacity to adapt to the changing circumstances in Tijuana, even as international attention on the crisis here fades and volunteer support becomes less reliable. Attention and support come and go, but the need for safe space is a constant one, and Casa Arcoiris aims to meet that need in a consistent and sustainable way.

HOW WE DO IT
Casa Arcoiris is currently operating in a temporary facility that has the capacity to host a maximum of 40 migrants. There is coordinator/security presence on site at all hours, and expenses related to health care, legal support and transportation are covered by the organization. Staff and volunteers coordinate to bring opportunities for arts, education and activities to the residents and foster a sense of community.

Services we provide in partnership with our friends -

Health services:
-Regular doctor visits
-Education and treatment of HIV/AIDS and STIs
-Psychological and mental/emotional health consultations


Legal services for asylum seekers:
-Consultations and preparation for asylum interviews
-Allocating legal representation for asylum hearings
-Finding responsible US sponsors for asylum seekers


Legal services for deportees:
-Obtaining Mexican documentation
-Coordination with employers to find stable work


Regularization:
-Coordination with employers to provide employment letters necessary to solicit humanitarian visas
-Consultations, photos, and transportation for the regularization process.


This initial fundraiser of $25,000 is to cover the immediate needs of our current shelter operation, including the costs associated with rent, beds, services, and utilities.

It is our intention to secure a permanent facility with a capacity of housing 100+ members of the LGBTQI+ community in 2019. On March 5th, we will be releasing our online fundraiser for this long term goal, through which you will be able to make tax deductible donations.



ESPAÑOL

Casa Arcoiris se enorgullece en ser el primer albergue en Tijuana que se enfoca en las necesidades específicas de la comunidad LGBTQI+ migrante. Como el único albergue en Tijuana que busca proveer un lugar seguro y cómodo para personas trans, género no binario, y la comunidad LGBTQI+ migrante, tenemos la necesidad urgente de recaudar fondos para nuestras operaciones del dia a dia, y para poder comprar nuestra propia casa y espacio para el albergue.


Más de 250 migrantes LGBTQI+, principalmente solicitantes de asilo, han pasado por Tijuana en 2018 y han recibido refugio, atención médica y servicios jurídicos de proyectos relacionados con Arcoiris. Tu apoyo nos ayudará a mantener nuestro trabajo para proveer estos derechos humanos para el creciente número de migrantes LGBTQI+ que se encuentran en Tijuana.

Ayúdanos a alcanzar nuestra meta de establecer un albergue permanente en Tijuana por medio de donaciones, y compartiendo esta página con tus redes!

QUIENES SOMOS
Casa Arcoiris es una organización grassroots fundada en el verano de 2018 por un grupo diverso de activistas con sede en Tijuana para apoyar a los migrantes LGBTQI+ mientras se preparan para solicitar asilo en los Estados Unidos o Canadá, o adaptarse a nuevas vidas en Tijuana u otros partes de México.

Nuestro proyecto está diseñado para durar, con la capacidad de adaptarse a las cambiantes circunstancias de Tijuana, incluso cuando la atención internacional sobre la crisis aquí se desvanece y el apoyo voluntario se vuelve menos confiable. La atención y el apoyo van y vienen, pero la necesidad de espacio seguro es constante, y Casa Arcoiris pretende satisfacer esa necesidad de una manera consistente y sostenible.


CÓMO LO HACEMOS
Casa Arcoiris está operando actualmente en una instalación temporal que tiene la capacidad de acoger a un máximo de 40 migrantes. Hay coordinador/ presencia de seguridad en el lugar a todas horas, y los gastos relacionados con la atención de la salud, el apoyo legal y el transporte son cubiertos por la organización. Personal y voluntarixs se coordinan para brindar oportunidades de arte, educación y actividades a los residentes y fomentar un sentido de comunidad.

Servicios que ofrecemos en colaboración con nuestrxs amigxs - 

Servicios de salud:
-Visitas periódicas de médicos
-Educación y tratamiento del VIH/SIDA y las infecciones de transmisión sexual
-Consultas psicológicas y de salud mental/emocional

Servicios jurídicos para solicitantes de asilo:
-Consultas y preparación para entrevistas de asilo
-Asignación de representación legal para las audiencias de asilo
-Encontrar patrocinadores responsables de EEUU para solicitantes de asilo

Servicios jurídicos para personas deportadxs:
-Apoyo en la obtención de documentación mexicana
-Coordinación con los empresarios para encontrar un trabajo estable

Regularización:
-Coordinación con los empleadores para proporcionar las cartas de empleo necesarias para solicitar visados humanitarios
-Consultas, fotos y transporte para el proceso de regularización.

Este primer esfuerzo para recaudar 25,000 dolares es para cubrir las necesidades inmediatas de las operaciones actuales del albergue, incluyendo costos asociados con la renta, camas, servicios generales y servicios públicos tales como electricidad, agua, y gas.

Nuestras intenciones son el asegurar un espacio de albergue permanente para proveer alojamiento a más de 100 miembros de la comunidad LGBTQI+ en el 2019. El 5 de Marzo publicaremos nuestra campaña en línea para la meta a largo plazo. Por medio de la cual podrán hacer donaciones deducibles de impuestos.
+ Read More
Update 2
14 days ago
Share
(Español abajo)
It is a critical time in Tijuana for asylum seekers and international migrants.
As per the agreement made with Trump, the Mexican national guard and Mexican migration authorities are working together to harass and deport unauthorized migrants in Tijuana and throughout Mexico, regardless of whether the migrants are waiting on the illegal waitlist to petition for asylum in the United States, and even if they have been returned to Mexico under the illegal MPP program to wait for their immigration court dates.
Many shelters have been targets of such attacks, despite their being protected by law from migration inspections.

During these turbulent times, Casa Arcoiris´ priority is giving a safe place to stay and critical services to the hundreds of LGBTQI+ asylum seekers that come through Tijuana and are forced to wait months before having access to their right to asylum. The organization ensures that all our residents have adequate access to healthy food, healthcare, mental health services, legal support, and educational opportunities. We also work to ensure that they are protected from deportation, which would put many residents directly back into the immediate danger they have been fleeing.

In the last five months, our shelter has hosted over 60 LGBTQI+ migrants from 12 countries. In order do continue to do this work effectively, we need the support of the community at large.
Though our budget is modest considering all the services provided, Casa Arcoiris has never had more than two months worth of funding at any given time, and our shelter is near its maximum capacity.

Pride may be over, but the critical issues facing the global LGBTQI+ community are as pressing as ever. Please support our current shelter operation and our dream to obtain a larger, permanent shelter for the LGBTQI+ migrant community.


---Español---

Este es un momento crítico en Tijuana para los solicitantes de asilo y lxs migrantes internacionales.
Conforme al acuerdo con Trump, la Guardia Nacional Mexicana y las autoridades migratorias mexicanas están trabajando juntas para acosar y deportar a migrantes no autorizados en Tijuana y en todo México, independientemente de si los migrantes están a la espera de la lista de espera ilegal para solicitar asilo en los Estados Unidos, e incluso si han sido devueltos a México bajo el programa ilegal MPP para esperar las fechas de su corte de inmigración.
Muchos albergues han sido sujetos a estos ataques, a pesar de que la ley los protege de las inspecciones migratorias.

Durante estos tiempos dificiles, la prioridad de Casa Arcoiris es proveer un lugar seguro y servicios críticos a los cientos de LGBTQI+ solicitantes de asilo que vienen a través de Tijuana y se ven obligados a esperar meses antes de tener acceso a su derecho de asilo. Nuestra organización asegura que todxs nuestrxs residentes tengan acceso adecuado a alimentos saludables, atención médica, servicios de salud mental, apoyo legal y oportunidades educativas. También trabajamos para que estén protegidos de la deportación, lo que pondría a muchos residentes directamente de nuevo en el peligro inmediato que han estado huyendo.

En los últimos cinco meses, nuestro refugio ha acogido a más de 60 migrantes LGBTQI+ de 12 países. Para poder seguir haciendo este labor de manera eficaz, necesitamos el apoyo de la comunidad. Aunque nuestro presupuesto es modesto considerando todos los servicios prestados, Casa Arcoiris nunca ha tenido más de dos meses de financiación en un momento dado, y nuestro refugio está cerca de su capacidad máxima.

El mes de orgullo puede haber terminado, pero los problemas críticos que enfrenta la comunidad global LGBTQI+ son tan apremiantes como siempre. Por favor apoye nuestro albergue y nuestro sueño de obtener un refugio más grande y permanente para la comunidad migrante LGBTQI+.
+ Read More
Update 1
2 months ago
Share
Dear Casa Arcoiris Friends,

The Casa Albergue Arcoiris family can't thank you enough for your support and friendship over the last couple of months. It has truly been a challenging time in our border region, and yet, your support made it possible for a network of Tijuana-based activists to open Casa Albergue Arcoiris, the first LGBTQI+ Migrant Shelter in Tijuana. This is truly a historic moment for the whole community!

In 2018, over 250 LGBTQI+ migrants, primarily asylum seekers, passed through Tijuana and received shelter, medical attention, and legal services from Casa Arcoiris and our allies. Since January of this year we have housed over 50 LGBTQI+ migrants from Honduras, El Salvador, Guatemala, Jamaica, Ghana, Iran, Belarus, Colombia, and Mexico. Most of these migrants have stayed in Casa Arcoiris while they wait and prepare for their asylum numbers to be called at the San Ysidro Port of Entry for their credible fear screening interview. In addition, during this time we have also housed many folks who have been recently deported and need a space to transition and prepare for their next steps. The need is on-going and your contribution during these daring times has been key to continue to rent a house with the capacity to host up to 40 migrants, keep food at the table, and continue to provide medical attention, mental health support, and legal services.

As one of the fundraising coordinators for Casa Arcoiris, I will be withdrawing the funds under my name and will deliver the funds to Casa Arcoiris via direct wire transfer to their Mexican bank account. We are currently in tremendous need of the funds to keep our daily operations running.

Again, thank you so much for your contributions and please support us by re-sharing our go fund me page. Reaching our 25K goal will ensure we keep our space running for at least 6 more months. We look forward to continuing this collaborative effort. If you have any questions feel free to email our team at casaarcoiris.ac@gmail.com.

Sincerely,

Andrea Gaspar

Ps. In our feature images you may checkout some of the workshops/events led by our amazing residents and volunteers. From the first Miss Trans Beauty Pageant at Casa Arcoiris, to self-care workshops, yoga, English and drawing classes, and more. Thank you all for all of your hard work to make our space feel like home. We love and appreciate you.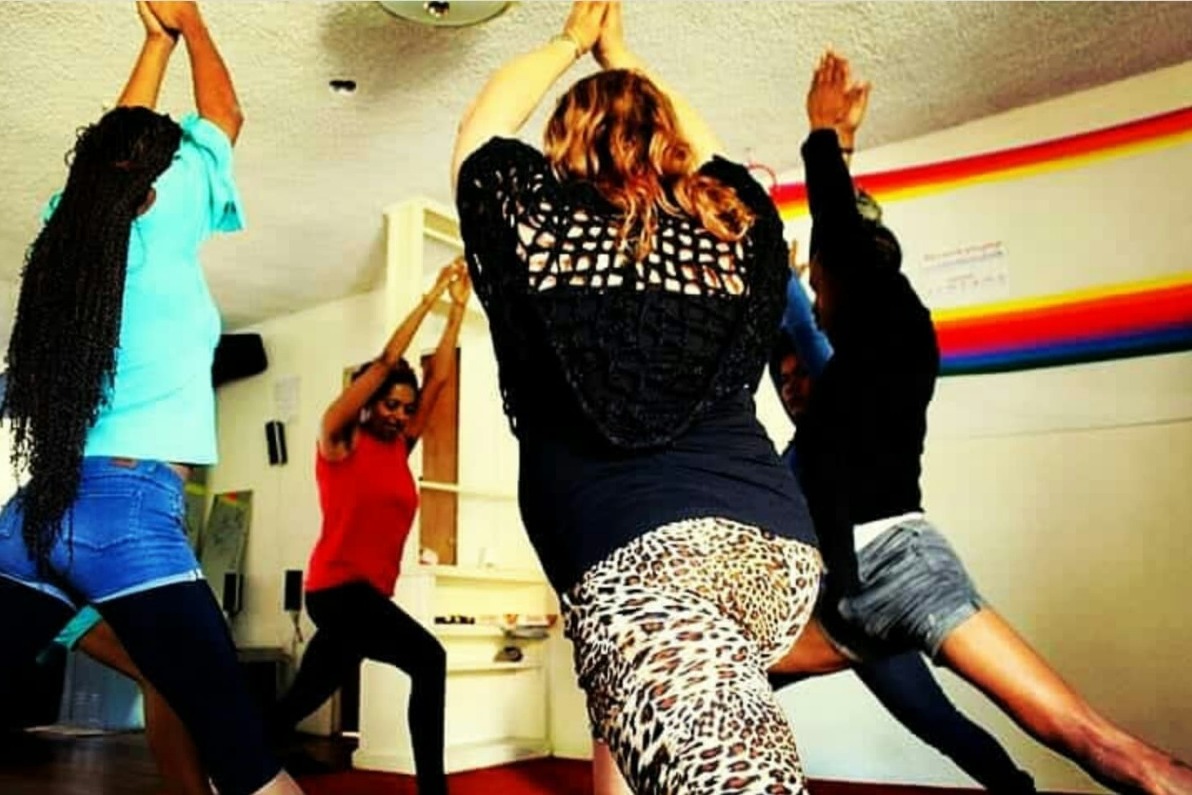 + Read More
Read a Previous Update