Our close friend Ivan Lovecky had been in a bad dirtbike accident in Vancouver BC severely injuring himself and changing his life for ever. Ivan is suffering from a broken vertebrate and a severed spinal cord at C5, rendering him with little movement below his neck and no movement below his chest. Ivan is covered for most medical expenses however we are raising money to help him once he is out of hospital. We were talking to a specialist and was told he would need $100'000 to provide Ivan with the necessary equipment and basic care he will need once he is out of the hospital. He has an extremely good support network here however we need help to take the financial burden off Ivan so he can focus on getting better.
Ivan is a fighter and he will need your support to keep fighting.
Below is more details about Ivan's situation, 
----------------------------------------------------------------------------------------------------------------
[CZK]
Náš blízký kamarád Ivan Lovecký prodělal těžkou nehodu na terénní motorce v kanadském Vancouveru, při které se vážně zranil a jeho život se navždy změnil. Ivan má zlomenou krční páteř a porusenou míchu na úrovni obratle C5, takže se od krku dolů může hýbat pouze omezeně a od hrudníku dolů prozatím ztratil veškerou hybnost. Většina Ivanových léčebných výdajů je krytá pojištěním, ale chceme vybrat peníze, které mu pomohou, až nemocnici opustí. Po diskuzi se specialistou jsme se dozvěděli, že nezbytné vybavení a základní péče, které bude Ivan po opuštění nemocnice potřebovat, budou stát cca 100 000 kanadských dolarů (1 750 000 kč). Ivana maximálně podporujeme, ale abychom mu poskytli finance, které bude potřebovat, aby se mohl soustředit pouze na zlepšení svého zdravotního stavu a nemusel se přitom zabývat penězi, potřebujeme od vás pomoc.
Ivan je bojovník a aby mohl dál bojovat, bude potřebovat i Vaši podporu.
Níže jsou podrobnější informace o situaci, ve které se Ivan nachází.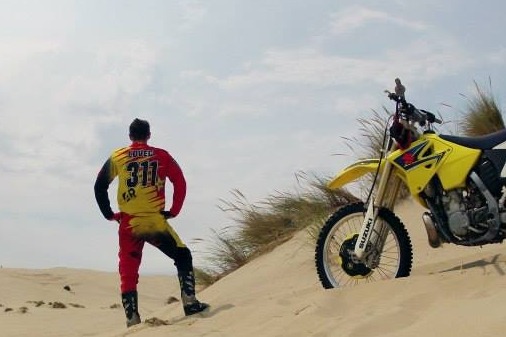 For those who know Ivan he has been in an unfortunate accident. He was out riding his dirt bike on Sunday the 12th of August when he crashed  and fell over the handlebars. With no time to react with the force of his front tire washing out, he hit the ground head first. Ivan laid there motionless with the fear of moving. Friends kept his body stable until the ambulance got to there. During this time Ivan began to realize that he could not move his arms or legs has a severe tingling sensation is running through his body. Ivan kept calm, and the paramedics handled him with the utmost care taking every precaution possible. Ivan was then airlifted to the Vancouver General Hospital to be rushed for scans.
----------------------------------------------------------------------------------------------------------------
[CZK]
Pro ty co Ivana neznají – prodělal nešťastnou nehodu. V neděli 12. srpna se byl projet na své terénní motorce kdy havaroval a byl vymrštěn přes řídítka. Po narazu hlavou do země zůstal nehynbe ležet na místě. Ivanovi kamarádi ho udrželi ve stabilizované poloze až do příjezdu sanitky. Během této doby si Ivan začal uvědomovat, že nemůže hýbat rukama ani nohama a že v celém těle cítí mravenčení. Zůstal v klidu a zdravotníci s ním nakládali s maximální péčí a přijali všechna možná ochranná opatření. Ivana poté vrtulník přepravil do nemocnice Vancouver General Hospital, aby mu udělali potřebné snímky.
Once Ivan got to the hospital the scans have revealed Ivan's life has changed forever. The scan showed he shattered his C5 and damage to C6; This is extremely high in the neck. The team at VGH put Ivan under extreme sedatives, so he doesn't move while they wait for the CT scans to show any more damage around that area and hoping for the best. The scans came back with devastating results showing that his spinal cord has been severed. They rushed Ivan into surgery to fuse his C5-C6 together so no further damage could be done to his spinal cord. I have been told the upper body is controlled by the spinal cord at T4 so it is unknown to what body parts will function. There is lots of swelling putting pressure on his spinal cord so time will tell what he will gain back once the swelling goes down.
Ivan is currently in ICU under the care with the best team in the world looking after him. He is awake, can hear you and responds with blinks and upper facial gestures. They currently have him under a breathing apparatus and in the next day or two we will know if Ivan will be able to take his first breath He is currently using 50% the machine and 50% himself. Ivan has movement in his shoulders and in limited movement in his right arm being able to lift it up to his face, however, no movement in his wrist and fingers. His left arm has some sign of strength in his bicep and some feeling down to his hand.
Every day is a struggle for Ivan and every day is a challenge to get better. Once the swelling goes down, we hope to see more improvements in his movement. It is going to be an extremely slow process for Ivan so, please Pray, Hope, Send good energy Ivan's way.
He has a good support network here, however, this is going to impact his life from now on, so we are asking for your financial help to support Ivan once he is released from hospital and rehabilitation.
----------------------------------------------------------------------------------------------------------------
[CZK]
Po příjezdu do nemocnice se ukázalo, že se Ivanův život navždy změnil. Podle snímků si Ivan rozdrtil obratel C5 a poškodil obratel C6. Tyto obratle se nacházejí velmi vysoko v krční páteři. Nemocniční tým dal Ivanovi velmi silná sedativa aby se Ivan při čekání na snímky CT, které by ukázaly případné další poškození v dané oblasti, nehýbal. Snímky se vrátily se zdrcujícím výsledkem. Ivanova mícha byla vazne pozkozena. Rychle ho převezli na operační sál, aby mu obratle C5 a C6 spojili dohromady a nemohlo tak dojít k dalšímu poškození míchy. Bylo mi řečeno, že horní část těla je ovládána míchou na úrovni obratle T4, takže není jisté, které části těla budou fungovat. Na míchu tlačí silný otok, proto se až postupem času zjistí, jaká hybnost se mu po splasknutí otoku vrátí.
Ivan se momentálně nachází na jednotce intenzivní péče pod dohledem nejlepšího týmu na světě. Je při vědomí, slyší lidi kolem sebe a reaguje mrkáním a pohyby horní části obličeje. Momentálně mu dýchat pomáhá přístroj a za den nebo dva uvidíme, zda se Ivan bude moci nadechnout sám. Momentálně mu přístroj s dýcháním pomáhá z 50 %. Ivan dokáže hýbat rameny a omezeně pravou rukou, kterou zvládá zvednout k obličeji, nicméně nehýbe zápěstím a prsty. V levé paži má známky síly v bicepsu a určité množství citu až dolů k ruce.
Každý den je pro Ivana boj s jediným cílem – zlepšit svůj stav. Doufáme, že po splasknutí otoku se jeho hybnost dále zlepší. Jedná se o extrémně pomalý proces, takže prosíme, abyste se za Ivana modlili, doufali a posílali mu pozitivní energii.
Ivan má oporu velké skupiny přátel, jeho život je nicméně navždy ovlivněn. Proto vás žádáme o finanční podporu, která Ivanovi pomůže po propuštění z nemocnice a při rehabilitaci.