Global Vision Ministries Church, Faisalabad is a rapidly growing church in Pakistan registered under the Government of Pakistan.  Global Vision Ministries is a non-profit faith organization serving in the Pakistani community since 2002. In addition to offering church services on Sundays and Thursdays, we are also running our Global Vision Ministries Bible College classes three days a week and are proud of our community outreach programs throughout the country as well. Our building is available to local community groups and we host activities like Children Summer Festivals, Women Prayer Meetings and Youth Conferences and Seminars.
 Also, we are really grateful to our Lord that He is using our organization for setting the bonded labor in Pakistan free by helping us pay their debts to the brick kiln owners. Deprived of social and health facilities, access to education, safety protection, decent shelter and civic entitlements, brick-kiln workers have been trapped in an exploitative cycle for decades and generations. According to an estimate, there are around 12,000 brick kilns in Pakistan and millions of Christian workers, including children, are trapped in the system of debt bondage at the brick kilns, an extremely close cousin of slavery. Laborers in rural Pakistan get lured into working at one of the brick kilns by accepting small loans in exchange for working there for a short period of time. Once cornered into the vicious cycle, it is next to impossible to find their way out as their debt keeps increasing. Hence, the workers are forced, along with their families, to do the job until they die; even then the debt is not forgiven and is passed on to their next generations.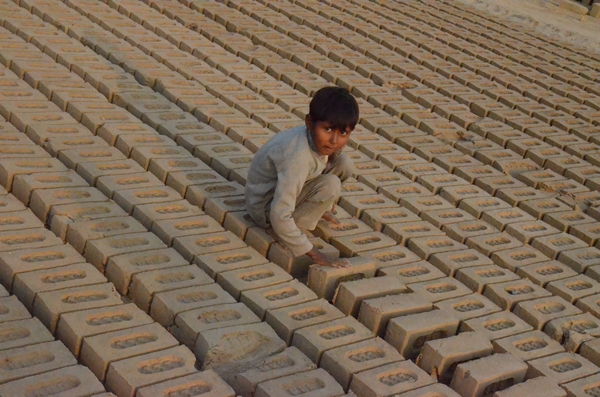 Since 2010, our organization has been working on the ground, all over the Punjab, to identify, free and rehabilitate the Christian families among the bonded labors at brick Kilns. Praise be to God, so far, Global Vision Ministries, with the help of their prayer partners, have been successful in setting over 50 Christian families free from the bonded labor. In order to rehabilitate the released families, we are also providing financial resources to those families to be self-employed in the small business and get their children admitted in the schools. Additionally, to provide sustained support, not only to the released families but to the individuals who are still in the bonded labor, every year, Global Vision Ministries help support those families to meet their basic needs.
 This year again, as the winter season is approaching, we have started raising funds to keep the tradition of showing our Lord's mercy for our destitute children in the slavery, by providing them enough to meet their urgent needs and to include them in the joy of the Christmas blessings. More importantly, we plan to distribute warm clothes, food packages, winter shoes and blankets to the children in bonded labor and bring them closer to the Love of God. The need is real and we need your help because we never want another family to suffer the fate of so many who have already suffered the atrocities of working at the brick kilns. We request you to give generously because your contribution will indeed make a difference in so many lives.
Your one little donation today can change someone's life.