603
19
Jade's Journey
$87,707
of $100,000 goal
Raised by
630
people in 2 months
I'm telling this on behalf of my sister in law Maria, her husband Lee and their daughters Ruby & Jade. 
We all have a lot going on in our lives but this family have been hit really hard!
Jade is 5 years old with an amazing character & a crazy zest for life, who is always laughing.  She began suffering from sporadic headaches since starting full time school at the beginning of this year.  After seeking medical advice, Maria took Jade for an MRI on the 12th April 2019.
That day their lives were turned upside down! The MRI detected a brain tumour the size of an apple and Jade was rushed to Perth Children's Hospital to be admitted.
The following Monday, in the hands of some amazing doctors, Jade underwent a marathon operation to remove the whole tumour.  The operation went well & although sore and puffy eyed, Jade surprised everyone by coming out of ICU one day after the operation and was back to her cheeky self chatting to everyone in the following days.  After a week in hospital Jade managed to go home for Easter,  much to the relief of all her family and friends.
However, after a week at home getting back to normal, Jade was readmitted to Perth Children's Hospital as the swelling on her head had increased.  To everyone's disappointment, Jade had to undergo another operation as an infection had occurred which was causing the swelling.  Once again this remarkable little girl bounced back to being the 'cheeky monkey' we all know Jade is.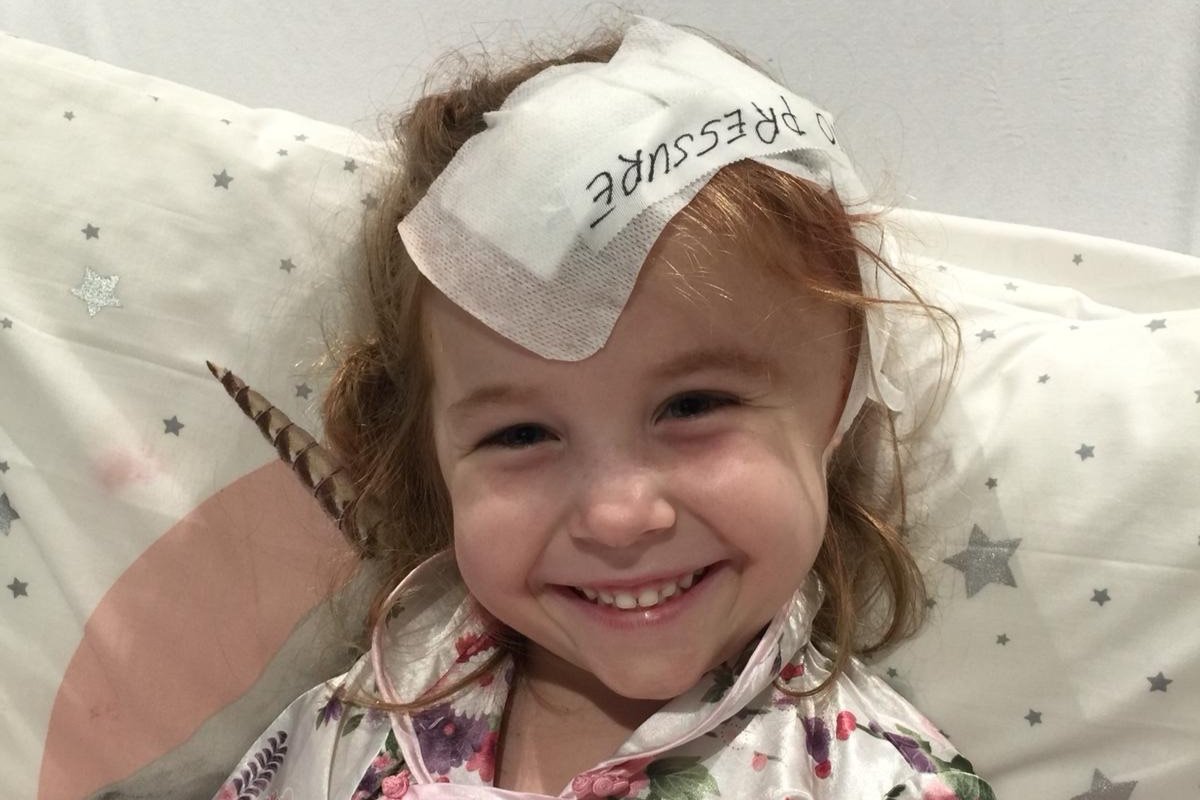 That week whilst Jade was still in hospital Maria & Lee received the heart breaking news that  the tumor they removed was a
Atypical teratoid rhabdoid tumor (AT/RT),

 
a very rare tumor, so totally devastating for them.
The journey for Jade is just starting and it's going to be an enormous rollercoaster for the whole family. At this stage the paediatric oncology team have developed a treatment plan including chemotherapy and radiotherapy which will begin as soon as Jade's infection clears. Given the rare nature of the tumor they have been advised that potentially Jade may require further treatment in America.
To add to the difficulty of Jade's diagnosis, her Dad Lee has been living with prostate cancer for 9 years and been unable to work for the last few years due to his ongoing treatment.
So why GoFundMe?
Maria & Lee appreciate all the love and support  that has been offered. At this point we really want to help lift the financial burden for them.
Lee, Maria and their other daughter Ruby are strong and resilient and never ask for help even when it has been really tough.  However the months ahead are going to be really challenging for all of them on their journey with Jade.  Maria is not going to be able to work while Jade has her treatment, so the funds raised will help with the loss of her income and also help with the potential medical expenses if treatment is sought in America. We also hope that some funds will be put to having some fun family times!
I want to thank everyone for taking the time to read this and hopefully with the help of this page and a little help from the amazing people surrounding them we can spread the word & bring a bit of relief for Maria, Lee, Ruby & Jade.  I have set a goal of $100,000, if we reach it, fantastic, but to be honest every little bit will help!!
Thank you to you all for your love & support it means so much to Lee, Maria, Ruby & Jade xxxx
*I will update the page when more is know about the treatment plan.
+ Read More