Help support us in getting Evan a service dog
Evan's story
Hello, I'm Genia LaNore. On August 10, 2011, my 5-year-old son Evan was hit by a car while out riding his bike. His tiny body was sent flying, crashing headfirst without a helmet, into the pavement on 36th Ave in Hudsonville, MI. Evan was rushed to Helen DeVos Children's Hospital, where doctors discovered that he'd fractured his skull above his right eye and suffered frontal lobe brain damage. He was left with a forever traumatic brain injury (TBI). 
Have you ever dropped your computer and then rebooted it to see what damage had been done? It may not even be obvious at first, but over time you might notice things that seemed buggy or broken. That's how it feels to suffer from a traumatic brain injury.
Evan has had more doctors and been through more therapies than any little boy should have. For months after the accident, I took him to Mary Free Bed Rehabilitation Hospital every day for outpatient services: speech & language, occupational & physical therapy.
He has had craniosacral & neurofeedback therapy, done therapeutic horseback riding, and continues to work extensively with social workers, psychologists and behavioral therapists. And of course, Evan has tried different medications and all the ups and downs that go with them.  All these therapies have brought him closer to age-appropriate independence, but he has miles to go.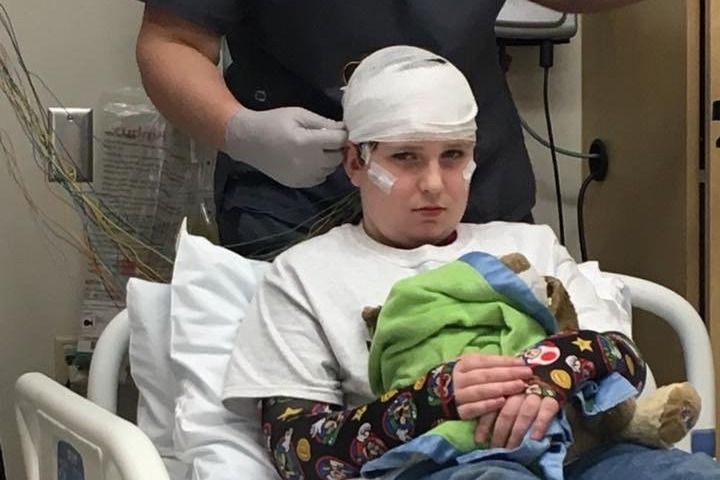 When you meet Evan, you're instantly greeted by bright blue curious eyes, a laugh that tickles your ears and a warm and loving soul. You'll see a typical 13-year-old boy and think there's nothing wrong with him, but that's because TBI isn't visible. Evan loves music and to dance, cars and motorcycles, Mine Craft and Star Wars. He has half a million Legos that he can turn into so many creations. He loves strawberry shortcake that's piled extra high.
He enjoys helping people and being social, he talks to everyone.  He serves as an acolyte in both of his churches, Holy Trinity Episcopal Church in Wyoming, MI and Trinity in the Woods Episcopal Church in Farmington Hills, MI. He looks forward to Episcopal Youth Camp every summer.
Early this spring, Evan joined his first team sport. He played Special Olympics Basketball and loved being part of a team.
He has a huge support system, championed by my wife and me; Amber and I were married in October 2014 and Amber legally adopted Evan in December 2015, just before his 10th birthday.
Evan's specific brain injury means that he has trouble regulating his emotions and struggles with impulse control. Much more so than his neuro-typical peers!  His struggle with academic work also widens the gap.  His frustration moves quickly to anger that can become physically violent, endangering himself and others.
 In April 2018, we made the difficult decision to move Evan into a pediatric residential treatment facility in Farmington Hills, MI that specializes in traumatic brain injury. We are hoping that Evan learns to use the right tools to "keep his poop in a group." Evan has made some progress and uses his tools when he is willing. Everyone on Evan's team is working hard to support him in becoming successful, independent, and safe enough to come home. 
It has been a very difficult experience for Evan and for us, having him living 2½ hours away from home. We are desperate to find a way to protect Evan and help him self-regulate his emotions consistently so he can be more successful in school and life and be able to COME HOME to live permanently with his family.
The Plan, future service dog
We began to research service dogs for people with TBI and found that, through intensive training, a service dog can combat some of the issues Evan encounters daily, which will allow us to bring Evan home to live and go to school.  A service dog can:
·        pick up on subtle changes in mood, heart rate and stress levels, recognizing when Evan is beginning to get frustrated, and be able to provide a calm presence,
·        support Evan in returning to a feeling of safety by redirecting his thoughts,
·        not offer advice or use too many words, just be present (dogs don't talk!),
·        aid with memory-related tasks such as taking his medications and performing routine personal hygiene, also, dogs make a great alarm clock,
·        provide security in public places by leading Evan to a quiet place if he is feeling overwhelmed or overstimulated,
·        push against Evan, even sitting on him, to keep Evan from harming himself or others should he become physically aggressive,
·        help Evan to feel less isolated and depressed by providing constant companionship,
·        motivate Evan to complete his physical and occupational therapy goals, a dog is a good workout partner. 
So, we took a
HUGE
leap of faith.
Early in May 2019, we adopted Max, a 74-pound, 15-month-old black Labradoodle, whom we found from a private owner that posted an ad online. Finding Max was nothing but a small miracle and there were so many signs from God that this was meant to happen. The owner of Max was kind enough to drive 45 minutes from her house, without hesitation, to have the trainer evaluate him as a good fit for service dog work.  The trainer said, "Absolutely, Max would make an excellent service dog". She also mentioned that her schedule for service dog training is normally a 6 month wait to start.  That would have made Max too old to begin this important work.  BUT she had an opening she wasn't anticipating and would accept him at the end of May! 
We brought Max home with us for 3 weeks before training.  Evan spent as much time as we could get with Max and fell in love. We noticed an instant connection between them. Max is very attentive and wherever Evan went, Max went. Leaving him at the training camp was very difficult even after such a short time.
Max cost $750 (very reasonable for a Labradoodle) plus hundreds more in vet bills to get him up to date on his shots and get him started on flea/tick/heart worm medication. We also had to get him a large crate & pad, bed, toys, grooming brushes, treats, and food. He also needed grooming, another $75.  This brought our total for Max up to $1,534, still reasonable, but pinched our budget. 
To pay for the initial months of "boot camp" training for Max, a cost of $9,264, we took a personal loan from our credit union. 
The trainer is recommending special, high protein, no grain (read expensive!) food for Max.  Just like people, dogs learn better with proper nutrition.   
Once Max has a rock-solid foundation of his training, we will start to introduce training to Evan.  It will become one of the therapies from his residential facility.  Then training for Amber and me as well, which means we must travel over to the training facility to learn all of Max's commands and behaviors. In total the training will take 4-6 months to complete, if all goes well. 
The training facility is 40 minutes from Evan's house in Farmington Hills, MI, and roughly 2½ hours from our house in Hudsonville, MI; therefore, there will be a lot of added transportation expenses. 
We estimate additional costs of about $6,500 to $7,000 for travel/hotel, additional training sessions and food & regular grooming for Max while in training.      
UPDATE 7/27/2019:
It's never easy!
After two months of solid training, Max made great progress; however, there were a few small signs that the work would be stressful for him but the biggest issue and the one that caused the most serious concern for the trainers is Max's fear response. Max seems to have some fear and anxiety of certain men, mostly men wearing ball caps. The trainers continued to work with Max to see if he could overcome this fear because they all fell in love with him and know the importance of Evan having a service dog as soon as possible. Changing  Max's behavior plan and training a bit made a very slight improvement but, after much deliberation among the trainers they all decided that Max would not pass the necessary "good citizen" tests to be a service dog since growling at stranger is never okay. There were many tears shed among all of us, including the trainers. Max is an AMAZING dog; we gave serious thought to keeping him as a family dog.  With the "away from home" lifestyle we have, it wouldn't be fair to Max to be in a crate all day while we are at work. He requires a lot of exercise, and we knew we couldn't commit to giving him that daily.  Our two older little dogs fit us just fine.  When Evan is home with his service dog, he'll be responsible for all the walks in the cold or rain!  Our small home will never hold as many dogs as Amber's heart!!  Luke, the trainer that has been working with Max, and his wife have adopted him into their family.  A toddler, a baby & a doggy brother his size will keep Max busy when he's home and Max will get to go to work with Luke every day at the training facility!  So, he will continue to have training and work to do.  He may become fearless but still not a service dog.  Because Max will be at work with Luke, we will still get to see him whenever we are there training as well.  Now what?We have decided, after much discussion and prayer, to start with a brand new puppy rather than a young dog.  Service dogs that start as puppies can work for about 10 years before retiring vs. about 5 years.  This option will give Evan a longer time with his dog than he would have in our first attempt.  This is a much longer process than we wanted but, in the long run, it's the best option. Generally, on this path, the service dog will be considered fully trained and be released to come home full time around the age of 15 months.  We are not yet sure what this delay in service dog means for Evan coming home.  Due to the time this may take that will be determined by Evan's success in his training program, not the dog's readiness.    The trainers are already reaching out to their breeder contacts where they know have raised successful service dogs before.  We have no idea how long it will take to identify a puppy at this point.  However, Evan will be involved in the training and bonding from the beginning, about 8 weeks, and even get to name the puppy once it's found! 
What we know now.
We do know that the next dog will be a male.  They said males have a higher success rate for becoming a service dog than females.  We know that Evan wants to call him Max! We think it's a great name for a dog with such an important job and we all grew fond of the name.   We know we won't have to pay another $9,264 for training, the money we paid for Max will transfer over.  We will have to pay the cost of the puppy which we expect to be $1,200-1,500.  This is based on the breeds we are considering.  A Poodle, Goldendoodle or another Labradoodle are large & smart enough to do the job.  They tend to be more on the hypoallergenic end of the spectrum and are easy enough for Evan to care for daily. 
Can you help us?
Amber and I both work, but we are not wealthy. We have the same bills plenty of folks carry; 2 car payments, insurance, a mortgage, our own medical needs, student loans (till we die!).  We live by a well-balanced budget that covers all our needs with enough to give some, save a bit and enjoy small extras.  Thankfully, Evan's medical bills are covered by the auto insurance.  God always provides.
For every little bit you can give, we'll be closer to covering the cost of Max's service dog training. Please help support Evan & Max as they move toward the goal of Evan being able to come back home where he belongs, with his moms. 
We hope you join our team, and we thank you for taking the time to read Evan's story. 
God bless you,
Genia, Amber, Evan LaNore
Want to join #TeamEvanAndMax?
There are three easy steps:
1.      Always wear your head bucket (aka bike helmet).
2.      Give what you can – even small donations will make a difference.
3.      Spread the word – share our story on social media. 
         #TeamEvanAndMax
4.     You can also donate through any Lake Michigan Credit Union in person, or you can mail checks to LMCU at P.O.Box 2848, 
Grand
Rapids,   MI 49501-2848.
Ask for or make checks payable to TeamEvanAndMax account # 1679722
Donations ()

Organizer
#1 fundraising platform

People have raised more money on GoFundMe than anywhere else. Learn more

GoFundMe Guarantee

In the rare case that something isn't right, we will refund your donation. Learn more

Expert advice, 24/7

Contact us with your questions and we'll answer, day or night. Learn more