PLEASE HELP!

(Main entrance stairway to home)
Hello my friends,
I have started a Go Fund Me on behalf of my parents Lucille and Julio Nieves. Their house has incurred horrible damage on 5-26-17. This damage needs to be taken care of immediately. Aside from the obvious, my parents will need to retain legal services to fight The City of Yonkers and their insurance company who has said they are not paying for the damages. They will need money for debris clean up, rental equipment, architect and hiring of a company to repair the damage of a collapsed retaining wall and stairway to the entrance of their home. There are 42 steps up to the main entrance of the house. We are not sure if all of the structure has been compromised. We will know more once the structural surveys are completed.
No one was hurt thankfully!
My parents have owned this house since 1982. As you can see in the picture below there is now a handicap sign in front of the house. This is for my mother.
(Google map image 2016)
Being in our 20's and living there with my 2 sisters, my mother and father decided to open their doors and began to be Foster parents. We started out with 3 young brothers. But they did not want to leave one of their friends behind so we had 4 living with us at one time. They were in their teens and grew up with us as part of our family. As one departed to start his own family another came in. Sometimes 2 at a time. There were times when one returned to stay when they were on fallen times. Some came with their wives and children. Some had their family members just show up on the door steps after escaping with money sent to them from one of the sons that lived with us. At various times we also took in 2 Albanian refugees, an American troubled boy from Long Island and then back to full circle when again one of the original boys we took in needed a place to stay with his family till they were back on their feet.
Some time ago the neighbors home to the left of us burned down to the ground setting part of our own home on fire. In my opinion the amount of water that was used to put out the fires compromised the structure of the retaining walls. Again in my opinion it was only a matter of time when part of the wall would give way.
As you can see in the picture below all that is left is the front entrance and a fire place. The property has been abandoned ever since it's fire.

(Neighbors house on left, parents house on right Google map image 2016)
My parents house was never empty. My mother and father opened their doors to numerous family members in need of temporary housing. Have given food freely and use of everything in the house never once asking for anything in return.
My mother has tended to everyone's needs in every way. Has cook enormous meals for family gatherings and of course Sunday family dinners.
Family is everything to her. She can never give enough. This is in tandem with my father working his whole life never taking off a day of work and then when needed he took on another career as a school custodian in the City of Yonkers. He loved that job, the kids and teachers in the school. Both of my parents just enjoy all the love and chaos of life.
Right now my parents are assisting my sister raising her 4 children, all girls who's father up and abandoned them at an early time in their life. They are no longer babies and are successful adults and all living with my parents.
My father just put in his papers from the City of Yonkers as a custodian. Not because he wanted to but because after 2 years of multiple back fusions and neck fusion surgeries from a nasty fall he took down those stairs, he's no longer able to do the work as required. Due to this he will not be receiving full retirement. Need I say that money is not easy to come by at this time in their lives.
My parents, who are now in their late 70's have given everything in them to everyone around them. Now they need help. FINACIAL HELP!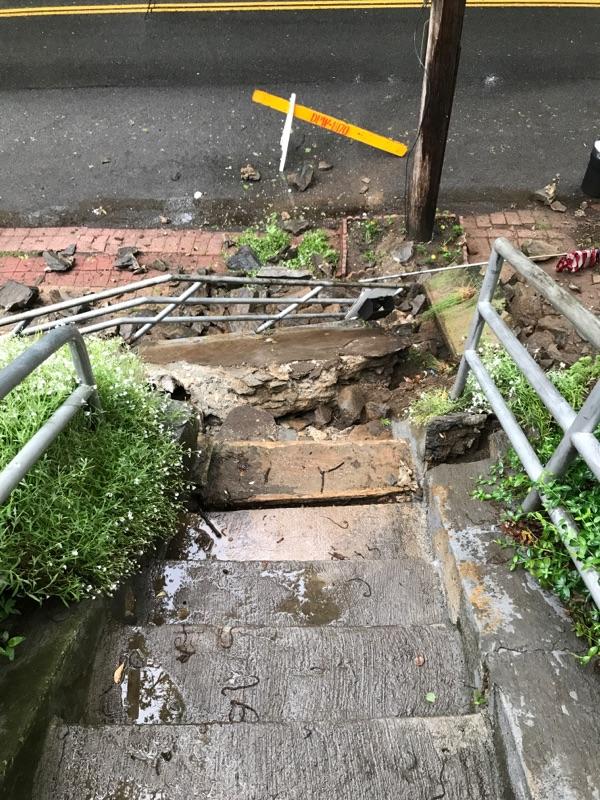 (from the top of the stairs looking down)
They have a huge battle ahead of them. From the paper work with the insurance companies to dealing with the City of Yonkers. But 1st they need to repair their only entrance to their home immediately!
My friends, I've humbled myself and decided to reach out for help for them. I can not sit by and do nothing! If you know me,  you know that is true! I use social media all day every day for things that bring distraction, happiness and joy to others. I now need to use social media and crowd funding to help my parents! I live a simple life but I can not financially help them in the way they need.
If you know me or have enjoyed anything that I have given to the Big Brother community in the past 11 years I ask for your help. If I have helped you with computer issues I ask for your help. If you don't know me I ask for your help. And I ask for everyone's kindness. Please pass up that Starbucks, Dunkin Donuts or Happy meal and donate.  Every donation helps no matter how big or small it is.
I thank you for reading this all the way through. And on behalf of my family I thank you for your generosity.
Michele aka UgotBronx

Organizer and beneficiary