Spencer's Healing Heart Fund
Spencer's fight with Dilated Cardiomyopathy and Congestive Heart Failure began in May 2016 after battling symptoms like shortness of breath and others similar to pneumonia, causing issues like an incorrect diagnosis right from the beginning.  Once Spencer was correctly diagnosed, his symptoms continued to worsen.
He immediately began taking medications intended to allow his heart to heal, but, unfortunately over the months and as the new year approached, he continued to experience symptoms that were dismissed as the flu.  On a trip home to see family in Yellowknife, Spencer fell ill and was admitted to the Stanton Territorial Hospital on Christmas Eve. With the closest cardiac care unit in Edmonton, Alberta, Spencer was sent by a $30,000 emergency medevac, not covered by GNWT or Alberta insurance, on Christmas Day, to the Mazankowski Alberta Heart Institute at the University of Alberta.
Spencer's kidney and liver were of immense concern. Doctors decided a Left Ventricular Assist Device (LVAD) was Spencer's best chance for survival. When his body was as stable as they could get it, he went through extensive open-heart surgery to have the device implanted.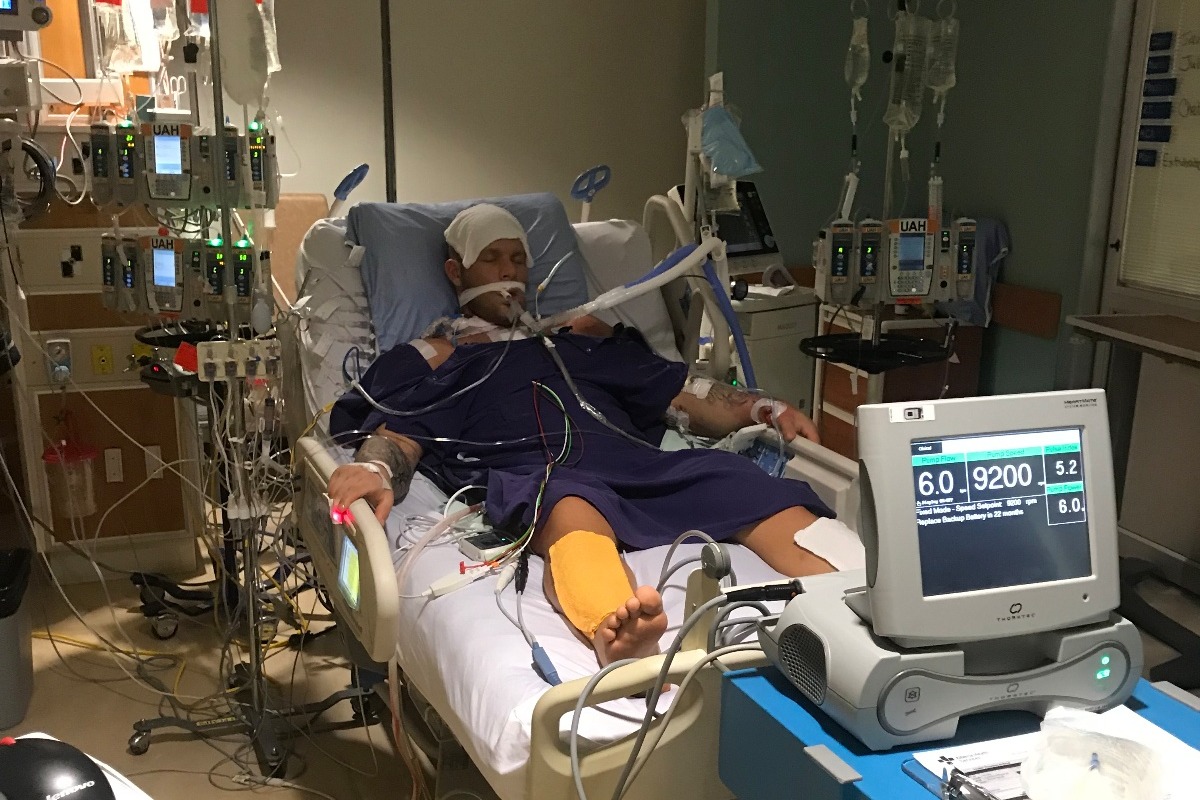 Essentially, an LVAD helps hearts pump that can no longer pump on their own. Their heartbeat is replaced by a constant flow of blood which means that LVAD patients no longer have a pulse. Patients of the LVAD, like Spencer, will face a high risk of repeat blood clots and strokes. Some patients will have their LVAD until they pass and some patients may need it as a bridge while they wait for a heart transplant.
Spencer received his LVAD on January 4, 2018 and just over a week later, he suffered a stroke that impacted his left arm and vision. It took days before he regained strength in his arm, but still has not regained peripheral vision in his left eye.
Within the following months of challenging and painful recovery, Spencer was released from the hospital with 24 hour care and nearby accommodations, only to be readmitted on March 21st, 2018.  He faced a high risk of stroke due to a formed blood clot in his LVAD pump. Weeks later and over 70lbs lost, Spencer has just recently been released from the hospital after another stay while his medical team worked to break down the clot and prevent others.
Spencer has been fortunate that his family has made the necessary choices to be there with him and assist with his care. It has been a tiring and tumultuous time for everyone. His parents have been by his side in and out of the hospital, through surgeries, and other life-saving endeavours since Christmas. They have both taken specialized training in order to provide necessary care in the event of any possible emergency issues. He is extremely thankful for the continued care from his medical team, his parents and siblings, his girlfriend, and all other close friends and family that have been present during this journey. He is happy that he has been given a new chance at life with this LVAD.
What happens from now on?
Spencer will be reliant on his LVAD, essentially, for the rest of his life. This life-saving device runs with the use of almost 10 lbs of batteries and a controller that will only last up to 12 hours unplugged. This means he must be able to plug in to AC power each night.
As the driveline of his pump is an open wound on his body, he requires dressings every time he sweats or has to shower. A designated caregiver must be available as well as costly sterile supplies like the dressings that cost $45-50 each, none of which are covered by any plans or programs.
An extensive list of expensive and changing medications will be staple items in Spencer's life from now on. Follow up care and continued treatment 3-5 days a week require Spencer to attend specialist appointments, get blood work done, and complete cardiac rehab at the Jim Pattison Centre for Heart Health back at the University of Alberta Hospital. Both Spencer and his parents have had to leave their homes in Yellowknife and Calgary to find accommodations in Edmonton in order to be close to the medical team most experienced in VADs and Spencer's particular health history.
Although the burdens continue to pile up, Spencer and his family know they have made the best choices for their family. They need to be in Edmonton in order to get the best care. They need to continue to learn how Spencer can heal and get back to a normal reality as he continues his slow journey towards rehabilitation.  
We all understand the overwhelming feeling of the increasing financial burdens that sickness can bring upon a family.  Because of this we are asking for any assistance that you may be able to provide to us, Spencer's family, as we try to pay present and future expenses like the medevac flight, ambulance costs, medications, dressings, and rental accommodations near the hospital.
We thank you for considering this. Your prayers, concern, and support, financial or not, have been greatly appreciated this entire time. 
Kim & Altaf Lakhani & Family 
Organizer and beneficiary
#1 fundraising platform

More people start fundraisers on GoFundMe than on any other platform. Learn more

GoFundMe Guarantee

In the rare case something isn't right, we will work with you to determine if misuse occurred. Learn more

Expert advice, 24/7

Contact us with your questions and we'll answer, day or night. Learn more