SOULNIC BACK TO GRIFFITH PARK 2015
SOULNIC Needs your donation now!
Thanks to our generous friends, SOULNIC has grown from an annual family picnic with attendance in the hundreds to an annual cultural festival and charity fundraiser for On A Mission.
Once we have more sponsors on board, to cover all of our expenses, this event could become entirely FREE. But for now we still need your support to cover the additional costs associated with keeping the event safe and organized which means our added security, extra port-a-potties, crowd control, and much more. This comes directly from the money you donate NOW, online.
DONATE TODAY
Your $10, $20 or more will help us reach our goal. So we ask that if you believe in this event and support the cause that you give generously for those who cannot so we can keep up this summertime LA tradition of family fun dancing together in the park on June 13th.
Since 2010, SOULNIC has presented Griffith Park and the City of Los Angeles with a unique, family-friendly dance event that is free and open to the public. Each year we are excited, but overwhelmed by the exponential growth that this event has experienced.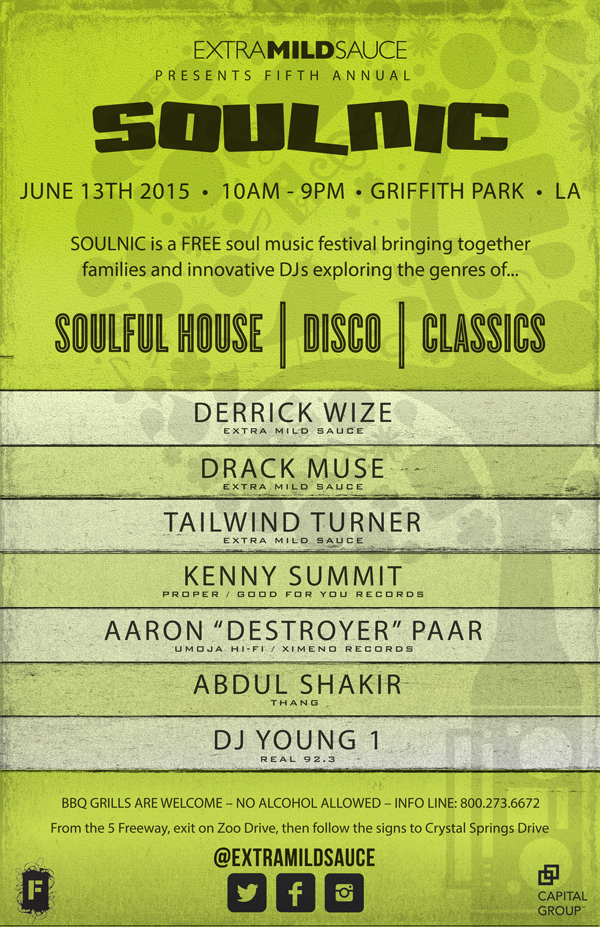 This event has always been about the people. We believe that it should also be powered by the people. So, in order to keep this event free for the public while enhancing the safety and overall experience of SOULNIC, we are reaching out to the community for help.
Our BACK TO GRIFFITH PARK in 2015 Campaign is how you can help. Purchase our merchandise, make a donation, OR become a sponsor - we have some very effective advertising opportunities available.