SOS Ukraine: Medical Humanitarian Convoy
Who are we? What do we do? And what are we hoping to achieve? 
 Before we begin: Thank you for visiting our campaign website and for taking the time to read about us and our project. OFF ROAD FIRST RESPONDER is a pioneering, young and enterprising entity, led by two-wheel enthusiasts and health emergency professionals, that was originally established with the intention of reducing bikers' injuries and mortality. 
As a non-profit organisation whose ultimate goal is to save lives, we cannot stand inactive in the face of the situation that is being experienced in Ukraine, and that is why we have decided to put our means, our experience and our staff in the hands of the Ukrainian people. Working hand in hand with the Ukrainian consulate in Barcelona and several other organisations, we are currently preparing a humanitarian convoy that will shortly be on its way to Ukraine. for more information visit
https://rescuebike.es/mision-humanitaria-ucrania/
What are our goals? To do what we know how to do best: train and assist. 1. Train: We train ordinary people, like you, in first aid and basic life support. Above all we focus on polytraumatic and/or haemorrhage injuries. If you practice extreme sports in nature and in surroundings that demand a lot from you, you know very well that there are places in the mountains that are difficult to reach, even on foot. And if it is already difficult in our world, now imagine, just for a second, what the chances of surviving are if you are injured in the middle of a war. On the one hand, when someone suffers a fatal injury, there is very little time to react, and whatever you do, it must be done safely, with complete knowledge of what you are doing and, above all, without causing greater damage. On the other hand, waiting for professional help to arrive (an ambulance, a medical helicopter, etc.) is not always enough, and on many occasions, it could be you who has to be the first responder. Our motto is: You can save a life too! 2. Attend: Our team, made up of drivers who are experts in logistics and emergency professionals (such as nurses, police officers and firefighters), is committed to collaborating in the transportation of medical and humanitarian aid, as well as to offering support to the different organizations that are already on the ground and who are currently operating at full capacity. for more information visit
https://rescuebike.es/mision-humanitaria-ucrania/
What do we need? Although we dream of helping as many people as possible and our goals are admirable, the reality is that we live in a world in which money is necessary to achieve certain things. And no matter how good our intentions are, we are a small organisation with limited resources, and that is why we need your support and your contribution. With it we can make the following things happen: Take our humanitarian rescue truck together with our team and logistical equipment from the Spanish boarder to Ukraine. Counting only the outbound journey and return, this means transporting our team and equipment 5,000 km. Get as many resources as possible for our mission. The more material we get, the more material we will be able distribute for free within the country. Cover the maintenance of our humanitarian team in Ukraine. We are going to stay as long as necessary, and we calculate that we will be traveling an average of 1,000 km per month within the country. To be logistically and operationally independent and autonomous. In these types of situations, being autonomous is essential. In addition, this will increase the operational resources that are already in the border area and the rest of the country. for more information visit
https://rescuebike.es/mision-humanitaria-ucrania/
Why train people to be first respondents? - The leading cause of death in critical situations is not knowing how to stop a haemorrhage. If we know how to stop the haemorrhage, we can save more lives. - We have developed a program capable of training 150 civilians per day. The training consists of basic haemorrhage control and basic vital support. - Every person with basic medical training can save numerous lives in places we are unable to reach. - In 45 seconds, a person can enter a hypovolemic shock. If we know how to stop the bleeding, we can save lives. - This medical help is the most necessary in these warlike situations. - This Is the main reason why we are going to Ukraine. Training is an essential tool in these conditions. - 90% of the time the first person to encounter a wounded person has no basic medical training. for more information visit
https://rescuebike.es/mision-humanitaria-ucrania/
How can you help us? - By making a financial donation You can do it directly via this page or by bank transfer to: BIC/SWIFT: CAIXESBBXXX ACCOUNT NUMBER: ES29 2100 8602 0051 3544 REFERENCE: RESCUE SOS UKRAINE - By helping us to get material. - If you think you can help us get useful material for our campaign, contact us directly by sending an email to sosukrainemision@rescue-bike.com and we will contact you as soon as possible. - You can also buy material via our website
https://store.rescuebike.es/soporte-vital-tactico
and get it sent to our headquarters. - By sharing our campaign for more information visit
https://rescuebike.es/mision-humanitaria-ucrania/
Let your contacts on social networks, friends, family, the press, etc. know about our campaign and our work. Follow us on Instagram [email redacted] and share our stories. THANK YOU!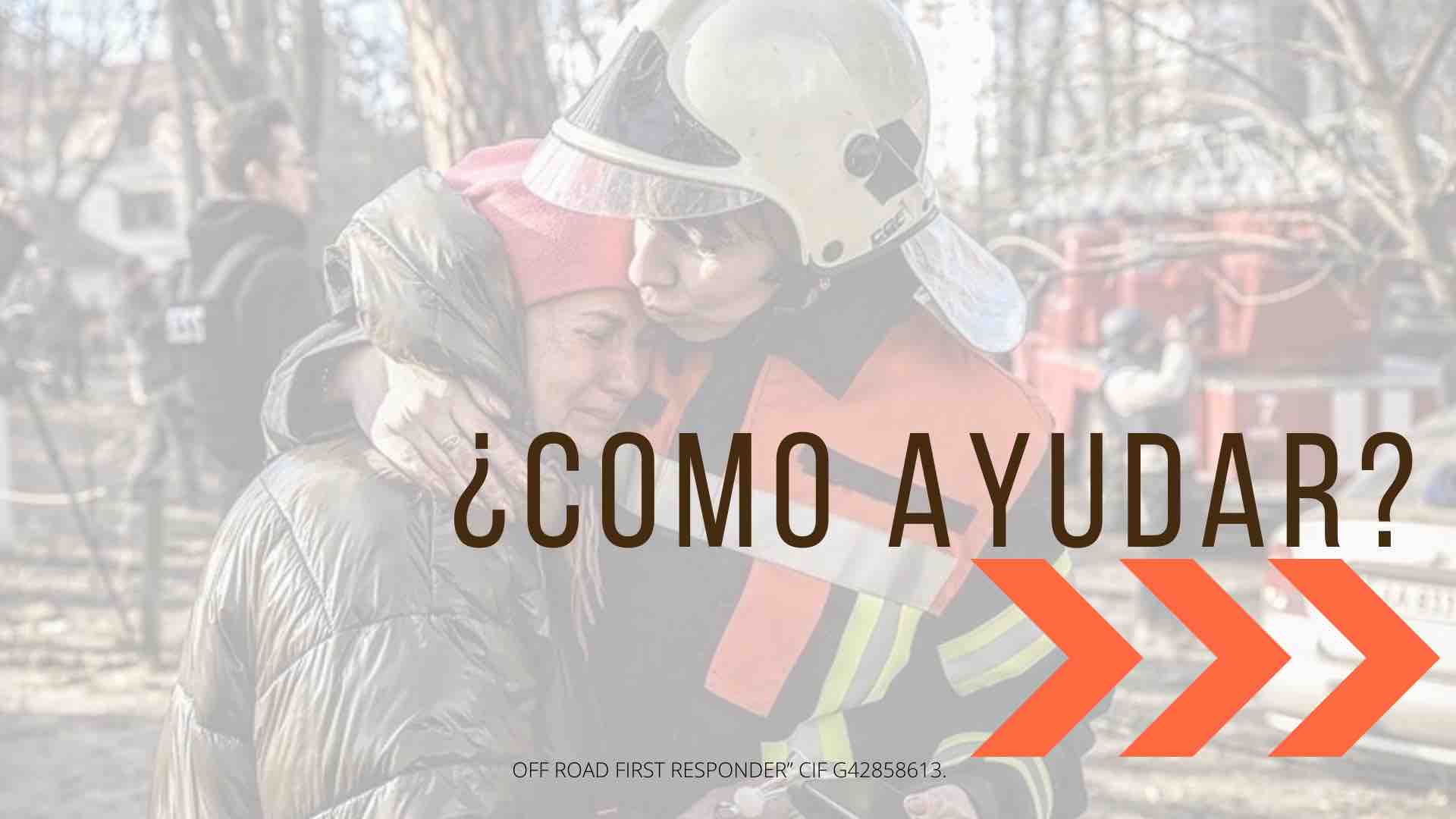 ·      Haz una donación económica. Puedes hacerla a través de esta página o haciéndonos una transferencia a: 

BIC/SWIFT: CAIXESBBXXX 

ACCOUNT NUMBER: ES29 2100 8602 0051 3544 

CONCEPT: RESCUE SOS UKRAINE



·      Ayúdanos a conseguir material. Si crees que puedes ayudarnos a conseguir material útil para nuestra campaña ponte directamente en contacto con nosotros enviándonos un email a sosukrainemision@rescue-bike.com y nos pondremos en contacto contigo lo antes posible. 
También puedes comprar material en nuestra página web
https://store.rescuebike.es/soporte-vital-tactico/
y hacérnoslo llegar a nuestra sede. 
·      
Compártenos
: Haz que tus contactos en redes sociales, amigos, familia, la prensa…conozca nuestra campaña y nuestro trabajo. Síguenos en Instagram a través de la [email redacted] y comparte nuestras historias. 

Fundraising team: RESCUEBIKE: MISSION SOS UKRAINE (8)
Off Road First Responder RESCUEBIKE
Organizer
Raised €337 from 10 donations
Barcelona
Ana Sáenz De Pipaón Soba
Team member
Raised €250 from 1 donation
Didac Cerezales
Team member
Raised €200 from 2 donations
Mercedes Faleiro
Team member
See all