Sophie's Legal Defense Fund
Sophie's Legal Defense Fund
Conceding to create this campaign has been one of the toughest things I have ever done.
And yet, circumstances have pushed me to surrender to the fact, my niece Sophie and I could really use a helping hand to get through this crazy situation.
Explaining why involves an epic tale which I attempted to get down to the bare essentials.  It's a 12 - 15 min read, with photos, see below.
But, for those of you who would prefer a bulletpoint version, here it is:
The Ask

My sister Christina struggled with mental illness her whole life. 
In 2011, she had a baby and became a single-mother at 24.
Christina gave it all she had, but eventually, things fell apart. 
In 2017, I began raising my niece Sophie, who arrived with a litany of traumas, which we tackled one by one until she was completely thriving.
In 2020, my sister passed away, only 32 years old.  In the wake of her death, I am now fighting a custody battle against two separate entities. 
Sophie's biological father, who has been out of the picture her whole life.   And Sophie's biological grandfather who, I believe, has ulterior motives. 
Sophie does not want to see them and has begged me to ensure that she is not forced to be around either one of these men.   
The legal battle started out at a rapid pace and it looked like we would have our favorable decision within four months time, but now the case is bogged down and it looks to be a multi-year endeavor.  
Covid lockdowns have shuttered my ability to run my business for the time being, but of course, the legal bills have persisted! 
In the meantime, I need to make sure we can keep up the fight to protect Sophie.
If there is any chance you might be able to contribute or pass on the campaign, we would be forever grateful for your help!
Christina in 2013
Here's the more fleshed out story, broken into mini-sections:
The Backstory
In the year before my tenth birthday, I became a brother to a baby, who was technically speaking, my half-sister, Christina.
All of us could see early on, this child was sweet, but wow.... she really had a tough time making good decisions!
At the time, we didn't yet know she suffered from pretty severe mental illness, we hoped she might grow out of it, and did the best we could, helping her along.
Fast forward through her relatively troubled youth... by her early 20's, surprise, surprise, she was dating someone we were less than thrilled with.
Years passed, but we couldn't convince her to split ways with this person.
It was only when Christina became pregnant, that she finally realized this relationship was not going to work out.  
And so it happened, they split soon after bringing a new life into this world.
These were the precarious circumstances around the birth of my niece, Sophie.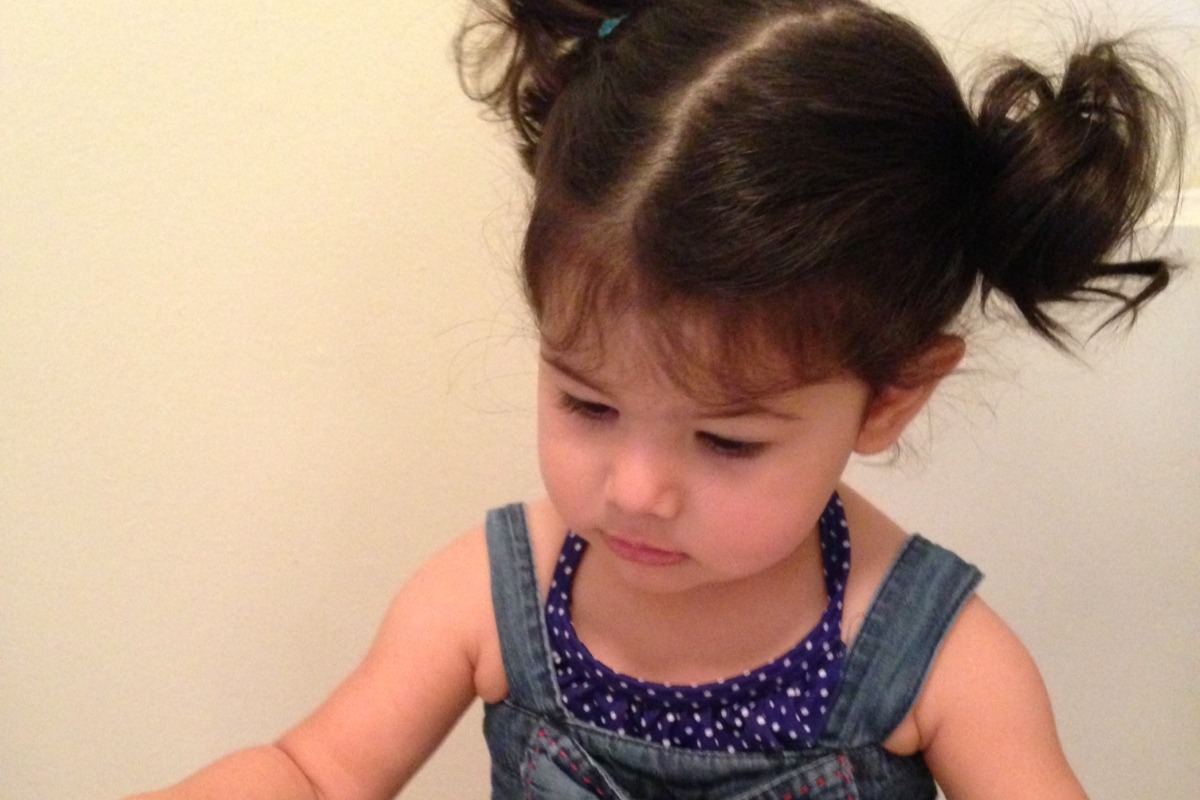 Years 1 - 6
No doubt, being a single parent is extremely difficult for even the most adept person to handle. 
Despite tremendous support from Maternal Grandparents, (who Sophie affectionately calls, Nana & Bobo), it was becoming more and more clear, any hopes of Christina being able to maintain stability and solvency were becoming further and further out of reach.  
Christina really did try with all of her might, but the new stress only added to the mental illness she had been born with, making the endeavor of single-motherhood, too much for Christina.
While things began to crumble, Christina was still portraying the scenario in a rosy light to the rest of us. She would inform me on regular phone calls, if I could only keep helping financially, everything was going well.
But, upon moving back to Los Angeles full time before Sophie's 6th birthday, it became clear, I had been deceived, quite dramatically for several years.
Christina and Sophie were evicted from their home and had their car repossessed within days of my arrival back in LA.
The whole house of cards tumbled down and as it did, I discovered... we had a full-blown crisis on our hands.
Overnight Parent
After Sophie moved in with Lisa and I, one new emergency after the other was revealed.
Sophie rarely spoke and she was terrified of pretty much everybody and everything.
All the years of chaos had built up so much cumulative anxiety in the poor little munchkin, she was paralyzed in fear.
She simply could not digest any food, could not go to the bathroom and in fact, was not potty trained, at six years old.
After the grueling crash-course, potty training, we found a school able to take Sophie mid-semester.
At the first meeting, the teacher informed us Sophie had only been to school, a total of 27 days the entire year, prior.  With many of those being partial days.
The teacher went on to explain, Sophie having missed the entire year, did not know how to read, she was way behind her classmates and there would be no choice but for her to complete the year, fail and repeat the grade again next year.
As all of these emergencies mounted, it felt like a race against time. Racing to untie all the knots of trauma and fear, so we could begin anew before the patterns were too ingrained.
All this was happening while also dealing with an increasingly unstable sister, in Sophie's mom.
Although I bought Christina a new car and was helping her financially, she was far too erratic to stay under our roof, so with nowhere to go and no job, she moved in with an ex-boyfriend.
You'll be shocked to know, this was not a good situation.
Miraculous Progress
After compiling a long, prioritized list of the hurdles Sophie would need to surmount, we set out on the path.  
Often, one step forward and two steps back. Navigation through all the different issues was certainly, non-linear and overwhelming at times, but we never doubted Sophie's ability to move through it.
Lisa and I along with Nana & Bobo and Sophie's wonderful therapist Lucy, helped to hold the space for Sophie during this time. Lending guidance and encouragement as Sophie deprogrammed her negative patterns and replaced them with beneficial, new ones.
After a few months of perseverance, there was a tipping point. A clear shift. We began crossing hurdles off the list, at an increasing pace.
The paralyzing fears were beginning to melt away and Sophie's true nature was shining through the cracks, more and more, every day.
Instead of accepting the foregone conclusion of her teacher, to fail and repeat the grade. We worked tirelessly until Sophie caught up to her peers, then passed them and ultimately got the Student of the Year Award for Reading.  (An award she received the following year, as well).
That first year was absolutely filled with miracles. All while processing so much pain and trauma, this little monkey stubbornly and courageously just kept moving forward. It was a sight to behold!
I can't imagine another scenario in life bringing me more inspiration than witnessing Sophie's transformation.
Cruising Altitude
In less than a year, we had crossed ALL of Sophie's initial hurdles off the list.
Now, we were freed up to deal with the normal challenges of everyday life.  At this point, Sophie was by all accounts a normal, healthy kid, at least when she wasn't worried sick about her mom's well-being.
In school - with no distant third in sight, Sophie and her friendly arch-nemesis battled it out, three years in a row, for top of the class honors.
In the arts - Sophie not only conquered her fear of speaking, she was performing on stage, particularly interested in comedy and acting as well as dancing Brazilian Samba and other, not so simple feats.
On the playground - she was shredding up the competition in sports, whether it was on her BMX bike, snatching a no-look, one-handed catch of the Frisbee or dribbling the soccer ball, I was blown away by her natural ability each time I introduced her to a new sport.
Sophie was, by all accounts, doing exceptionally well, enjoying all that life had to offer and developing into a gifted young, storyteller and comedian.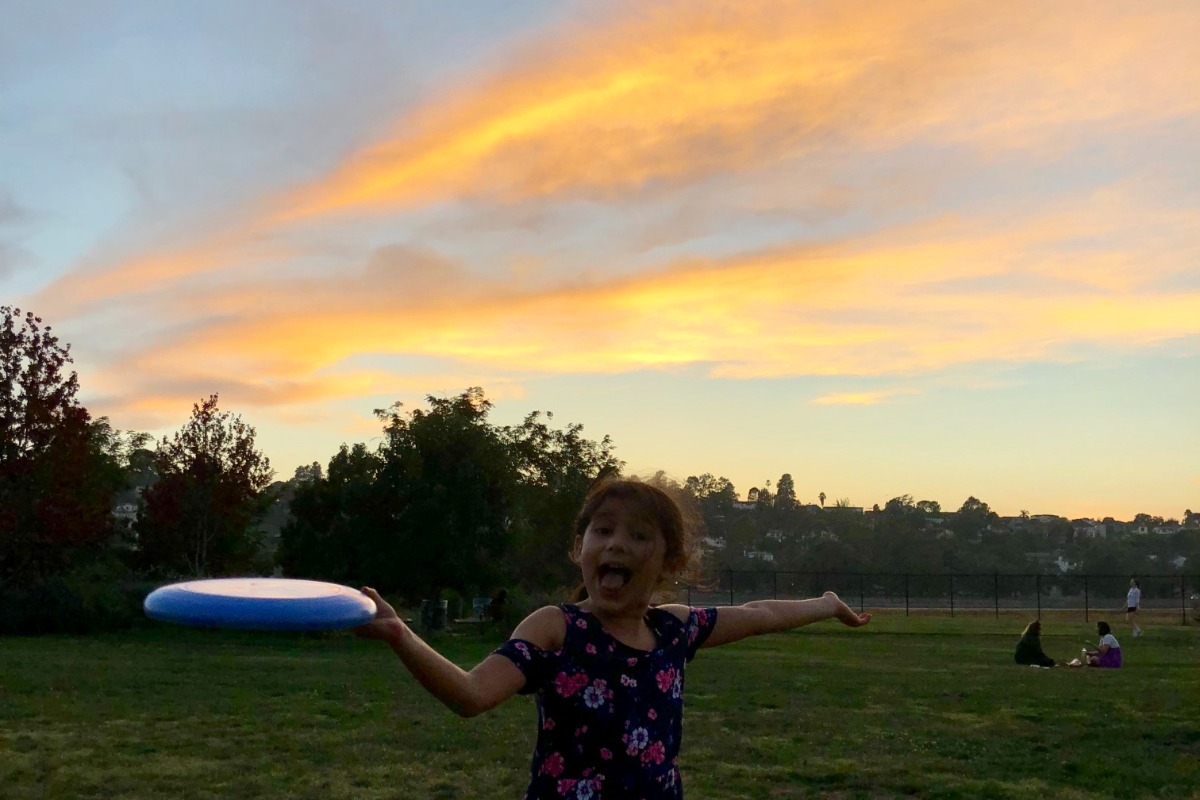 The Phone Call
As if 2020 were not already crazy enough, on the evening of Tues, May 5th, Sophie's mom was supposed to pick her up and go to dinner. Sophie was waiting on the front porch for four hours.  Christina never arrived.
When the phone rang from an unlisted number, I had a sick feeling in my gut. It was the LA County Coroner, informing me that my sister, Sophie's mom, had been found unresponsive in her bed. No clear sign of death.  
Even though Christina had many health issues, her death at 32 years old, was still a shock.   
It was my job to inform the whole family, including Sophie. When I told her, Sophie who was then, only eight years old, said, "This is the thing I was always so worried about, every single day! And now, she's gone forever."
At the time of this writing, it's been almost seven and half months since Christina's death.
As a family, we have re-grouped to rally around Sophie with renewed vigor to help her through the loss of her mom. 
Despite our divorce in early 2018, Lisa has committed to co-parenting Sophie with me.  This along with the unwavering, loving support of Sophie's inner-circle, has helped to ease the pain for the now, nine year old Sophie, in this time of loss and healing.  
Upside Down 
For the first three years Sophie was in my care, I did not have legal guardianship because Sophie's mom was under the delusional impression she was just one winning streak away from getting her life back on track.
For us to hash it out in the courts would have been far too brutal on Sophie, so we kept the whole situation informal.
A few days after Christina's death, some strange things started happening. While being vetted by Child Services as part of the legal guardianship due diligence, the investigator told me something extremely disturbing.
We had finished the multi-hour, in-home investigation, including interviews of myself and Sophie, when she said, "Thank you for your time. It is clear Sophie is in the right place and thriving here with you."
Her face then turned red, she looked down, and after a long uncomfortable pause, she said, "But, ....as part of our investigation into this case, we had to locate and inform Sophie's biological father."
"Although we found records indicating he has not been part of Sophie's life, it turns out, he has rights to full legal custody of Sophie in the eyes of the Courts. And he intends to take custody of her immediately. I am sorry, but there is nothing we can do. It's out of our hands."
If there were ever a time for this phrase....it was time to invoke it.
I said, "Oh, Hell No!"
There was no way I would allow that to happen.  
Before Child Services had left my driveway, I had called my attorney and we got to work.
The Plot Thickens
It turned out, our court battle would be against not just one blood relative, but two separate entities, who suddenly claimed to care about Sophie.
Christina's biological father, technically Sophie's grandfather, entered the picture, making all sorts of incoherent claims, which, for the life of me, I cannot decipher.   
Then, there were two.   
The few of us who had actually been raising Sophie, were having the toughest time understanding why either one of these men were suddenly showing an interest in Sophie. 
We have our theories, but in the end, it doesn't matter because it's not going to happen.  
And to be clear, I asked Sophie if she wanted to see either of these people, and if she did, I would have allowed it. 
Sophie was emphatic in her response and begged me to ensure she would never be forced to be around either of these men.  
Courthouse
It would be quite an understatement to say, there was a lot going on during these few weeks after Christina's death, but we stayed focused on preparations for the case.
At our first hearing May 27th, the judge shared our puzzlement, asking the opposing attorney, "why the interest now, after so many years of zero contact?"   
The hearing was swift, the judge awarded us Temporary Guardianship, but stated clearly, the next hearing, scheduled for Oct 7th, for Permanent Guardianship, was for all the marbles.
There was much to be done for the case over the next three months and we were on top of it.  
In addition to the case my attorney and I had built, Child Services had submitted their thorough investigation and concluded with the strongest recommendation available, not only in support of my Guardianship, but going further to actually issue a warrant to bar Sophie's biological father from making contact with Sophie.   
And then on the morning of the hearing, the Court's Probate Investigator, filed a report, recommending Sophie remain in my care.
With all of this momentum supporting our case, we were all but assured a favorable ruling by the Judge. 
On that morning of Oct 7th in Court, seeing how this was about to go, both of the opposing attorneys, requested to postpone the day's hearing, purportedly, in order to review and respond to new evidence and the report.
Because due process allows for it, the judge granted their request, delaying the decision.  That's when I found out, instead of walking out of court with Permanent Guardianship, we would have to return for another hearing in Nov, another hearing in Dec, another in Jan and one more in Feb.
And.... if not resolved by this final hearing, we will go to trial in 2022.
Justice...?
Even in cases where it's absolutely apparent which side is in the right, the legal system can, at times, favor those who are willing to keep paying for procedural extensions, if they are able to bleed out their opponent's resources. 
While we are definitely going to win this legal battle, it appears we have quite a long haul ahead of us.
And when we get to the finish line of this battle and receive Permanent Guardianship, our first reward will be to begin the new, long and costly road towards Adoption! 
Sounds fun, right!?! 
2020 Vision
2020 has brought so many wild events in the world as well as in our family. 
Sophie, dealing with the devastating blow of losing her mom, the grief has often been overwhelming.   
Often, her last resort coping mechanism is some variation of disassociation.  Basically, disconnecting from her surroundings.  
Many times this involves completely blacking out, sometimes combined with seizures.  It's very intense and scary.   
Although homeschooling was quite a tricky transition to adjust to, given what Sophie is dealing with, we are very grateful we can be together throughout the day to support her through all of these episodes. 
After six months of Sophie experiencing roughly 15 - 25 episodes per day, I am happy to report, during the last six weeks, the number of episodes has begun to decrease, a hopeful sign of healing.  
While lockdown's unintended consequences helped in this particular case, on the flip side, lockdowns and distancing protocols served to shut down all of my business endeavors.
Who knows when Covid restrictions will lift and my business ventures can start cranking again, but for now, what has become clear...
 ...we could really use some help with these legal bills and making sure Sophie is safe and protected.
I know it's a crazy time for all of us, making it doubly painful for me to ask for help, .....but, if there is any chance you might be able to contribute to our legal fund, I can assure you, Sophie is indeed a worthy cause.
It seems to me that raising up the next generation to be maximally courageous is really our best hope for the future.
I, for one, am, ALL IN on this mission,
If you can't contribute financially, please feel free to share the link, or just send those good vibes our way.
With All Humility & Gratitude
Thanks for reading our story
p.s.
Sophie says, anyone who contributes to the fund will get VIP passes to her first comedy show.

Organizer
#1 fundraising platform

More people start fundraisers on GoFundMe than on any other platform. Learn more

GoFundMe Guarantee

In the rare case something isn't right, we will work with you to determine if misuse occurred. Learn more

Expert advice, 24/7

Contact us with your questions and we'll answer, day or night. Learn more