The goal of this crowdfund is to raise funds for start up costs.
  This includes materials and sampling expenses for a capsule of the first collection. We will then endeavor to present the collection to investors & buyers.  
Songbird Studio needs your help.
Our vision needs funding and we believe in no better way than building a community of investors.
Crowdfunding gives us the opportunity to share our story, our values and our triumphs with those like-minded friends, family, associates and entrepreneurs who believe in the rebirth of meaningful manufacturing.
By becoming a valued member of our team, you will single handedly be helping to promote economic growth in the New York region while having a sense of ownership & pride in the collections we produce.
Read about us below and see how you can
help us reach our goal!


Songbird Studio is a mindfully curated collection of heirloom sweaters designed for the young spirit with an old soul.  
Motivated by a
process with purpose
mission; we strive to re-cultivate a connection to how clothing is made and redefine the value of garment making,
one process at a time
.
We have partnered with business owners in our local supply chain who share our vision of community collaboration and minimizing the impact our processes have on the environment.
Our growing community is made up of a diverse group of creatives, farmers, mill workers, and manufacturers in the New York State region. We are working together to develop honest, high-quality goods that translate our values and commitment to sustainability.
We create for those who care.  For those who seek connection, genuity, and purpose.

Founder, Designer:
Kalli Prins is a designer, creative thinker, and social entrepreneur.
As a strong believer in what we choose to make matters, Prins' designs go beyond aesthetics.
Her work is rooted from the ethos;
process with purpose
.  She views garment making as a platform to improve local economies and influence positive change.
Within her collections you can find a balanced composition of simplicity and detail; a juxtaposition of intricate workmanship mapped out on a timeless silhouette.  She uses her materials to form gentle textures, understated fiber manipulations, and elevated knitting patterns.
She has over 10 years of experience in the fashion industry designing and managing the creative process for companies such as BCBG Max Azria, Ann Taylor, and Elie Tahari. 
She holds a degree in Fashion Design from the Fashion Institute of Design and Merchandising in Los Angeles. 
She lives and works out of her studio in Brooklyn, NY.

We design with intention.
Each collection is approached with an understanding of our responsibility, as designers, to
increase creativity
and
decrease waste.
We aspire to create an
intentional creative journey
, one that is purposeful and meaningful by taking time to design, be inspired, and use our materials in unique forms.

Effortless, timeless, sophisticated yet artisanal.  
Our design aesthetic is influenced by appreciation of traditional folkways amalgamated with modern craftsmanship.  


Not only is the story of each piece considered but the intended longevity of

every garment

. Our collections are made-to-order and limited edition.  That means no waste.  The life cycle of our garments begin when an order is placed - and the wearer becomes the inheritor of an heirloom to be owned, appreciated and (we hope) passed down to loved ones for years to come.

This collection is a culmination of years of research, design exploration, and community participation.

We have selected a capsule from our full collection to develop, sample, and promote Songbird Studio's aesthetic and brand vision.  
This capsule collection is an assortment of both hand and machine knit garments. 
All styles are uniquely designed to showcase our locally sourced materials and quality manufacturing process. 


We believe in American manufacturing, as it was, a means to a good-life.


Our partners are committed to their communities by offering diverse employment opportunities, competitive compensation, and are respected & appreciated for the hard work they do. 
A core value of our mission.

We have carefully and considerately chosen farms that show compassionate care for the animals and environmental respect for the soil.  

From farm to fiber to garment, our hands are involved in every aspect of the process.


We observe to ensure a good life for the farm animals.
  We take part in the shearing, grading, and selection of the fibers along with overseeing spinning of the yarns to final manufacturing of each piece. 
Our mills take into consideration the impact of their processes and make environmentally responsible decisions throughout production of yarns and the cleaning of fiber.  
We will be collaborating with a well-respected hand knitting studio who harmonizes with our vision of creating heirloom items.  Garments will be knit by hand in New York City; methodically crafted with care and detail. 

Our machine knitting factory offers a "made-to-order" production model, 
which means each garment is is produced singularly, exclusively after the customer has directly placed an order from our e-commerce shop. 


Garments will be knitted seamlessly on WholeGarment Shima Seiki machines that use 3D technology.  All made in Brooklyn, New York.

Our  goal is to show that every process has a significant purpose and in order to achieve this we make our process transparent so you can be involved along the way. 

Natural fi
bers.
  They do not need to be re-formed or chemically altered.  
Natural colors. 
We use the original color of the fibers; eliminating any chemical dying processes and excessive water wastage. 
Naturally renewable and sustainable.
  They are environmentally friendly, natural, and recyclable.
Biodegradable.
Our fibers can be recycled when they have outlived their original use.  Old, discarded pure wool garments can be added to garden compost heaps.  Here they will break-down after time into a useful weed-suppressing mulch.
High quality and long lasting.
We intimately follow our mission to create heirloom pieces – made to last and intended be handed down.  The farms we have chosen produce the finest fiber on the east coast. We involve ourselves in the yearly shearing.  This allows us to see, touch, and evaluate the fiber first hand.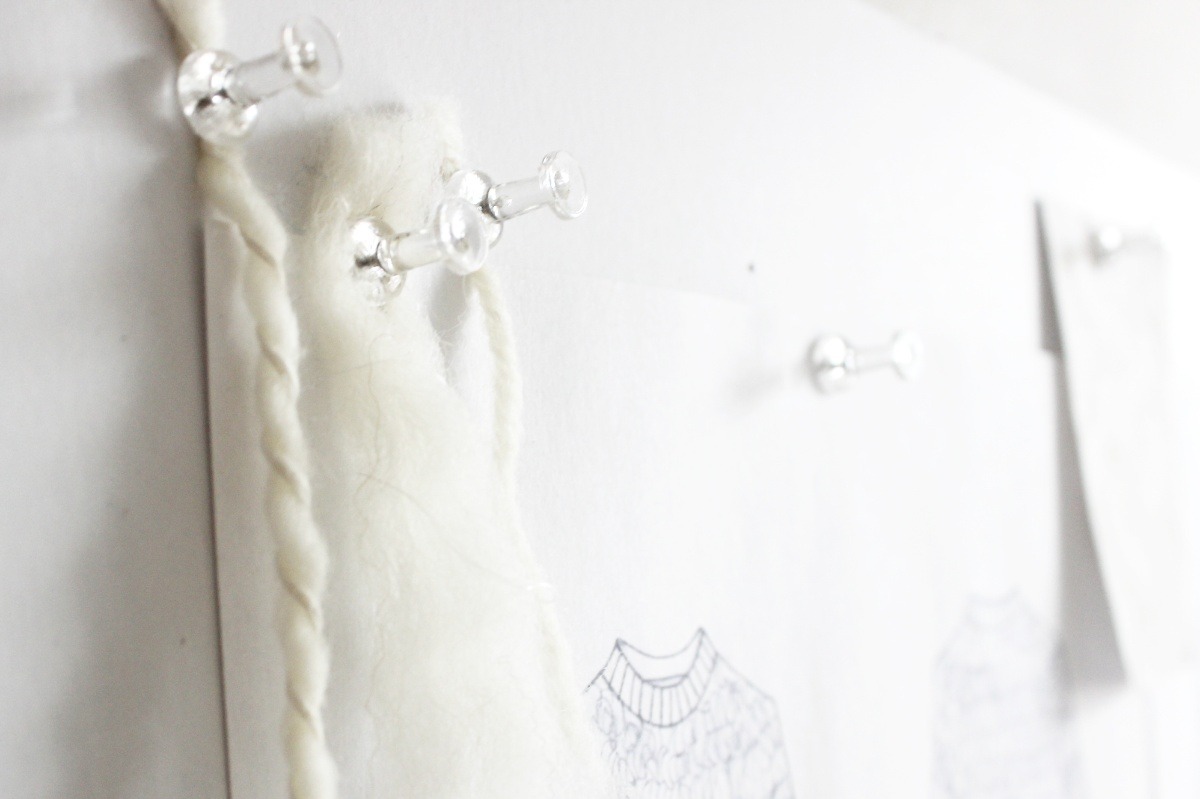 Alpaca.
We source from two Alpaca farms that are located in North Salem and Bethel, New York.  Both farms raise premium quality Huayaca Alpacas. 
Our farm partner's demonstrate ethical farming practices.
  The Alpacas have plenty of space to move freely and behave according to their natural instincts.  They live outside as nature intended with clean, fresh air, and sunlight.  
The Alpaca grows soft, luxurious, ultra-fine fibers and are considered to be softer than cashmere.  
Their fiber is lighter yet warmer than sheep's wool and hypoallergenic.  Some other characteristics include superior breathability, natural moisture wicking tendencies, and excellent durability.
Cormo Sheep. 
We source from a sustainable, family-owned and operated farm located in the Mid-Hudson Valley of New York State.
Our farm partner runs an alternative energy use farm.  
They use wind generators and solar panels to produce 100% of the power consumed in farm production and in the farms residence.  The sheep are fed with locally grown whole grains and are provided with pastures to graze. 
Cormo is a high quality, fine wool.
  They produce an ultra luxe, dense fleece with exceptional consistency.  It is a breathable fiber, which makes it excellent year-round.  This fine wool has similar characteristics to the alpaca such as impeccable softness and excellent durability. 
Angora Goat.
We source from the same sustainable farm that produces our Cormo wool in the Mid-Hudson Valley.
Angora Goats produce a natural long hair fiber known as Mohair.
  All of the goats on this particular farm produce fine kid mohair, which is incredibly smooth and ultra-fine.  Aesthetically, Mohair creates beautiful soft textures and is quite valuable to the touch. 
Thus far, Kalli has dedicated countless hours to designing, knitting inspiration, and concepting ideas.
There has been much time spent researching and establishing relationships with farmers, mill owners, other creatives, and manufacturers over the past year and a half. 
She has traveled to different regions around New York, with an objective to meet and observe the practices of each business; ensuring ethics were aligned with Songbird Studio's ethos.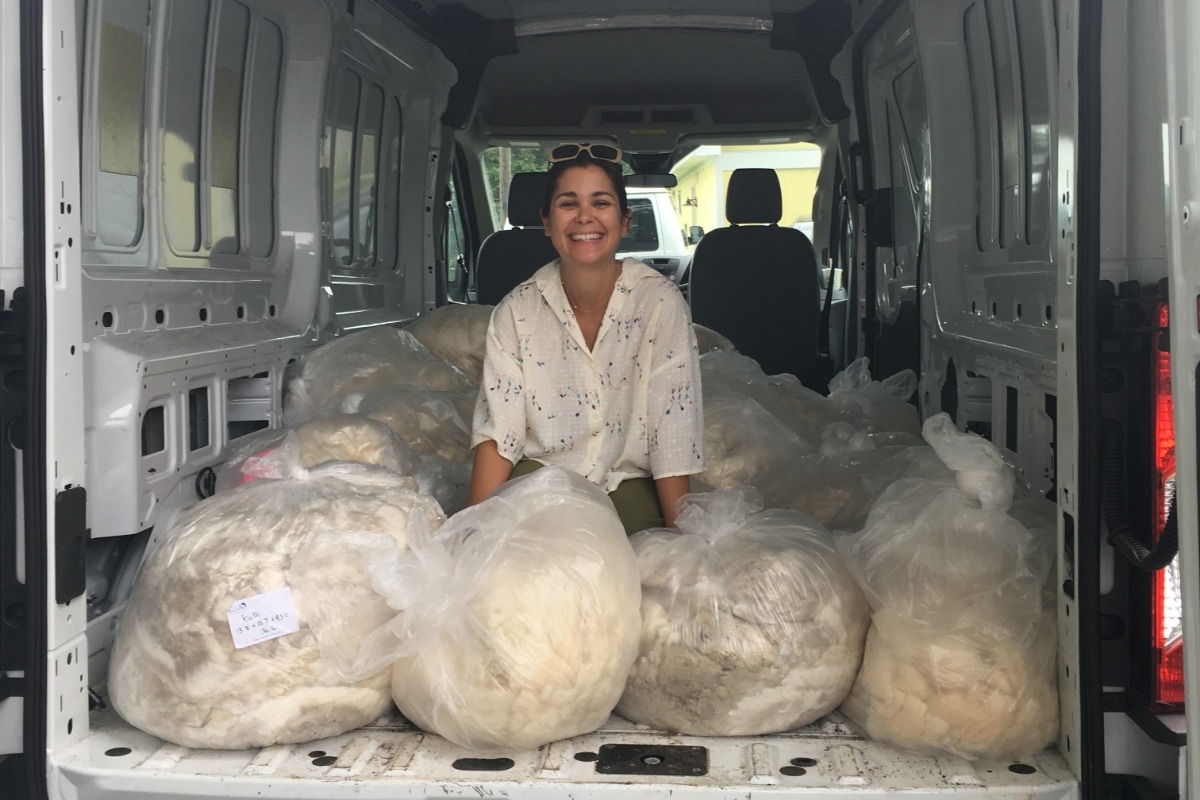 Personal investments have gone toward the purchasing of 185 lbs of fiber, washing of the fiber,  transporting the fiber by car to various destinations around New York, and soon will put forth half the cost to begin spinning yarns.  Other investments have included trademark, fiber fairs, travel expenses, office supplies, educational services, business meetings, materials, and more. 
The $ that we hope to earn will pay for:
·       $1,000:
 Spinning of yarns
·       $9,000:
Sampling of Hand Knit Items (Includes swatches, first proto, 2nd proto, and final fit sample) 
·       $15,000:
Sampling of Machine Knit Items (Includes swatches, first proto, 2nd proto, and final fit sample) 
·       
$1,000:
 Marketing 
We have purchased fiber for sampling and transported it to our scouring mill to be cleaned. 
We are now at the stage where fiber needs to be spun into yarn and garment samples need to be made.  We will be personally investing in half the cost of yarns.  
The cost of sampling and developing in the US is more expensive than local production services or sampling overseas.  Our factories have to take into account that for each garment or yarn poundage made, they are able to pay their workers a livable wage, supply electricity, space, usage of machineries, etc. 
In order to be prepared to sell and present our product, we need to have marketing videos to capture our full process at each farm, mill, and manufacturer.  This will also include a photoshoot for the collection along with editing of images to consolidate for our lookbook and social content.  
With your help we can successfully complete our full manufacturing cycle!  
Building a business is like planting a tree.  
Trees do not grow overnight. They start out as small seeds once planted can form strong roots, laying down a foundation to grow.  
We look at all of you as our
seeds.  

We hope that you will consider investing and becoming the foundation of our journey!
Below are some additional ways you can help!
- Group Donations!  Gather a group of friends or family together to pitch in for a group donation.  
- Share with friends and family on Facebook , Twitter , and/or Instagram .  Each share makes a real difference!
-  Join our mailing list! Visit Songbird Studio's website and sign up!

- Like our facebook page or follow us on instagram!

- Word of mouth!  Talk to others about the project and get them excited to get involved!

- Others ways you'd like to help but not listed?  Message our page!
Everyone that donates becomes a community member of Songbird Studio.  
This gains you access to monthly email updates and exclusive promotions. 
$25
- A personalized thank you postcard of a photo of our animals, fiber, or farm.
$50
– An exclusive digital lookbook of the capsule collection, early access to purchase prior to our full collection launch date, and free shipping.
$100
– Fine fiber care kit including lavender scent wool wash, natural scented sachet, and care instructions + all benefits of $50 rewards. 
$500
– Limited edition hand-knit socks made from our locally sourced materials.  Includes a fine fiber care kit + all benefits of $50 rewards. 
$1000
– A limited edition hand-knit scarf made from our locally sourced materials.  Includes a fine fiber care kit + all benefits of $50 rewards.  
$5000 –
 A limited edition hand-knit sweater from our first collection. Includes a fine fiber care kit + all benefits of $50.  
*Please note all rewards will be delivered after we reach our goal and production begins.  For any questions, message our page!
Below are our potential challenges that could delay our progress and successful completion of this project after being funded.  If any of these challenges arise it could postpone garment sampling and further launch dates.
Fiber:
We are working with natural fibers.  There are always chances of greater loss of raw fiber during the scouring process due to non-recoverable portions and damaged goods.  We expect to avoid this issue as we have purchased impeccable fleeces that are already quite clean and put trust in our scouring facility to delivery top quality services. 
Spinning:
There are chances of the fiber not performing as intended which would lead to redesigns, loss of fiber, and delays.  We are working with well-experienced mills that have been producing quality yarns for over a century.  We partner closely with them prior to developing to ensure minimal wastage and delays. 
Sampling:
This can tend to require a lot of trial and error due to the intricacy of design and technical aspects of knitting.  Please remember our founder has 10+ years of experience that will help navigate and problem solve through any issues that arise.
Have other potential issues you're wondering about?   
Feel free to message us!
A note from our founder:


Thank you for visiting Songbird Studio's page! I am eternally gratefully to all of you for taking the time to read about the passion behind this business venture.  I would like to say a special thank you to all of the family and friends who have helped (in more ways than one!) and joined me on this journey thus far.   Your unconditional support and encouragement has truly meant everything to me.  Songbird Studio would not be possible without you!To the farms, mills, and manufacturers, thank you for welcoming me into your community with open arms.  You have offered your expertise, advice, and recommendations wherever I have needed it.  There is true passion behind what each of you do and through your kindness I am reminded of why I  have chosen this path of local sourcing.  

And last but not least, I would like to thank my former co-workers and mentors.  You have helped shape my career path and that is not something I take for granted. Thank you for teaching me, inspiring me, challenging me, and encouraging me. 

With love, Kalli Prins
Organizer