Français en-bas  / English bellow 


Mi nombre es Luisa Trejos Olmos,
cantante lírica colombiana
. El arte siempre ha sido parte de mi vida. Mi interés en las artes me ha llevado continuamente a buscar más lejos, a no detenerme. Es así que una vez descubierto el canto, él me ha permitido explorar cada vez más mi verdadero ser, convirtiéndose así en mi motor, mi mejor medio de expresión y mi más grande anhelo. Comencé mi formación en Pereira, donde nací, luego me transladé a Medellín donde continué mis estudios en la Universidad de Antioquia y gracias a una beca de intercambio terminé mis estudios de pregrado en Música-canto en el Conservatorio Real de Mons en Bélgica. Actualmente continúo mi formación como estudiante becaria en la
Maîtrise Notre-Dame de Paris
, en Francia, reconocida institución de canto francesa. Pero en todo camino siempre habrá obstáculos a los que hay que hacer frente, algunos más difíciles que otros. Mi caso; un
problema en mi mandíbula
ha crecido poco a poco, he llegado al punto en el que desde hace un año
me es imposible masticar cualquier alimento sólido
, razón por la que me he tenido que alimentar únicamente con alimentos hechos puré. Para solucionar esta condición, debo enfrentar varios tratamientos, donde uno de los tantos, es realizar una
cirugía ortognática
(Cirugía de mandíbula).
Esta condición
me ha afectado tanto emocionalmente como socialmente
. Me resultaba tortuoso sentarme en una mesa donde todos comían lo que quisieran y yo simplemente tenía que decir que no tenía hambre, cuando la realidad era que se me hacía imposible masticar. Así que, si algunos amigos me invitaban a cenar, mi respuesta era muy clara: No.
No quería que nadie se diese cuenta
, no quería vivir de nuevo el infierno de estar frente a una mesa llena de comida que no puedo tocar. Sin embargo, poco a poco, logré abrirme a los demás, a mis nuevos amigos en Francia, quienes comprendieron lo que me sucede y empezaron a apoyarme.
Todo comenzó hace 10 años. Cuando en mi adolescencia, mis padres y yo tomamos la decisión de empezar un tratamiento de ortodoncia para alinear mis dientes. Para mi desgracia, en aquel entonces
no tuve la suerte
de estar en manos de un buen especialista; el tratamiento no dio los frutos que hubiésemos esperado: Me realizaron una
extracción dental innecesaria
en los dientes inferiores, así, al cerrar el espacio de la extracción, mis dientes inferiores fueron llevados hacia atrás y mi mordida se quedó abierta, comencé a morder sólo del lado derecho, -había perdido el contacto entre los dientes del lado izquierdo- y
mis dientes frontales perdieron todo contacto
. De esta manera, al quedar con la mordida abierta (los dientes superiores frontales no encajan con los inferiores), una parte de mi labio inferior empezó inevitablemente a ocupar este espacio. Mi tratamiento fue interrumpido después de un año, y aunque a simple vista mis dientes parecían derechos,
mi mordida ya no tenía ninguna armonía
, mi mandíbula inferior no pudo terminar de desarrollarse correctamente respecto a la mandíbula superior, dando como resultado
grandes problemas de mordida y por lo tanto de articulación.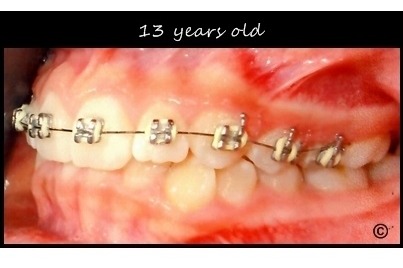 Foto a mis 13. Aún no tenía los brackets de abajo. Se puede apreciar que aunque mi mordida no era perfecta, tenía un
buen contacto en todos los dientes. 




Foto actual.
Mordida abierta
y casi
ningún contacto
entre mis dientes.  (El único contacto se encuentra en las últimas muelas). 
Así, desde mis 13 años comencé a sentir dolores en mis articulaciones temporomandibulares asociados al desequilibrio en la mordida que
los brackets me provocaron
. Después de mi tratamiento de ortodoncia, ya no podía comer cosas duras, carne, frutos secos… pero pensé que el problema se quedaría ahí, y como en ese momento podía comer todo lo demás, simplemente no le presté mucha atención. Sin embargo, a través de los años comencé a sentir que
masticar comenzaba a ser cada vez más difícil
, hasta que hace un año llegué al punto en el que ya no podía masticar nada. Era justo el momento en que me iba a vivir a Francia, ya que había sido aceptada en la Maitrise Notre-Dame de Paris.
Diagnóstico y plan de tratamiento. 
En mi vida como cantante, la pasión y la disciplina han sido mis mayores guías, por lo tanto, aunque a veces de puedo sufrir de dolores diarios en la mandíbula,
abandonar el canto nunca ha sido una opción para mí
. Mi corazón llama fervientemente que continúe en el camino del arte, y yo simplemente no lo puedo ignorar. Desesperada por solucionar este problema, consulté muchísimos especialistas y consideré todas las posibilidades. Leí acerca de diferentes técnicas, dentosofía, orthotropics, ortodoncia, etc… Finalmente después de mucho dudar, decidí tomar nuevamente el camino de la ortodoncia, pero esta vez asegurándome de estar en buenas manos. El tratamiento completo es de aproximadamente 2 años y consta de:
Ortodoncia, cirugía ortognática, un implante dental
(el diente que me quitaron cuando tenía 13 años)
y terapias de reeducación
, estos procedimientos prometen ayudarme a reencontrar el equilibrio bucal perdido, lo que me permitirá masticar de nuevo.
No obstante, cabe aclarar que este tratamiento en Francia
es muy costoso
y excede completamente mis finanzas de estudiante y las de mis padres, quienes viven en Pereira (Colombia) y no tienen el dinero suficiente para ayudarme. En Francia, la seguridad social no cubre la ortodoncia ni el implante dental, sólo cubre una parte de la cirugía.
Es por esta razón que ahora me dirijo a ustedes, les comparto mi historia y cuento con su solidaridad para así realizar este tratamiento.
------------------------------------------------------------------------------------------------------------------------------------                                                                                                                                                                                     
FRANÇAIS
Je m'appelle Luisa Trejos,
chanteuse lyrique colombienne
. L'art a toujours fait partie de ma vie. Mon intérêt vers les arts m'a toujours amené à chercher plus loin, à ne jamais m'arrêter. Le chant m'a permis de me découvrir, il est devenue mon moteur, mon rêve et mon meilleur outil d'expression. J'ai commencé ma formation dans ma ville natale Pereira en Colombie, puis j'ai continué mes études à l'Université d'Antioquia à Medellín et finalement grâce à une bourse d'échanges académiques, j'ai réalisé mon vœu de partir en Europe ; c'est là que j'ai fini mon bachelier en Chant Lyrique, au Conservatoire Royal de Mons en Belgique. Ensuite, j'ai eu la chance de réussir l'examen d'entrée de la Maîtrise Notre-Dame de Paris en France et obtenu une bourse : Je poursuis, là-bas, ma formation.
Le chemin de la vie nous donne toujours différents obstacles à surmonter, certains plus durs que d'autres. Pour ma part,
un problème dans ma mâchoire
a grandi petit à petit avec le temps, et depuis un an,
je n'arrive plus à mâcher des aliments solide
. Je dois, désormais, me nourrir uniquement avec des aliments en purée. Le traitement à ce problème, est long et couteux, une partie de ceci c'est une
chirurgie orthognatique
(chirurgie de la mâchoire).
Ce problème m'affecte tant émotionnellement que socialement
. Il m'est difficile de m'assoir dans une table où tout le monde mangent et que moi je suis obligé de dire que je n'ai pas faim, alors que la réalité est : qu'il m'est impossible de mâcher. A tel point que, si jamais des amis m'invitaient à dîner, ma réponse était : non.
Je ne voulais que personne s'en aperçoive
, et je ne voulais plus vivre l'enfer d'être dans un endroit plein de nourritures qui me sont impossibles de manger. Toutefois, peu à peu, j'ai réussi à m'ouvrir aux autres, à mes nouveaux amis en France, qui ont compris ce qui m'arrive et qui ont commencé à me soutenir.
Tout a commencé il y a 10 ans, à mes 13 ans. Mes parents et moi, nous avons pris la décision que j'allais utiliser un appareil dentaire (des bagues). Malheureusement,
je n'ai pas eu la chance d'avoir un bon traitement
, il n'a pas été réussi :
J'ai eu une extraction dentaire qui n'était pas nécessaire
dans la mâchoire inférieure, et quand ils sont fermés l'espace de la dent, cela m'a engendré un
déséquilibre entre les mâchoires
et j'arrivais à mordre d'un seul côté, j'ai eu aussi un décalage important entre les dents du haut et celles du bas, ma lèvre inférieure a commencé à faire une interposition entre les dents du haut et du bas. C'est pourquoi ma mâchoire inférieure a eu une croissance déficiente et elle est resté alors reculée par rapport à celle du haut (supraclusion profonde). Mon traitement a été interrompu après 1 an, et même si mes dents avaient l'air d'être alignées,
mon emboîtement n'était plus fonctionnel et c'est à partir de là que j'ai commencé à avoir des troubles articulaires.
Photo à mes 13 ans. 1 semaine après avoir mis mon appareil dentaire supérieur. Mon emboitement n'était pas parfait, mais mes dents arrivaient à bien se toucher. Pourtant je mangeais sans soucis.
Photo actuelle, décalage entre les dents du haut et du bas. Mes dents ne se touchent plus, je n'arrive donc pas à bien mâcher. 
J'ai commencé à ressentir de la douleur à l'articulation de la mâchoire quelque temps après avoir mis mon appareil. Au fil des années, je machais de moins en moins bien la nourriture rigide, comme la viande rouge ou les fruits à coques... mais je me suis dit que cela n'allait pas évoluer plus que ça, et comme j'arrivais à manger tout le reste, je n'ai pas fait attention. Cependant,
ça s'est dégradé au fur et à mesure des années
: Ça fait maintenant un an que je ne peux plus rien mâcher. C'est arrivé peu de temps avant mon départ vers la France.
Dans ma vie de chanteuse, la passion et la discipline ont toujours été mes plus grands guides, et même si parfois j'ai souffert des douleurs quotidienne au niveau de la mâchoire,
il n'a jamais été question d'abandonner le chant
. Mon coeur appelle fébrilement le chemin de l'art, et moi je ne peux pas l'ignorer. Ainsi, désespérée pour trouver une solution, j'ai consulté plein des spécialistes. J'ai lu à propos des différentes techniques ; orthotropics, dentosophie, orthodontie, etc. Finalement, après des nombreuses hésitations, j'ai décidé de reprendre le chemin de l'orthodontie, mais cette fois en étant sure d'être entre de bonnes mains. Le traitement complet est, d'environ, de 2 ans et se compose de:
Orthodontie, chirurgie de la mâchoire, un implant dentaire
(la dent qu'on m'a retirée à mes 13 ans)
et des thérapies de rééducation.
Ces procédures me permettront de retrouver une occlusion fonctionelle, et  j'arriverai à manger correctement.
En revanche,
ces traitements sont très coûteux
en France et dépassent complètement mes revenues d'étudiante et celles de mes parents (qui habitent en Colombie et  gagnent leur vie en pesos colombiens. Pour vous donner une idée de la valeur du pesos : en France, le salaire minimum est de 1204 € nets par moins ; en Colombie, le salaire minimum est de COP$ 828,116 soit 219 € par moins). En outre, en France la sécurité sociale ne rembourse pas l'orthodontie ni l'implant dentaire, et même si la chirurgie est partiellement couverte par la sécurité sociale, les dépassements d'honoraires du chirurgien et de l'anesthésiste sont très importants.
C'est pour cette raison que je vous ecrit, que je vous partage mon histoire et que je compte sur votre solidarité pour réaliser ce traitement.
------------------------------------------------------------------------------------------------------------------------------------
                                                         ENGLISH


My name is Luisa Trejos, a
Colombian classical Singer
. Art has always been part of my life. My interest on art and life has been my guide, being my reason for looking into the future with a lot of curiosity. This is why, once I discovered singing, it allowed me to explore more and more of my true self, turning into my best means of expression, my objective and my strength. I started my studies in my hometown Pereira in Colombia, I continued at the University of Antioquia in Medellin and finally, thanks to a student exchange program scholarship, I finished my undergraduate diploma in Classical singing at the Royal Conservatory of Mons in Belgium. Currently I am continuing my training at the
Maîtrise Notre-Dame de Paris
, a singing French institution. Nevertheless, the paths of life, give us various obstacles to get ahead. In my case; a problem in my jaw has gotten worse over time, and now since one year ago,
I only eat smashed food because I am not able to chew anymore solid food
. To resolve this condition, I will have to do several treatments; one of those is an
orthognathic surgery
(corrective jaw surgery). 
This condition has affected me both emotionally and socially
. It was stressful to sit a table full of food in which everybody eats whatever they want and I just had to state I was not hungry. Then if my friends invited me to eat outside, I would clearly refuse to do so.
I did not want to let anybody to find out what is going on
. However, gradually, I started opening myself up to others, to my new friends in France, who understood what went wrong to and they started to support me.
Everything started 10 years ago,
when I decided to use braces at the age of 13. Unfortunately, I was not lucky enough and
the dental treatment was erratic.
The doctor performed an unnecessary tooth extraction in my lower teeth, so when they closed the space left in the tooth extraction; my lower teeth were carried backwards.  It led me to an overjet and I started to bite only on my left side. In this way; as I started to have a horizontal distance between the upper and lower teeth, I also started to suffer of lower lip interposition. Years later, it led me with poor lower jaw development. While it is true that I have straight teeth, the upper and lower teeth are not lining up with each other, so I have suffered from jaw joint pain since I had braces for the first time.
After my orthodontic treatment, I was not able to eat very rigid food, like red meat or nuts… However,
I just thought the problem would not grow,
and so as I could eat everything else, I did not pay too much attention to it. Nevertheless, I was wrong. Over the years,
chewing started to be harder and harder
. Now, I have come to the point in which
until one year ago I am obliged to eat only pureed meals
. It was exactly the moment when I was moving to France because I had been admitted at the Maîtrise Notre-Dame the Paris.
In my life, passion and discipline have been my guides, therefore, although sometimes I can suffer from daily jaw pain, abandon my singing has never been an option. 
My heart calls fervently the path of art, and I cannot ignore it.
Searching to find a solution to this problem, I consulted lots of specialist and I consider all possibilities. I read about different techniques, denthosophy, orthotropics, orthodontics, etc… Finally, after much hesitation, I decided to start orthodontic treatment again, but this time assuring me I was in safe hands. The complete treatment takes about two years and consists of:
Orthodontics, jaw surgery, a dental implant (the tooth that was extracted when I was 13) and retraining therapies
. These procedures will allow me to find a correct bite so I would be able to chew again.
Nevertheless, these treatments are too expensive in France, so it exceeds my income and my parent's income, who live in Colombia and they do not have enough money to help me. In France, the social security administration does not cover orthodontics or dental implants, and while it partially covers the surgery, the extra billing reaches high costs.
This is the reason why I am writing to you, and letting know my story and hoping to count on your solidarity, so I'll be able to do this treatment.