We're normally not the kinds of people who would reach out and ask for help, but the cost of Morrissey's veterinarian bills are spiraling out of control.
Morrissey is a 5 year old rescue cat we took in after a rough start to his life. He was likely abused, but that doesn't get in his way of enjoying life to its fullest.  He loves playing, running around our house and screaming at nothing in particular, belly rubs and cheek pokes and especially loves kisses on his sardine-shaped head. Every night, he jumps on the bed and shows his love and thanks for us being there by flopping on our faces and forcing us to rub his head.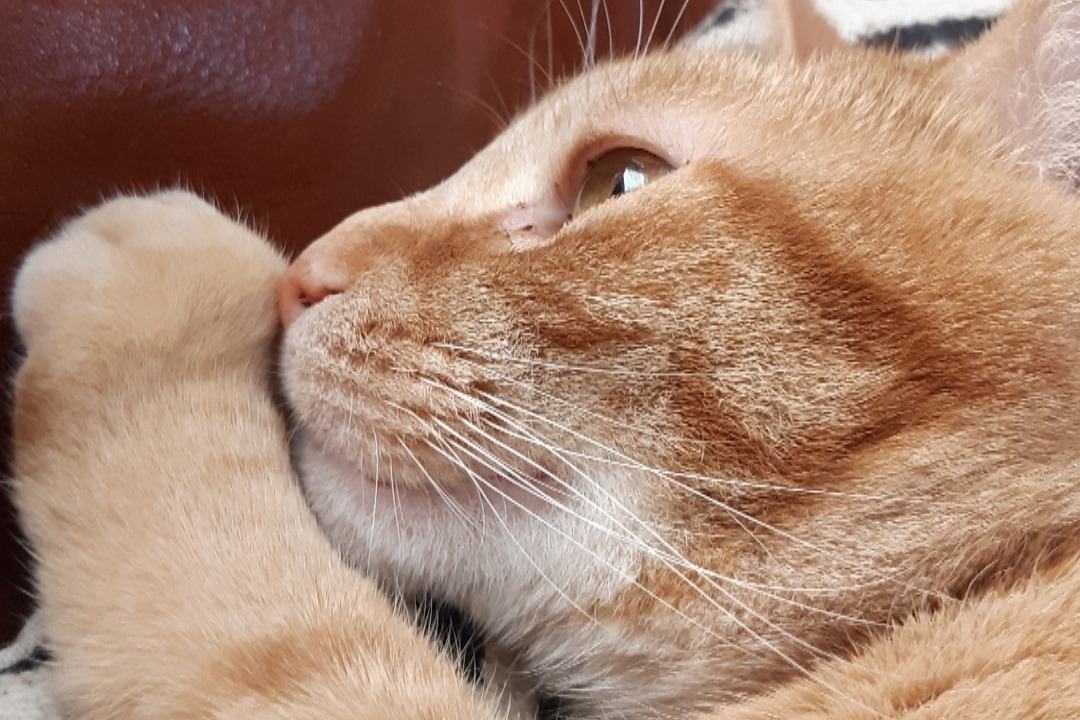 On August 16, Morrissey didn't finish his dinner. That evening, he started vomiting and his appetite disappeared. Four days later, we had to admit him to the emergency vet clinic, which is where he still is. Until this afternoon, the clinic couldn't diagnose his condition. He vomits frequently, hypersalivates, shows zero interest in eating, is incredibly lethargic and weak.
He's had IV fluids and medication, blood work, x-rays, ultrasounds and exploratory surgery and nothing has been found. Biopsies were taken, and NG tube was inserted and, on Friday, an esophageal feeding tube was inserted in the side of his neck to get nutrition into him.  Even after all of this,  he took a turn for the worse on Monday and things didn't look positive for him, but... somehow, he's managed to hang in there. 
The good news? This afternoon (Wednesday), the biopsy results came in and it looks like it is chronic small intestine inflammation (that we believe was caused by a new bag of cat food we opened 2 weeks earlier). Now that there's a cause, treatment can be started today and he can hopefully start to recover.
The bad news? Not finding a diagnosis has meant extended overnight clinic stays and more bloodwork and testing.  As of today, our veterinary bills are hitting the $10 000 mark. Beyond having your loved one very sick, it is surreal for me to sit and type that number.  That is a huge financial hit that any pet owner would never expect to hit them. We expect this number to increase when his treatments begin, and where it stops, nobody knows.
We've set an (unrealistic) fundraising goal of $5000, but like i said, anything will help.
We just want to bring our boy back home so he can live a long and healthy life and we'll do whatever we can to get him there.  Even typing this GoFundMe leaves me really uncomfortable, but I'm honestly at a loss as to how we can easily pay down his bills.
So, if you are so inclined, any contribution, big or small, would go a long way to helping us dig out of a hole.