The Kids of Charrar Pind

Next to a dusty playground and park, at the end of an alley in the basement is Shaheen Academy.  This is where we hope to inspire and motivate kids and teens to be the best version of themselves. Role models and leaders. Good citizens of Pakistan. We want to use the power of martial arts to change the lives of the poor and disadvantaged kids of Charrar Pind. We will all do this together.

I'm gonna tell you about the kids. Some come from poor but stable homes, and too many others have lives more like a stray animal than someones child.


Usman in the center

Usman is 7 years old. He doesn't attend school, wears the same pair of dirty ripped clothes and he's often barefoot.  His parents don't know where he goes, and they probably don't care. They have enough problems of their own. Sometimes, he doesn't go home for days.

He hangs out with the older kids, they are already sniffing glue and using drugs. They give some to Usman too, sometimes they send him to go pick up the drugs, as a child he's less likely to be caught. Other times they send him to go beg for them, when he comes back with the money they take most of it for themselves and will give him something sweet to eat, or maybe get him high.

When Shaheen Academy opened, Usman went to go check it out. When he came down the other kids, told the instructor that they needed to kick this boy out. He lived on the street and he begged and did drugs. The teacher told the kids -
"This place was made for him," and told Usman that he was welcome any time. Usman started coming every day, away from the influence of dangerous habits and something fun to focus on and learn. He is a naturally gifted athlete doing gymnastics and parkour movements so advanced for someone so young you cannot believe he learned them on his own. Usman may have the stuff to become a world champion. Shaheen can give him that chance.
Update May 20th, 2019 -
Usman has now disappeared from Charrar Pind. It is said that he has gone to his village but no one really knows. This is the sad reality of Charrar Pind. Many of its inhabitants are transitory and can pick up and leave at any time if things don't work out for them in Lahore. This is why Shaheen's mission is so important. Many kids like Usman will slip through and we will not be able to save them, but there are many more whom we can. 

Abu Bakr

Abu Bakr's mother was hired to clean a gym not to far from her house. Sometimes she would bring Abu Bakr who was 9 years old. He would sit on the stairs and look at the mats, the bags, the gloves. He would watch the adults train. He came day after day and just observed, he would even stay after his mother left.
His friends, some of whom who stopped going to school and roam the streets of Lahore  wondered why Abu Bakr stopped hanging out with them. They wondered why he started making sure that he attended all his classes. He later told them that the teachers at the martial arts gym told him he wouldn't be allowed to come if he skipped class.

Abu Bakr knows that he needs to help kids like Usman, he knows that he needs to become a leader and a good citizen to inspire some of the other kids to be a part of the team.  Abu Bakr now has a healthy social life outside of school, where he is learning lessons and taking part in healthy activities that will make him a better person as an adult.
Update May 20th, 2019 -
Abu Bakr is doing very well. He is now enrolled in an English medium school, a large improvement over his last school. He has been competing in Pakistan and is now holds a championship belt as well. He takes advantage of the after-school tuition offered at Shaheen and is hoping to improve his grades by making use of them. In July of 2018, he traveled to Singapore as a guest of Rich Franklin, former world champion and host of "Rich Franklin's ONE Warrior Series. Abu Bakr hopes to one day compete at ONE Warrior Series himself.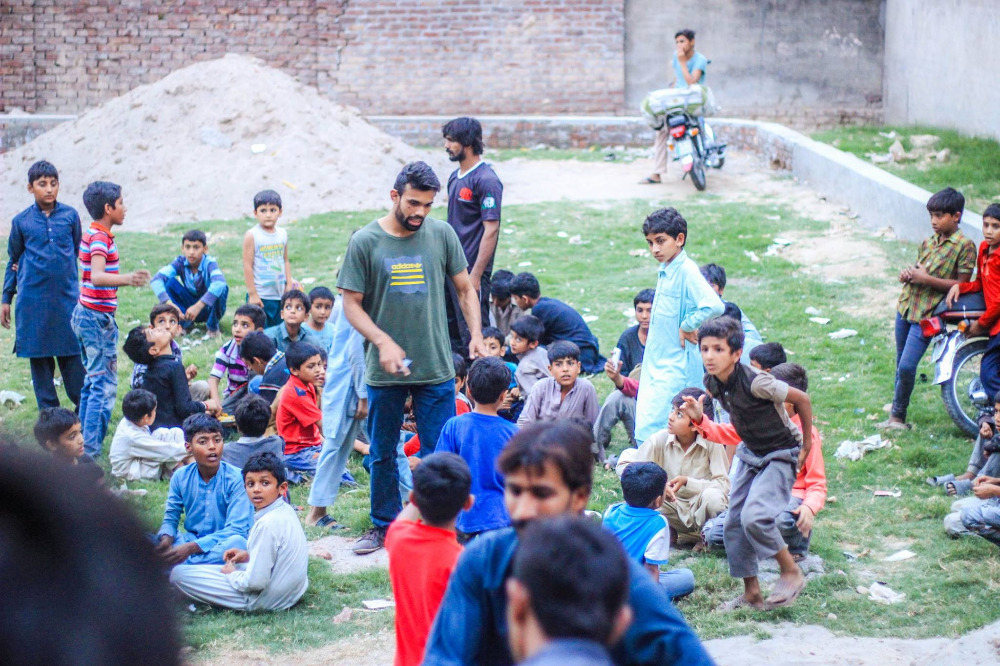 Free meals being give out in the park next to Shaheen Academy, after an event for the kids


 Usman and Abu Bakr along with countless other kids come from Charrar Pind,  a slum of about 50,000 inhabitants that is surrounded by the wealthy Defense Housing Authority or DHA (You can clearly see the tiny dwellings tightly clustered in the center of this map). All of the labor and low paying jobs in DHA are filled by the people of Charrar Pind and they earn between 80 and 150 dollars per month in pay. It is in this slum that Shaheen Academy is located.

My name is Bashir Ahmad and I am a Pakistani-American, I was born in Pakistan, and raised in Virginia. I'm also an Iraq War veteran and known as "The Godfather of Pakistani MMA." In 2009 I moved to Pakistan to promote the sport of MMA, with a vision that I could use martial arts as a way to bring the best out of people, to get kids off the streets, to give discipline to youth who may otherwise end up in drugs, crime and militancy. I wanted to do something positive for Pakistan. In the process of doing so, I have been covered TIME, VICE, BBC, The NY Post, CNN and many others for my unique story of being a US Army veteran giving back to the country of his heritage.



In the summer of 2015, I started Shaheen Academy. A community center in the slum of Charrar Pind Village which has a mission to create leaders for positive change from amongst the poorest and most vulnerable youth using martial arts as the vehicle for that change. In that year we have made a ton of progress, we have got the gym set up, we have gotten all the equipment we need, we have reached out to the community and have built trust with the people of Charrar Pind, we have had hundreds of kids come into the gym. So many in fact we have had to turn many away. However, there is a long road ahead of us before we become self-sufficient and we need your help to keep the gym running for another year while we continue to let our roots grow stronger. I believe that in 2022 we will be well poised to have a real shot at getting funding in the form of grant, government assistance or corporate sponsorship. But until we reach that point, we need your help.
ultimate goal is to make Shaheen Academy self-sufficient, as relying on outside donors is unpredictable and I do not want to leave Shaheen at the mercy of external factors. As our missions progress our team will be better suited to make self-sufficiency possible. I firmly believe that Shaheen will become a is a community center that will last generations. However, like a newborn child Shaheen Academy needs your help before it can take care of itself.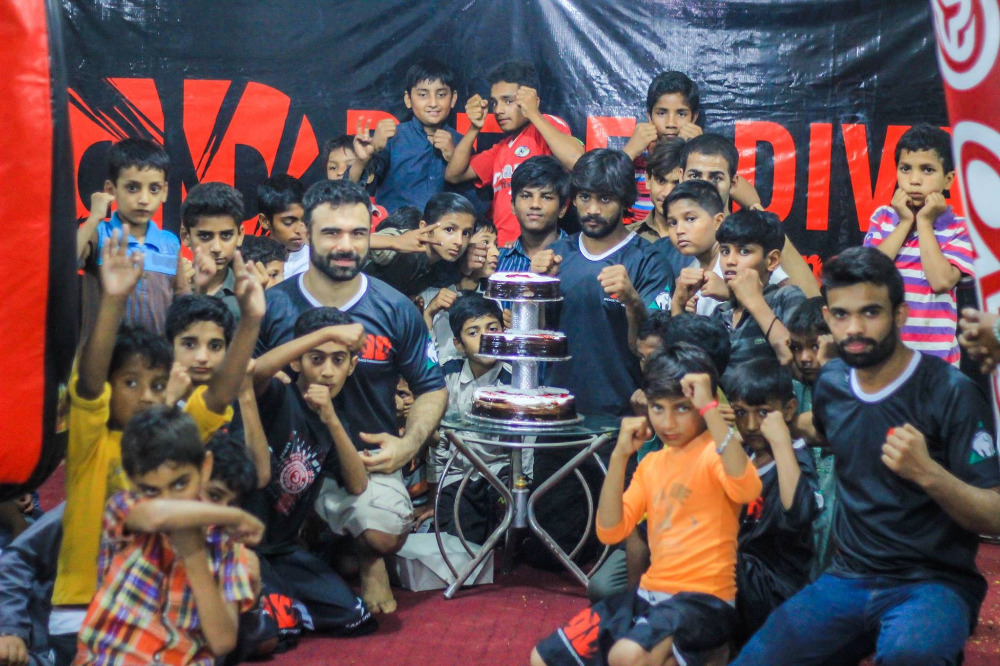 Some of the kids of Shaheen with their instructors with a thank you party for one of our sponsors Diesel Diva

Currently, we need funds for rent, salaries for staff, both martial arts instructors and also after-school teachers. I also hope to be able to hire someone professionally trained/educated in NGO management to take this to the next level. We also want to cover the education of more of our team members in school. The goal of Shaheen is not to create athletes, we want good citizens. Who sound in body and mind. 
Running the gym is not much by Western standards, an average of 1,000 dollars a month will keep the doors open, and allow us the freedom to upgrade some facilities, provide educational scholarships to some students and have a reserve for helping out certain kids whose families may need help. At the moment as we are still in the early stages of development. However, with your help, we will continue our amazing growth!
Shaheen is now registered under Azadi Youth Foundation and we have submitted our first years' audit to renew our registration status. Our accounts will now become far more transparent for all our donors. Hope to have an online system that is available for donors to see by 2020. 

We will be putting the funds to use immediately.

Shaheen Gym represents my personal mission to do something positive for Pakistan. Shaheen Gym represents how people can come together and with small collective efforts by many, big things can happen. All things in this world come about by the actions of many, many caring people. One person cannot ever make anything worthwhile happen all by themselves.

Thank you so much for giving and spreading the word.  I have a track record of walking the walk and making things happen and I guarantee you that Shaheen Academy is going to be a catalyst for change in the lives of many youths.