An Offering for Medical Bills
We are gathering 1,000 friends, Senbazuru, to donate.
Many hands/hearts make small work of large tasks. 
"Every body is different, and anything is possible." Dr. Wilson, pediatric urologist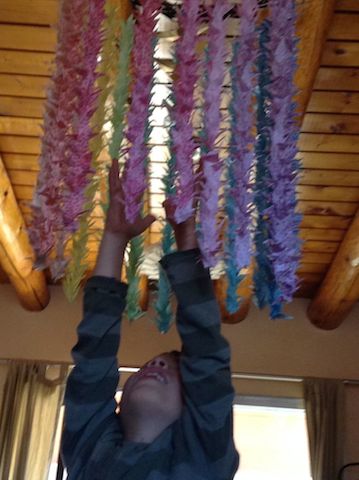 Senbazuru-1,000 crane blessing give to Kian the night before his surgery
             Kian had hydronephrosis in his right kidney. This means his right kidney had fluid in it due to a stricture in the tube that carries fluid to the bladder, the ureter. Hydronephrosis is fairly common in baby boys and many times the children can grow out of it as they grow and the ureters grows. It depends on where the restriction is and if some fluid is draining from both kidneys. Kian's restriction was not allowing any fluid to drain. He started experiencing chronic kidney infections and pain in his right side. After much intense searching, praying, retreating and finally surrendering, we felt like surgery was the best option. On March 10th,  2017, Kian had pyeloplasty surgery to correct the hydronephrosis. The removal of the stricture went extremely well.  However, because the problem may have been there since birth, or at least for a few years, his renal tissue was very inflamed.  Kian's urologist thought that this inflammation might create problems with the healing process and surgical scar.           
Pyeloplasty Surgery
            She was right. A stent was placed connecting the kidney to the bladder allowing fluid to drain freely after the surgery. It was meant to help everything heal properly. On April 10, we eagerly awaited for the stent to be removed.  Kian had been restricted from physical activity for 6 weeks and he was so ready to play. We were all really excited. All went well that day, but in the morning Kian was very sick, vomiting with right side abdominal pain. Although it seemed like the flu, or intestinal, we had seen this so many times and called his urologist. We went to the ER and found that Kian's kidney was still not draining at all on its own. It had swelled to 14cm, a healthy kidney for a child his age is about 9-10cm. So, a nephrostomy tube was immediately surgically placed in his right kidney with an exterior drain to allow the inflammation to go down while at the same time keeping fluid out of the kidney. Suddenly, Kian's 6 weeks of restricted physical activity turned into 4 months.   
nephrostomy tube
Kian in school play-Nephrostomy bag disguised as an egg vendor's pouch
            This winter Brenen and Kian have been completely enthralled by origami, making new creations each day. Both of them have been very intrigued by the idea of folding 1,000 cranes, Senbazuru. There is an ancient Japanese legend that says whoever folds 1,000 cranes will be granted a wish. To honor Brenen and Kian's intrigue of origami and at the same time offer a prayer, a wish, for Kian's health and well being, with the help of our friends and family, we called on the community to help make 1,000 origami cranes for Kian while he was recovering.  We ended up with 2525 cranes. Each crane was a symbol of the love and support that surrounds us. We took some to the hospital and filled the boys' bedroom with others. The doctors, nurses, and techs would come into the room to ask about the origin of the cranes. Many would come in to learn how to fold origami. Kian lit up each time and we could see how important the community is for his recovery.  He would fold for hours, eagerly awaiting the time when he could play freely again.  Brenen would fold as well, as a coping mechanism, when he was stressed out about seeing what his brother was going through.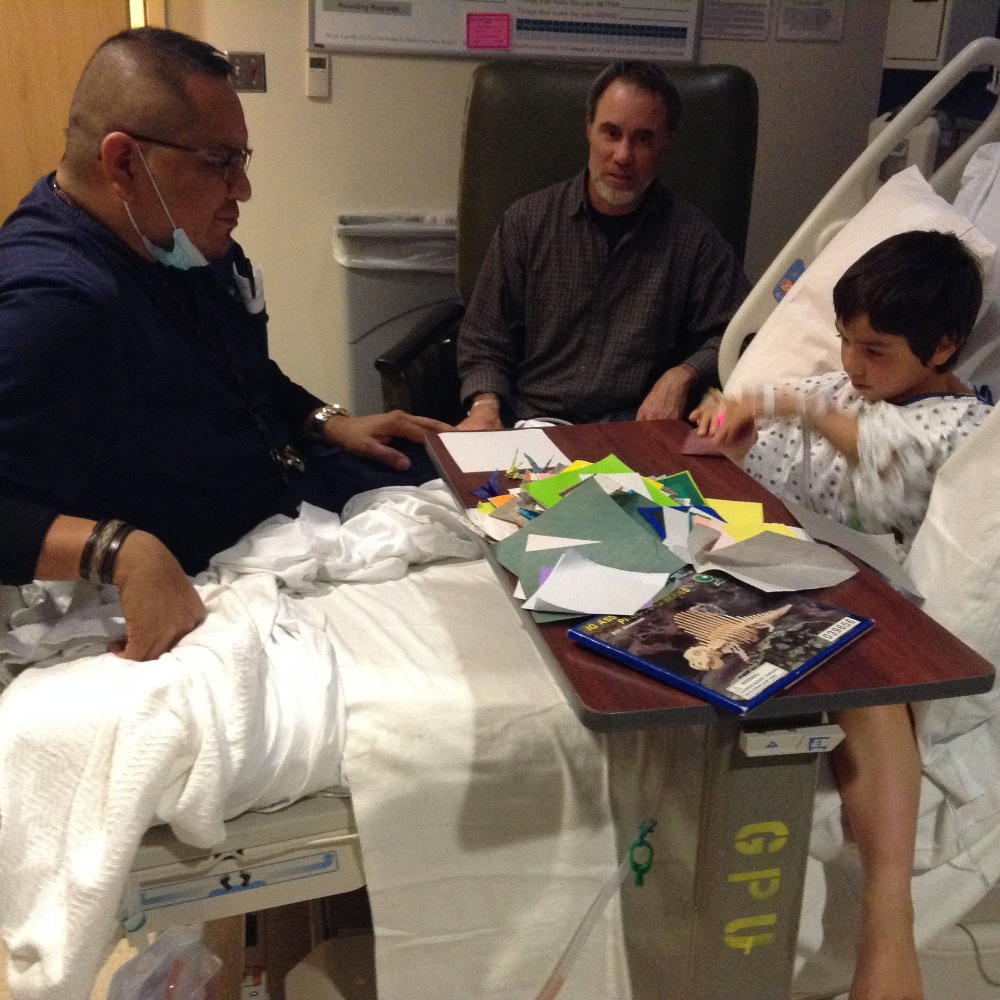 Recovering while teaching his favorite tech how to fold cranes after 1st surgery
Teaching resident urologist how to fold cranes while fasting and waiting for the nephrostomy tube surgery
            On July 11, the nephrostomy tube was removed. Although there is still some residual inflammation in his kidney, Kian's ureter is now working well on its own.  All Kian wanted to do was go swimming and camping once his tube was removed.  We did it as soon as we were able and a lot of anguish, frustration and pain was washed away by the water and the nature. For the next few years, Kian's kidney will be monitored every few months with ultrasounds to make sure everything continues to heal fully.
The night after the nephrostomy tube was removed, playing with a bear given to him by the hospital
            In the spirit of the power of working together, we call on the community once more with the idea that many hands and hearts can make great burdens easier. Kian has now had 4 procedures, including 2 surgeries, each with a 3 day/night stay at the UNM Children's hospital in Albuquerque, 70 miles away.  All of our follow-ups are also there. We have traveled back and forth to visits an average of every 10 days for the past 4 months. Medical bills, travel expenses to and from the hospital, time off during recovery and for appointments have begun to mount past what we can absorb.  Please consider donating an amount that feels comfortable to you, and/or please forward this message to someone who might be interested in being a part of this offering.  Anything is very helpful and so appreciated.
Senbazuru blessing cranes in Kian and Brenen's bedroom
            We feel so blessed to be surrounded by such a caring community. We have so much gratitude for all who have helped us so far and for all of the people we have met because of this struggle. It has taught and stretched us so much. Thank you for holding us so lovingly during this tumultuous time.
In gratitude and love,
Marisol, Eric, Brenen, and Kian
Organizer