Shatter Stereotypes Through Dance!
"Is it true that
all Chinese people eat dogs
?
"Is it true that
all Indians worship cows
?
"Is it true that
French people don't like to shower
?
"Is it true that
…
?"
We are all too familiar with this never ending tirade of
stereotypical questions
that come our way every single day. Whether it is honest curiosity, or just a means to ridicule, people ask us the most exasperating questions about our nationalities and cultures, and impose their understanding of these notions on us.
SeeKulture
,
a performing arts production team
based in
Paris, France
, aims at exploring this universally occurring
phenomenon of stereotyping
through a
contemporary dance piece
and an interview-style
documentary
.
SeeKulture team members Pravali and Cecilia talks about "Is It True That...?"
In September 2017, three girls in their 20s, two Chinese and one Indian, crossed paths in the magical city of
Paris
. They had all just set foot in the City of Light, and tasted a bit of the bittersweet sensations a new chapter of life had to offer.
Wenwei
, a joyful native
Cantonese
, was a serious political science major and yet had been active in the
contemporary dance
 production scene in China, after a year full of memorable cultural encounters as an exchange student in southern France. 
Pravali
, growing up in the bustling city of Mumbai, India, is a former
fashion designer
and trained
Latin American and ballroom dancer
,
whose character has been cultivated by the contrasting art genres and rich cultures harmoniously coexisting in her native metropolis. 
Cecilia
, growing up eating Russian bread and Polish sausages in the former Jewish quarter of her almost-Siberian hometown in
Northeastern China
, spent four years as an
art history major
in the cornfields of Illinois, which was a life-changing experience as she rediscovered her cultural identity.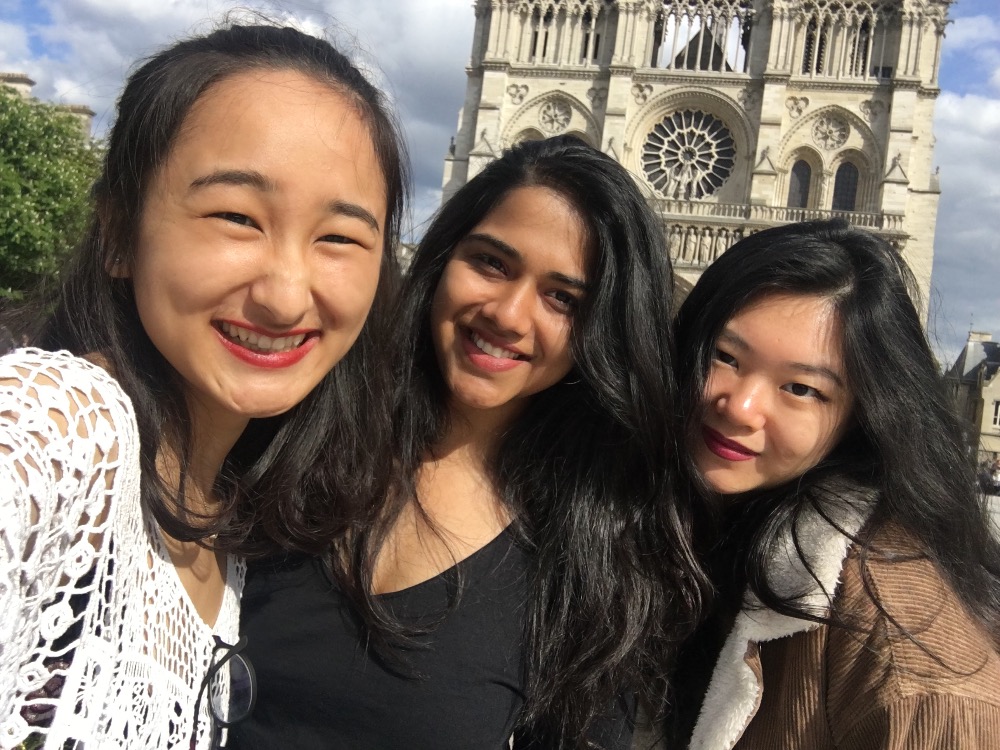 The SeeKulture team (L-R): Wenwei, Pravali and Cecilia
It is needless to say what has bound these new Parisians together - their passion in
art
, and
culture
. As expats in a country whose language and culture they were not familiar with, they have seen, and experienced, countless cultural differences, and heard about stereotypes (sometimes funny, sometimes not so funny) imposed on their cultures and those of others.
They couldn't help but wonder, could they produce something to express their passion in art, but also explores the concepts of
cultural differences, cultural stereotypes
and even
racism
? Could they make use of a unique way of
artistic expression
to ultimately convey a message to Parisians and people living elsewhere too?
The SeeKulture logo © Pravali Vangeti 2018. All rights reserved.
That was our own story of how the three of us started
SeeKulture
, an ambitious
performing arts production team
based in Paris that produces performing arts projects and cultural events that explore the themes we love, which are cultural stereotypes and cultural identities. And then comes our very first project, titled "
Is It True That...?
". It is a performance that explores the themes through the form of contemporary dance and a screening of an interview-based documentary, taking place at the historical
Fondation Deutsch de la Meurthe, Cité Internationale Universitaire
de
Paris
, on
June 8 and 9, 2018
.
Fondation Deutsch de la Meurthe @ Cité Internationale Universitaire de Paris
The SeeKulture team are
storytellers
. We have stories to tell and the stories are just as exciting as page-turning fictions but the only difference is that they are real stories happened to real people. They happen just among us and we want the audience to truly feel they are also part of the stories we want to tell.  As producers, along with the performers, the SeeKulture team defined the genre of the dance piece as a
documentary style
based on the dancers' personal accounts and inspired by real life scenarios.
Dance, the perfect medium for us to tell our story through, is a universal language of the human race. It uses body gestures and movements to convey ideas and express emotions without having to use a certain language. On these two wonderful evenings in June,
a Chinese girl,
an American girl and a French-born half-Iranian half-Portuguese girl
will present an original
contemporary dance
piece, which also combines gestures of the cultures they come from.
French dancer Eve Zandi ©Phillippe Martin
Chinese dancer Sijia Chen ©Manuela Noble
American dancer Casey Lynne Delaney ©François Briault
As dancers from drastically different cultures will generate incredible sparks on stage, the audience will also be invited by the dancers to take part in the performance, to make the experience more intimate and emotional.
Dancers Eve, Sijia and Casey during rehearsal ©Wenwei Zhang
Dancers Sijia and Eve during rehearsal ©Wenwei Zhang
Dancers and the SeeKulture team in conversation ©Wenwei Zhang
As storytellers ourselves, we use documentaries to capture real stories and emotions that make the audience truly feel they are relevant to the topics we address. There is no better place than Paris to find the most interesting expats and their stories are what we want to share the most  with the world when it comes to cultural stereotypes. We have interviewed more than a dozen of
expats
in Paris, along with 
French natives
with
international experience
, as the material to construct our fun and original documentary. The screening of the documentary will follow the performance on both the evenings, and the audience is going to hear
intriguing true stories
told by people just like you and me.
Illustrator Axel Baron @ 2 français à Québec featured in the documentary
There is one more thing left. SeeKulture needs the funds to make this artistically and emotionally charged event happen. We are a
non-profit
production team, and all the funds we collect would go towards the
organizational and administrative costs
of this project. The production team is young, and even though it is our very first original project, all we want is to do what we can to
make a little impact to this world
, and make people belonging to different cultures understand one another a little better. 
A good start is half the battle, and SeeKulture needs
your support and encouragement
to make it a little further on the path of seeking answers to culture-related questions. We cannot be more
grateful
for your generosity, and a little help means
a lot
to our newly-started journey. A bientôt!
The SeeKulture team are MBA students at IESA Paris. The team's administrative support is provided by the Paris-based non-profit organization, Eos Cultural Events.
We would like to express our special thanks to French sociologist Léonor Graser, who generously offered us the vital theoretical support and consultancy on which we based our choreography. Special thanks also go to Argentine dancer and actor Marcos Arriola, who serves as our assistant choreographer.
Find us on Facebook @SeeKulture.

Organizer
#1 fundraising platform

More people start fundraisers on GoFundMe than on any other platform. Learn more

GoFundMe Guarantee

In the rare case something isn't right, we will work with you to determine if misuse occurred. Learn more

Expert advice

Contact us with your questions and we'll answer, day or night. Learn more