Seed Money for Disabled Seed Farmer
I am asking for your help for my son and daughter-in-law as they pursue their dream of becoming self-sustaining grass seed farmers. My son, Phil, always wanted to be a farmer. While other young boys were learning how to recognize models of cars on the roadway, Phil was learning how to identify tractors and farm implements. He went on to major in Agriculture at Oregon State, but in his junior year he suffered a devastating motorcycle accident that left him partially paralyzed from the waist down. I was heartbroken for him. 
We all thought this disability would force him to give up on his dream of farming, but we underestimated just how determined he could be. After rehab, Phil finished his degree, graduating summa cum laude and headed to Pennsylvania where he found another farmer willing to rent him some land to begin his farming operation. And that is where he met the farmer's daughter, Dorcas. 
Dorcas shared his love of farming, having grown up around it all her life, caring for animals, raising crops and living off the land. But before they could get together and become the dynamic team they are today, they had some major hurdles to overcome. Dorcas was from a conservative Mennonite family that expected her to dress and behave in very specific, traditional ways. Dorcas wanted a different future for herself. As her bond with Phil grew, Dorcas found a way to throw off the constraints of her family's religion and marry him in 2005. 
Starting with a few grass-fed chickens hopping around inside a portable hoop house, they spent the next 10 years building up their farming operation by leasing a portion of Dorcas' parent's farm. She did not shy away from the hard manual labor farming demands and Phil proved to be a very effective manager of people and processes. They lived on less than $10,000 per year, raising their own food and reusing EVERYTHING! So when their lease on the farm was not renewed, they were in a good position to try something completely different. Phil's home state of Oregon proved to be the most economical choice. 
So in the spring of 2016, they packed up their pets, some farm animals and most of their farming equipment and convoyed their way to Albany, OR, to start raising crops. They investigated raising vegetables, hazelnuts and even mushrooms, but ended up choosing ryegrass seed because the dry summers and rainy winters that are typical in the Willamette Valley are the perfect environment for growing grass seed. 
The first piece of equipment they bought was a 35-year old combine to bring in the harvest. With lots of TLC, they have managed to get what they need out of it. For cultivating the soil for the next year's crop, they acquired a very used 1977 Steiger 4-wheel drive tractor. I named it Miss Daisy.  Steigers are known as a crude source of cheap horsepower, good for pulling the heavy tillage equipment that's needed to bust up the giant dry clods that are common in the area. However, Miss Daisy drives like an old truck and that makes it a real challenge for Phil to operate, given his disability. 
Given Miss Daisy's advanced age, they would like to replace her with 2 smaller tractors that are better adapted to Phil's needs.  Both would be cab tractors to protect the operator's eyes, ears and lungs from the massive amount of dust generated during the tillage process. 
Having 2 cab tractors would make Dorcas's life much easier, too. She currently fills many of the physical gaps due to Phil's disability.  She often can be found greasing, fueling and blowing off machinery, hooking up hydraulic lines and hooking and unhooking implements. These tasks are physically demanding for most men and while Dorcas is a dedicated farmer, she only weighs 110 pounds and has suffered some back injury and strains from these activities. 
Phil and Dorcas have increased their land base by renting parcels throughout Linn and Benton counties. These are typically smaller acreages, which means many moves for equipment and a lot of extra work for Dorcas hooking up and unhooking implements. 2 cab tractors would make Dorcas' life much easier while they build up enough leased ground to add an employee.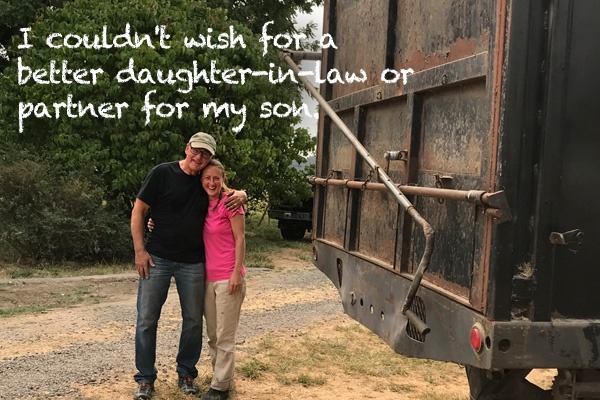 Rounding out the list are a plow and a harrow and roller set.  Over the last 3 summers, Phil and Dorcas have met their equipment needs by borrowing from a neighboring farmer.  Phil and Dorcas couldn't have made it this far without his help.  But now that they are growing and bringing more land under their care,  it will be harder to wait until his equipment becomes available because cultivating and planting all those additional acres must occur before the rains come in the fall. 
 THE CAMPAIGN-THE BIG PICTURE
I am committed to helping them reach their goal of being self-sustainable by contributing my labor every summer until they can afford an employee. All of their capital from their earlier successful farming operation has already been used to tool up for this new endeavor as grass seed farmers. 
This campaign can be broken into 3 segments. Through GoFundMe we hope to raise some capital in a way that helps to foster additional growth and get them to their self-sustaining goal sooner. This is a prioritized list of items that are needed to get them there: 
FIRST PRIORITY-REPAIRS & FUEL /$14500
Phil and Dorcas are expert at keeping older equipment as functional as possible (their Toyota Corolla has 248,000 miles on it and they still consider it new!) However, they have an annual repair and fuel budget of $14500 to keep their forklift, harvest equipment, tractors and other equipment operational. 
SECOND PRIORITY-MORE ADAPTABLE TRACTORS/$50000
Getting rid of Miss Daisy and replacing her with slightly newer, smaller tractors would make it easier for Phil and Dorcas to cultivate their growing acres and would be more adaptable to Phil's disability. Funds would be used to purchase a 4-wheel drive 180-200 HP cab tractor and a 2-wheel drive 140-160 HP cab tractor, or the equivalents. 
THIRD PRIORITY-IMPLEMENTS/$26000
This is the bare minimum needed to outfit them with the plow, harrow and roller they need to cultivate their land without borrowing from their neighbor. It goes without saying that Phil will use his skills as a master bargain-hunter to find the best used equipment available. 
TIME IS OF THE ESSENCE
From a timing standpoint, the goal is to be tooled up before Summer 2019. They have toggled together more acreage, but they can't reach their goal without these needed repairs and equipment.  Like most small businesses, they are at that tipping point where growth is putting undue strain on their resources. But that is also a sign of success. The faster they can increase their yield, the easier it will be for them to self-finance future capital investments and hire the help they need. 
Phil and Dorcas have invested in and learned a lot about seed farming, but now they need a little more to become completely self-sustaining farmers.  I've watched this dynamic duo cheerfully work 10 – 12  hour days to get the harvest in and cultivate for the next crop, but I worry about the toll this is taking on their aging bodies. This equipment will help them expand their operation enough to allow them to employ a farm hand. I am committed to helping them every summer until they can afford that employee. 
I don't know anyone that can stretch a dollar better than my son and daughter-in-law so you can trust that any gift you give will be used to maximum effect. We will keep you updated with progress and pictures of the tools they are able to purchase.   Thank you so much for any size of donation.
Silver Maple Construction 
Organizer and beneficiary