Sedna Epic Expedition: Arctic Norway
Hello everyone! Welcome to my GoFundMe page for the 2019 Sedna Epic Expedition to Arctic Norway.
About Me


I am a veterinarian and SSI divemaster, with a passion for ocean conservation and a considerable dose of wanderlust. After returning from a month-long trip to Antarctica last March, I was able to witness firsthand the effects of a rapidly changing climate on vulnerable species. Through traveling and working internationally, I have learned the importance of working directly with local communities, from their cultural perspective, to collaborate on solutions to intractable problems. I am incredibly honored to be a part of this talented team of sea women as we embark to the Arctic this November.
Talking to a curious gentoo penguin in Antarctica
About Sedna
Sedna is the goddess of the sea and marine mammals in Inuit mythology.
The Sedna Epic Expedition was founded in 2013 by Susan R. Eaton, who is a geoscientist, journalist, conservationist, and polar snorkeler. Sedna Epic's sea women, who include ocean scientists, polar divers, photographers, artists, educators, and Inuit advisors, work to study and document the effects of climate change and disappearing sea ice in the Arctic.
Since its beginning, Sedna's team members have completed three snorkel and dive expeditions to the Arctic. In addition to conducting ocean research, the team has been able to bring the ocean to eye level through temporary aquariums and underwater robotics workshops, as well as teaching Inuit women and girls how to snorkel and scuba dive.
About the 2019 Sedna Epic Expedition to Arctic Norway
The goals of our Norway Expedition are two-fold:
First, we will be taking part in a 2.5 day women's leadership program in Tromsø Norway, where we plan to connect with Sami women to discuss the unique issues faced in the high Arctic as a result of climate change. We will also learn about Norway's geography, history, and culture from our Indigenous team members, as well as discuss women's growing representation in exploration and STEMM (Science, Technology, Engineering, Mathematics, Medicine) careers.
Following the leadership program, we will spend seven days aboard the MV Freya, snorkeling with orcas and humpbacks during the winter herring run. We will conduct several scientific research projects while on board the ship, including acoustic monitoring, ocean condition monitoring, and micro-plastics and plankton analysis.
Our diverse and talented expedition team is comprised of 15 women, ages 21 to 75, including underwater photographers and videographers, anthropologists, lawyers, marine biologists, geologists, veterinarians, physicians, polar guides, artists, journalists, cultural advisors, undergraduate students, and PhD candidates.
The video below, presented by Waterproof Expeditions, documents Cristina Mittermeier's enchanting 2014 snorkel expedition with orcas and humpbacks in Northern Norway.

Training for the Expedition 
During the weekend of July 18-21, many of the Sedna team members will meet in Seattle, Washington to celebrate PADI Women's Day and obtain various diving and snorkeling certifications.
In preparation for the frigid Arctic waters, I will be completing four dives in Puget Sound in my Dry Suit, as well as obtaining my Dive Against Debris certification.

The Cost
Part I: Women's Leadership Program and Winter Snorkel Expedition, Tromsø, Norway (November 19-December 2, 2019)
$1,200   Round-trip flights from San Diego, CA to Tromsø, Norway
$650      Accommodations in Tromsø prior to boat expedition
$200      Meals in Tromsø
$200      Taxis and Transfers
$200      Baggage
$4,500   Live-Aboard Vessel, shared accommodation, meals incl.
$150      Air Evacuation Insurance
Total Part I: $7,100
Part II: Team Sedna Technical Training and PADI Women's Dive Day, Seattle, WA  (July 18-22, 2019)
$300     Round-trip flights from San Diego, CA to Seattle, WA
$300     Three nights hotel, shared accommodation, Seattle, WA
$200     Meals
$360     Four Guided Dives in Puget Sound and Dive Against Debris Certification
Total Part II: $1,160

Total Cost: $8,260 (USD)
I am hoping to raise 75% of the funds necessary for this expedition, or about $6,000, and contribute the remaining funds on my own. Any contribution, no matter how small, will be so greatly appreciated.
By supporting my participation in this expedition, you will enable our snorkel team to document the feeding of orcas and humpbacks in the fjords of Norway, as well as engage in critically important research, which will be continued in subsequent Sedna expeditions.
This work is incredibly important to me, both on a personal and career level, as I am passionate about ocean conservation, connecting with Indigenous communities, and inspiring young women to pursue careers in science.
Thank you for taking the time to read about the 2019 Sedna Epic Expedition, as I prepare to take the plunge into the 40 degree Fahrenheit (5 degrees Celsius) waters of Arctic Norway!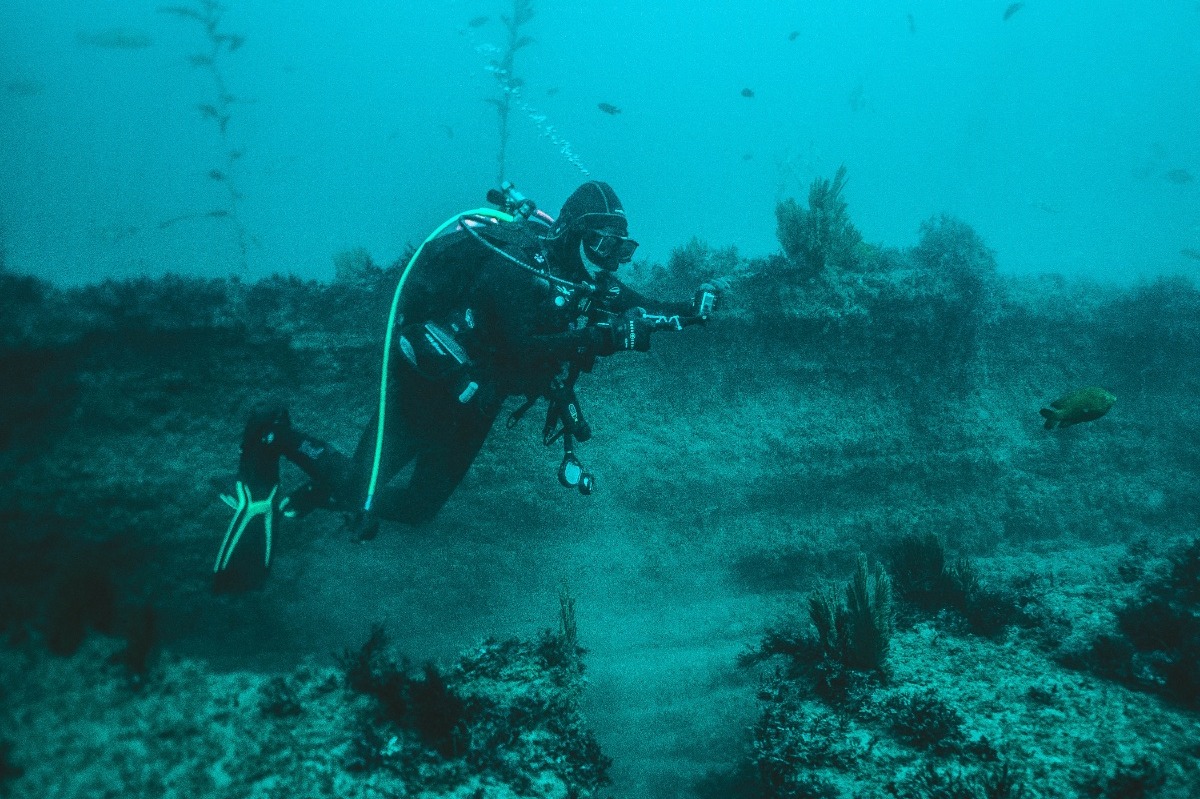 Diving and conducting a fish survey in the Swami's marine protected area
"The sea, once it casts its spell, holds one in its net of wonder forever." - Jacques Cousteau