Help Sea Otters by Supporting the Sea Otter Savvy  Program: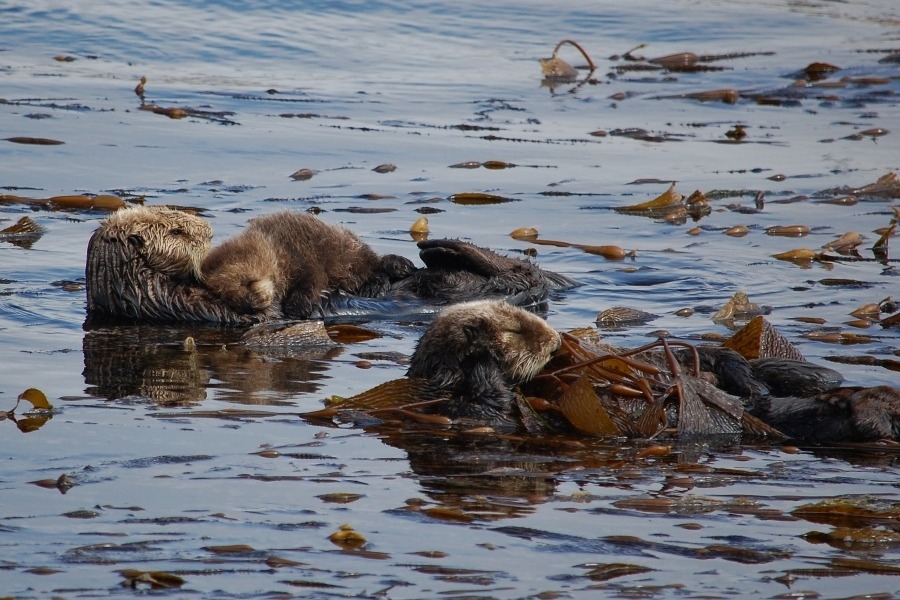 Resting sea otters in a Morro Bay kelp bed. Photo by Gena Bentall
Sea Otter Savvy's mission is to foster community awareness and involvement to reduce human-caused disturbance to sea otters and promote responsible wildlife viewing.
As we venture closer to the end of 2020, we recognize it has been a difficult year for so many, and we hope our Savvy friends are well and safe.
As people stayed home during the early days of the pandemic, sea otters had relief from crowds, but since reopening their home has been subjected to record numbers of visitors and relentless disturbance. Now more than ever we need your help to continue our efforts to educate visitors and protect sea otters.
Elkhorn Slough, home to many sea otters, has been crowded with visitors since reopening. Photo by Gena Bentall
COVID 19 has been the source of both obstacles and  innovations to our plans and strategies for outreach and  research,  but it is due to the impact of the pandemic on our grants and funding sources that Sea Otter Savvy is facing our most serious threat to survival. Without additional financial support for 2021, we will not be able to sustain our sea otter research and conservation efforts at the level our team has worked so hard to establish. You can help support our mission by joining this Go Fund Me for Giving Tuesday and help us by spreading the campaign.
Sea Otter Savvy is a science-based outreach program, focused on sea otter research and conservation relating to human impacts. As sea otter biologists, we conduct research to investigate sea otter disturbance, and collaborate with agencies, institutions, students, and community stakeholders to mitigate these impacts and actively participate in the conservation of this critical species. As increasing numbers of people visit the coastal waters of California sea otters' call home, our work becomes more critical. 
As a program generally funded by grants, it is difficult to reach out to so many during this uncertain time and ask for help; however, we know how important sea otters are to our nearshore communities, and hope you recognize that your support of sea otter research and conservation is integral to the recovery of this threatened species.
Sea Otter Savvy is a
nonprofit public benefit organization
  incorporated under the laws of the State of California. Our application for tax exempt status under 501(c)(3) is pending and donations will be retroactively tax-deductible once approved. 
The Sea Otter Savvy community science team at work in Elkhorn Slough
How You Can Help:Any support and the sharing of our fundraiser is greatly appreciated - Help us spread the word.  All donations to Sea Otter Savvy directly support our program which includes:
Data Collection
Data Analysis
Collaborative Research with Grad Students
Development of School Program
Community Science and Outreach Volunteer Program
Field Classes for Students
Scientific Presentations
Social Media/Digital Media and Messaging
Website Maintenance and Growth
We Were Here Program
Sea Otter Awareness Week
Community Active Wildlife Stewards Certification
California Coastal Wildlife Disturbance Symposium
Consulting with Stakeholders
Collaborating with agencies and institutions
Participation in the Southern Sea Otter Alliance 
Paddle-In Guides and Production of Educational Materials for community use
And more...
Sea Otter Savvy's waterproof "Paddle In" guide to Elkhorn Slough 
We strive to continue these programs into 2021 and thank you all for your support! If you know of others who would be interested in supporting sea otter research and our programming, please spread the awareness – we will only make our goal with your help to spread the fundraiser.
You can donate to Sea Otter Savvy through this Go Fund Me page or
directly at our website
. To show our gratitude we will be hosting fun events through December to express our appreciation.
Fundraiser Events:
Join our December fundraising events, and add some Sea Otter Savvy to your holidays! Check out our website  and follow us on social media for all the sea otter updates.
December 11th
–
Sea Otter Savvy Virtual Game Night Fundraiser
  (4-5pm PT): join the fun, test your sea otter knowledge, and win Sea Otter Savvy prizes! Details on how to join are on Sea Otter Savvy's 
website
  and
Facebook page
 .
December 11-13
--
Sea Otter Savvy SOS Silent Auction
 : Bid on everything from Sea Otter Savvy swag to art to unique experiences in our fundraiser auction. Join us for Game Night for a preview of the auction items and the launch of bidding.
December 28th
– Sea Otter Savvy's end of the year video released through our social media platforms, including our
YouTube Channel
 .
If you would like to donate on behalf of, or in memory of a loved one – please direct message us through our website or social media, and we'd be honored to share their story.
Sea Otter Savvy's youth program brings sea otter awareness to students of all ages! In 2020 and beyond, virtual technology will bring students to sea otter habitat!
The thank-yous are the best!
Sea Otter Savvy's stickers for rental kayaks and SUPs
A raft napping in an eelgrass bed in Elkhorn Slough. Photo by Gena Bentall
The Sea Otter Savvy team: Gena and Heather
Organizer