In 2016, I began a full fledged wildlife rehabilitation service. I obtained my license from the Department of Environmental Conservation and have been taking in birds and mammals of all types ever since!
In my first year alone, I successfully raised and released three orphaned white tailed fawns, numerous gray and red squirrels that had fallen from nests, and more baby starlings and sparrows than I can count. I anticipate that this year will bring many more babies that will be in need of my care until they can become self-sufficient in the wild and live the free life that they were meant to live.
Wildlife rehabilitation is not for the light of heart. It is an expensive endeavor for which there is no monetary compensation and it is extremely time consuming. It requires hours upon hours of feedings, cleanings, and care - each new animal brought in is an added expense as well as another mouth to feed.  Just last year alone I purchased and built several animal enclosures in order to house the wildlife while under my care. Included in this were an enormous outdoor squirrel enclosure for a soft-release site as well as a large fawn enclosure.  I would love to take in all of the animals in the world, but with limited supplies, I unfortunately must also limit the numbers of each species that I can bring in and adequately care for. That is where the community outreach comes into the equation and what led me to create a gofundme campaign.
I am looking forward to another amazing year of wildlife rehabilitation and I can't wait to see what comes my way. The goals I would like to accomplish this year are to add another soft release squirrel enclosure to the property in order to accommodate more squirrel litters of different age groups and to build an outdoor soft release bird aviary for the final stages of raise and release of our feathered friends once they reach maturity. I would also love to build another fawn barn for the fawn enclosure. With the help of community outreach and support, I hope to be able to accomplish these goals and continue to grow my  wildlife rescue.
6 baby starlings that were rescued from a house demolition. These guys require feeding every two hours - and trust me, they let you know when it is feeding time!  At times during feedings, even ear plugs may be necessary!
Three red squirrels rescued and brought to me - these babies won't open their eyes until they are about a month old.
One of the white tailed fawns that was raised and released - Fawns are generally born in May/June and are not released until September.
Feeding fawns requires several feedings a day and A LOT of fawn milk!
Medicating an injured chipmunk - Along with healthy babies that just need to be raised up to an age where they can be successfully released, I also take in many injured adult animals that require medical care and support until they are healthy enough to live on their own again.
One of the red squirrels after a successful release
The three fawns awaiting their bottles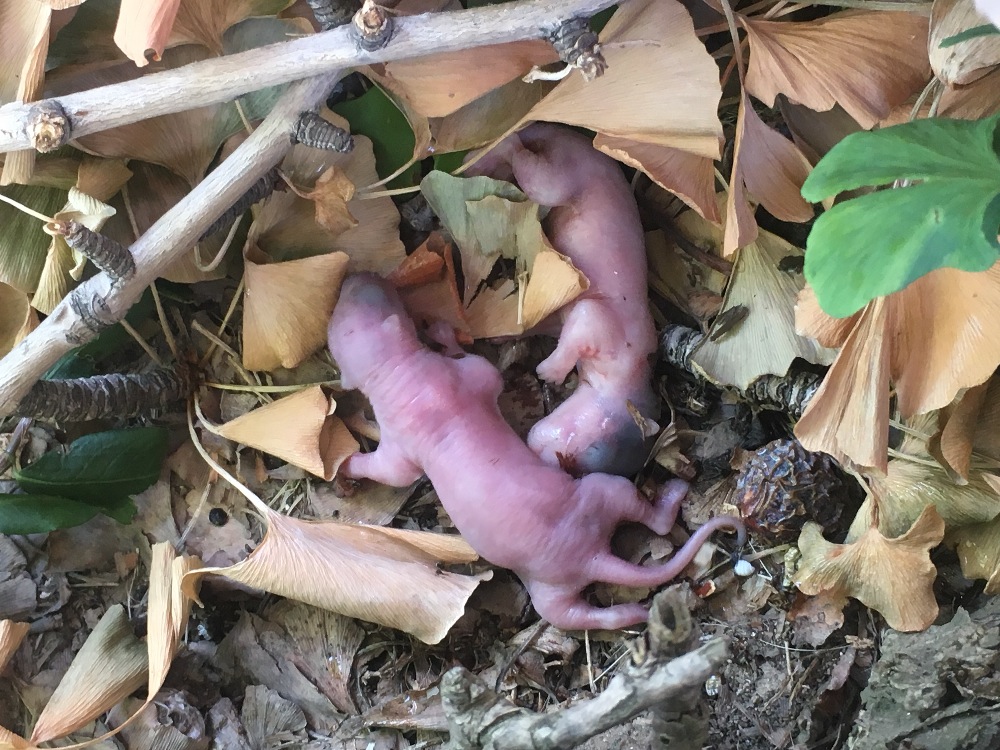 Two baby squirrels were spotted by a pedestrian after falling from a nest - this was the picture she sent me when she inquired about what she should do.
The squirrels were literally just days old when they fell
Squirrels cannot be released until they are three months old - their eyes remain closed until they are about a month old. Each day requires a daily "weighing-in"  in order to make sure they are gaining the appropriate amount of weight (We are talking grams!) - this also allows me to calculate how many mls of milk each feeding should consist of.
5 of the 7 squirrels I took in last season - all were successfully raised and released together.
Two young grey squirrels right when they arrived at my home - you can tell one of them is very dehydrated by looking at the wrinkles apeparing on it's shoulder and under it's chin.  Many times when I receive squirrels that have fallen from nests, they may have been without food and warmth for hours.  I generally give them an injection of fluids just under the skin and warm them up before even offering milk - this alone tends to pep them up in no time at all.
Baby squirrels with their eyes still shut tend to spend most of the day sleeping - but once hunger sets in, they are up and crawling around their bed seeking out the syringe of milk! Hungry baby squirrels will sometimes make a calling sound that sounds very much like a bird's cheep.
Wrapping the baby squirrels up in towels helps to calm them for their feedings (and serves as a nice bib too!  They are messy eaters!)
The three fawns, although from seperate mothers, grew up nicely together.
Once the squirrels reach 8 weeks old, they are moved to my outdoor soft release squirrel enclosure - they live here for another 4 weeks in order to acclimate to the outdoors and also meet other squirrels in the area.
Most times, my squirrel babies all come from different nest sites - they grow up together as though they are siblings and are released into nature together. I still spot them hanging out together even as adults.
Feeding baby squirrels is extremely time consuming.  Depending on their age, they can require feedings up to every two hours around the clock!
Nap time after a feeding.
Just like with humans, the "toddler" stage of squirrel raising  is the most amusing stage. This baby is about 6 weeks old and is more curious than ever!
Donations ()
Ali, Jackie, Tori Sepulveda 
Organizer
#1 fundraising platform

People have raised more money on GoFundMe than anywhere else. Learn more

GoFundMe Guarantee

In the rare case that something isn't right, we will refund your donation. Learn more

Expert advice, 24/7

Contact us with your questions and we'll answer, day or night. Learn more