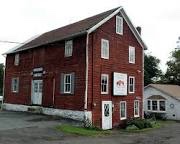 The Van Duyne Cider Mill property - A Tradition in North Jersey for almost 140 years; a cider mill since 1896, and a mill works since 1795
Doris Heddy (Van Duyne)
In prior years, pouring fresh pressed cider from an apple cider keg at the Mill
This past autumn weekend, I went to the Cider Mill to get the first of my family's traditional gallons of fresh pressed cider for the Fall season.  What a delight it has always been to stop by the Mill, see Doris Heddy and  Brian Cooke for a chat, wander the farm property seeing the rabbits, chickens, & goats, and visiting the small country gift shop in the main barn building.
But this weekend, what  a shock it was to me when I asked how recent this apple pressing was, only to be told by Doris that they could no longer press for cider because the roof is leaking and in need of serious repair.  No, for once it wasn't the non-pasteurization requirements (which had always been difficult, requiring special permitting, and which the Mill had always gotten).  No, at this time the Mill operations  have been discontinued until the building has a new roof.   This year the Mill is selling another farm's cider, and perhaps after this year the Mill will be no more. 
I was heartbroken, and vowed to help in any way I could.  I created this campaign specifically for the new roof. 
We we all know that making a go of life on a farm is a difficult and costly matter, and on a small farm with more large grower/producer competition and less streams of income to keep it afloat, the last straw can be something that although not crushing for a more prosperous or larger operation, can outright end a smaller family-run concern.  Such as a new roof.   Such as this roof. 
I knew that Doris and Brian had struggled a great deal over these last few years, most especially after Doris had a heart attack several years back.  But Doris recovered, had managed to retain the farm, and was back to pressing apples once again.   But there are no funds for replacing this roof.  It simply is not in their budget. 
For almost 140 years, the Van Duyne Family and their decendants have owned and managed the farm at 160 Pine Brook Road in Montville, New Jersey.  The current direct descendant, Doris (Van Duyne) Heddy is still going strong at 80+ years.  The farm cider house building however, is not quite as robust as Doris.   A new roof is not only badly needed on the Mill itself, but is paramount to keeping the Mill going, or the Mill's operations will cease once and for all. 
It would be a true shame if this historic Mill were to close.   The cider made here is nothing short of amazing; the taste, the texture, the smell.  Having it in our fridge is like having a small piece of the history of the Garden State, albeit American heritage, present today.   There simply is no other cider like it, to which many long-time customers will attest.  To me, Doris's cider also possesses many health benefits, in addition to being simply delicious!  There are very few cider makers who press the old fashioned way; the Van Duyne Mill is one of the very last in the United States to do so.
With each passing year we lose more of our history in the United States, that history being the very foundation of our country; if we do not act to help in preserving our historic legacies, we will surely lose them.   We will have less of the wonder and delight of our past to share with our children, and their children; once a legacy, a piece of history is lost, it cannot be remade or reclaimed.
I urge you as citizens of this corner of our wonderful State to give to this campaign and show your support for yet another piece of our history, far too close to being lost.  
Won't you please help us in our campaign to get a new roof on the Mill?   Any contribution, no matter how small, will go directly to the funding of the new roof, and every penny will count!
I will be pursuing many fundraising and charitable avenues to get this project completed this year (2016/2017).  Our goal for this first round of funding is $40,000 to get the work started/completed.  
Thank YOU for taking the time to read this funding campaign story, and Good Wishes to you and yours!
 If any contractors or roofers are interested in devoting their time and expertise in assisting us to get this project started with the donation of materials and/or labor (in lieu of actual monetary contributions) within the near future (especially before the first winter snow of 2016/2017), please contact me through the email links provided, and THANK YOU!