SAVE OUR SCHOOL Pacific Harbour FJ
YOU COULD WIN ACCOMODATION FOR 2 PEOPLE AT THE UPRISING BEACH RESORT AND HELP SUPPORT OUR SCHOOL WITH YOUR DONATION! 

Donations of $100 AUD go in the draw for 3 nights accomodation 
Donations of $200 AUD go in the draw for 4 nights accomodation 
Donations of $500 AUD go in the draw for 4 nights accomodation and flights from nearest Fiji Airways destination.

Help support PHMCS and get a chance to win!

EDUCATION IS THE KEY TO THE FUTURE
Pacific Harbour Multicultural School  (PHMCS) is a unique, self funding community school, in Pacific Harbour, Fiji. As we are an independent school, we receive
NO Financial assistance from the Fijian Ministry of Education
. As such, it was necessary to implement low school fees, which, along with substantial fundraising, is used to pay all school expenses, including teacher's salaries. 
We offer a mixed curriculum, based of the Fijian syllabus but also incorporating elements from Australian and New Zealand. Our students are mainly local Fijian students from local villages (91%), with a small expat contingent (9%). 
Many of our families are from local villages, often with a
combined weekly income of 
$75FJD. 
A number of these families can only afford to pay their fees weekly, yet sacrifice in order to send their children to our school because they value education and see it as a way to empower their children. 
We maintain small class sizes (max 25 students) in order to foster a sense of "school family" and to provide students with closer supervision and assistance and individual learning paths. This compares with Fijian Ministry schools, where class sizes can reach 
40-45+ students. 


Our School's Strategic Vision aims to modernize the school, essential elements of this being our holistic approach to learning, teaching critical thinking and individual learning pathways for students. We are also working towards incorporating IT into our classrooms and PHMCS aims to be the first Fijian E-Learning hub, producing students that are well prepared for an increasingly technological workplace.
But we can't do this if we are unable to survive. We need funds to ensure the school can meet its financial obligations as well as to make improvements to our facilities, modernise classrooms and teaching aids, provide extra-curricula activities for students and purchase equipment to facilitate educational IT, including training for staff.
Currently we run classes from Early Childhood Education (ECE) through to Year 8. Whilst we have limited facilities, our students, being typically Fijian, make the best of what they have. Most of our sports equipment has been been provided from kind donors such as the Fiji Soccer Association, and local businesses.
They play netball on grass with a single netball hoop; they play rugby with bent goal posts (and with anything they can use as a ball!) and play soccer with nets that are full of holes. Despite this, our school Rugby Team, recently won it's local derby of three other schools, and several students went on to represent our district (Serua), with our U14 District Team winning the National Competition and
three students being selected by the Fijian Rugby Union (FRU) to train and compete for their country!
Our students engage with the community in such environmental activities such as "Beach Clean Up" and education by St Johns Ambulance.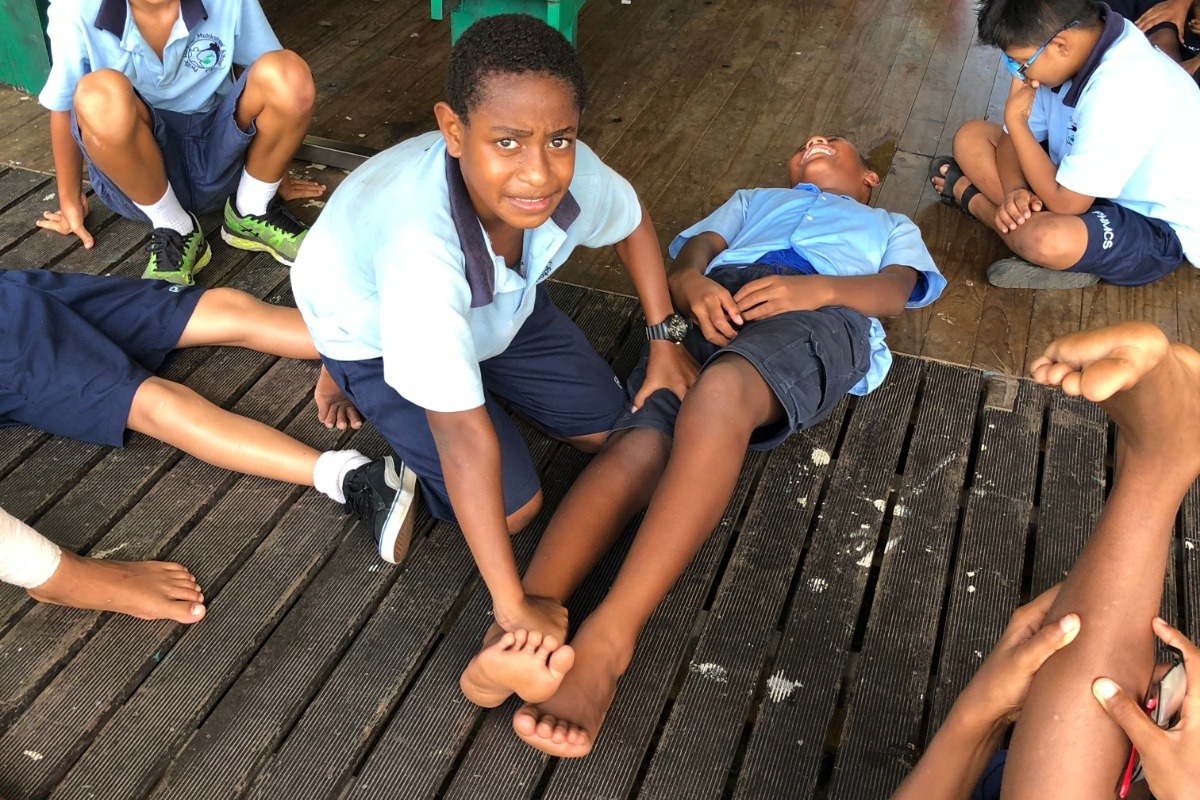 In a world that is becoming increasingly divided by race, religion and skin colour, PHMCS stands as a beacon to what can happen when children from different backgrounds learn and play together.
At PHMCS, we are ALL Fijians and it is vital that our school survive and grow so that we may continue to produce students who will grow into socially aware, environmentally mature, creative, innovative and motivated adults, who will challenge the status quo and help them become critically engaged citizens dedicated to solving problems and contributing to the greater good of society. We cannot do this without your help.
Please donate where you can, share this page with your networks (family, friends, work colleagues, ANYONE), help us SAVE OUR SCHOOL!
Note:
Whilst we currently cater only to Year 8, we have plans for a secondary school (Years 9-13) that will be essentially dual stream; one stream being a traditionally academic pathway and one being a technically based VETiS (Vocational Education Training in School), allowing all children to obtain an education that best meets their abilities and passions and improves the quality of education for up to 240 Primary students, with the Secondary College a further 250 students, and providing these students with a bright start to their adult lives.
Ripple Impact Coaching & Training 
Fundraising team: PHMCS - Save Our School (3)