Help Save Our House Katrina Built
I am fighting to be reunited with my daughter and to save our home. I need your help. I have never asked for help publicly before, so please excuse me, if my wording is clunky and inefficient.  
I brought my daughter to visit her mother on Mother's Day, 2017.  Her mother never brought her back and has not allowed us any visitation. I haven't been able to afford a lawyer to advocate for us.  Because of this, in my latest court appeal to be granted the right to spend time with my daughter, I was instead informed that I owed my ex-wife $125,000. I have managed to collect $100,000 myself, completely draining my savings, and then selling off everything I had of value in the process. I need your help in raising the final $25,000 to save our home, which will be sold out from under us, on September 6, 2018, if the remaining funds are not raised.  
**Update**  We are now waiting for the judge's ruling, which is expected to come in six to eight weeks.   We still have until October 25, 2018 to raise money to save our home. 
My daughter and I moved into this house 63 days before Hurricane Katrina hit. This has been the only home that my daughter has known.  We have lived here 13 years and have struggled through the devastation of our city to rebuild our block and our community one house and one neighbor at a time.  
We lost everything.  But our spirits stayed strong.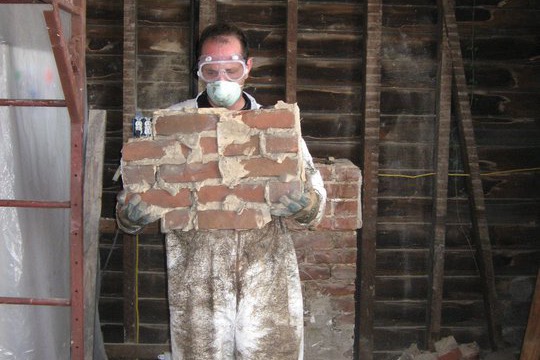 No one knew the rebirth of our city was going to be so painful or take so long.    
The work was hard and constant, and it was hot and dangerous.   
We could have left the ruins of our home.    
We could have left the ruins of our block.  
We could have left the ruins of our city.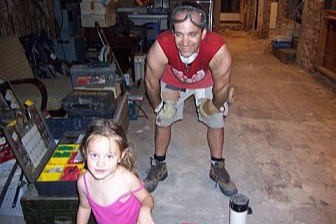 Many people told us to leave, to give up, to start again somewhere else.    
But to go where, with no money and no job and a two year old child?  
This was our first home.  This has been our only home.   I had responsibilities.
And the house, although destroyed, still had a mortgage that I needed to pay.   
Among all the chaos, we still had our working refrigerator, the only appliance to survive the storm.
We didn't leave.  We stayed.   And we rebuilt.  
It was a combination of innocence, and inexperience, and even a little bit of my own stubbornness, and of course, the belief that the insurance company was going to do their part--They didn't.  
Little by little, we made progress.  
Days became weeks.  
Weeks became months.  
Months became years.  
Through every struggle and through every disappointment, we persevered.  
I made the decision to stay and be a  part of helping our city heal.  
I made the decision to raise my daughter here in this magnificent, cultural place--The Music Capital of the World.
After all, a man doesn't whine when things don't go his way.  He sucks it up and he deals with it.  
Well, to be completely honest, there was a little bit of whining, when the insurance company told me they weren't paying for half the damage to our home and most of the things we lost in it.  
But then, it was back to dealing with it.  
Providing for my daughter.  
Fixing our house.  
Being a good neighbor.  
And finally, getting our block cleared of the criminals who had taken advantage of our city in chaos to hustle and intimidate the older people who still remained, but couldn't protect themselves.  
Because a man stands up.  
The neighbors began calling me, "The Block Captain."  It is a title of honor and respect by which they still refer to me today.
From the crime ridden streets, where one could not safely walk outside even during the light of day, we have transformed our block into a strong and safe community, in which every neighbor knows each other by at least by first name.
When Katrina blew away my teaching job, for which we had moved here, I worked two jobs.   
All the while providing my daughter with a safe, comfortable, and loving environment.  
Porch lights stay on at night, and friends gather playing music, sharing food, and telling stories.   We started our Annual Positively Fourth Street Block Party further bringing friends and neighbors together. 
We built a community.  We planted trees to help beautify our block.  Both the roots of the trees and our own family roots took hold and grew stronger each day.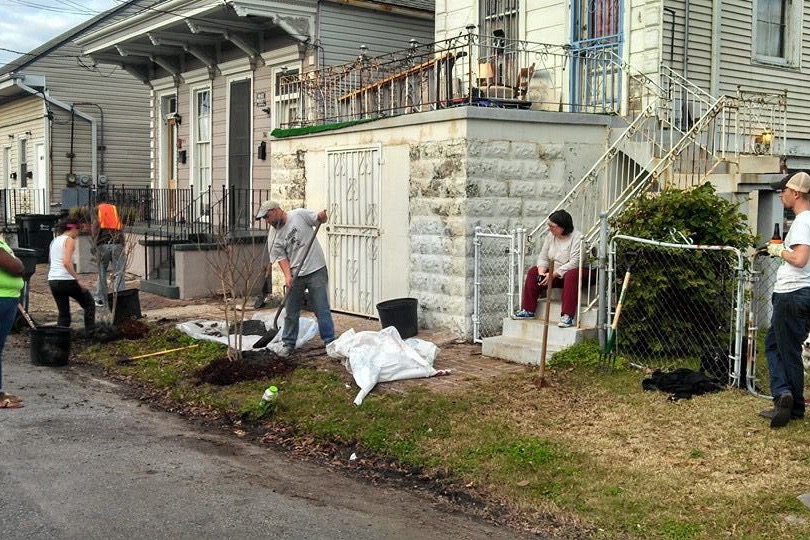 Our lives have grown strong together in our home as our neighborhood has grown stronger.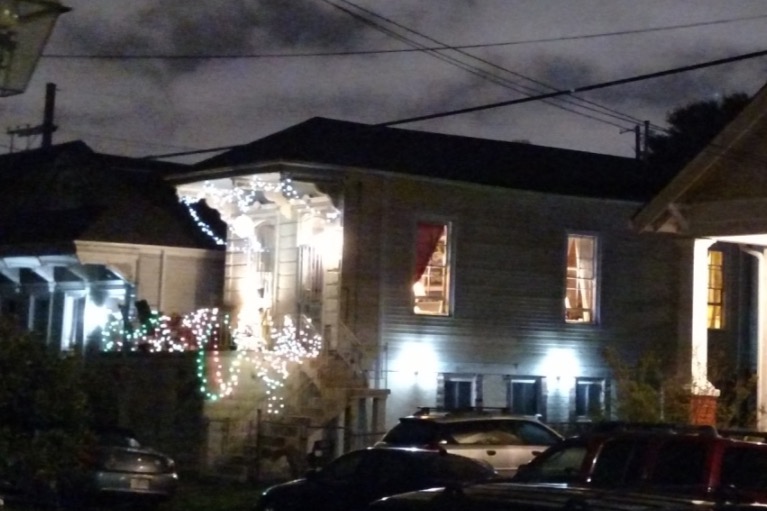 Every year on June 27th, the anniversary of the first day we moved in, we have taken pictures together on our front porch.  
My daughter learned to walk on this street.   
She learned to ride her bike on this street.  
And as she grew from the baby on the block, to a young girl on the block, she learned to babysit the other new children as they were born or moved in and became part of our community family.  
We created our own family traditions.   
We love our home.
Each year celebrating the anniversary of our first day in our home with these silly pictures on our front porch.  
Each year, we get more creative and elaborate, and even more silly.
Here she has been able to thrive, make friends, and welcome others to this special part of New Orleans that we call home.
The home that we bought with hope and innocence in 2005 was nearly destroyed by Hurricane Katrina.  


Through years of slow progress and happy accomplishments, we persevered and have brought this 123 year old house, just three blocks from the great Mississippi River, back from the brink of ruin to a beautiful place that she and I call home.   
Our home has been completely paid off in full, through years of careful saving and personal sacrifice. 
This is our home and it would be heartbreaking for us to be forced to leave it.  
We are the family who has lived the longest on the block and we hope to stay here.  
With your help, we will be able to do so. 
Please, help me raise this money.  
With a small donation or a share to your social media, together we can save my home.   We can save my daughter's home.   And we can reunite our family, a loving and devoted father with his sweet, funny, and animal loving  daughter.  
Thank you, so much for your help.    I doubt I can ever express the depth of our appreciation.    But I will never stop trying.   This is a debt I owe.  I am honored to pay it.    
This house is our small slice of New Orleans.   Please, help us save it.  
My limitless love to you all.
Organizer