***Update: We thank everyone for their amazing support up to this point.  Because our initial goal of $40,000 has been met, we are changing the overall goal amount to $47,600 to account for 5 permanent aluminum flag poles and appropriate illumination for the poles. 
Currently, the Sandusky Courthouse lawn is home to a monument (three granite panels) dedicated to those who "...served in World War II, Korea, Vietnam, and other Presidential Declarations involving our armed forces."
We, the students of Sandusky Jr./Sr. High School, are leading an effort to enhance this monument to make it truly honor ALL service members of Sanilac County. The first step of the plan is to move the three original granite panels to the west side of the Courthouse lawn and add two additional black marble panels representing the branches of the Armed Forces as well as the POW/MIA emblem. The new memorial site will include granite benches, ground lighting, and new landscaping.
We have worked with architect and State Representative Shane Hernandez to create this 3-D projected design of the new monument.
Estimated Cost of the New Memorial
·        Movement/addition of granite panels: $24,000
·        3 granite benches: $1,350
·        Concrete pads/new sidewalk that leads to the panels: $6,000
·        Lighting: $7,650
·        Additional landscaping: $1,000
Total projected cost: $40,000
Who We Are: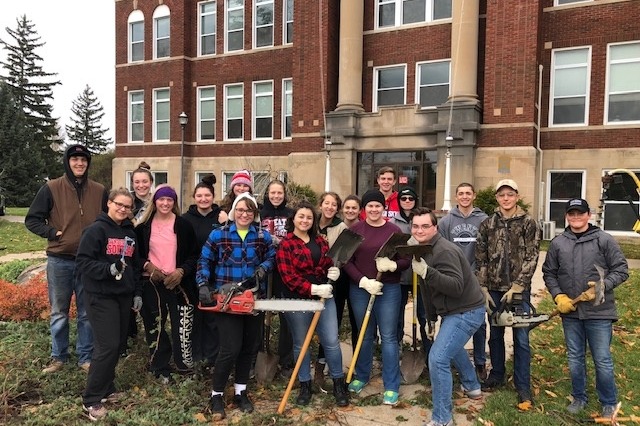 We have led many different projects and have become contributing members of our community. Some of these projects have cemented our community's connection with our Veterans. The new War Memorial will be a permanent display of our continued gratitude for the Veterans of Sanilac County.
We have participated and continue to participate in many projects, including:
·        Fundraised, planned for, and hosted the  Moving Wall-Vietnam Veterans Memorial  in Sandusky, MI on Memorial Day Weekend 2017.
·        Host Annual Military Appreciation Football Game (6 total to date).
·        Recognize Veterans during the National Anthem at every football game.
·        Lobbied to have a static piece of military equipment (a M60 A1 Army Tank) brought to Sandusky's James E Connolly V.F.W. Post #2945.
·        Place 439 flags and 376 plaques on the Courthouse lawn to honor Veterans five times a year.
·        Work V.F.W. fish fries one Friday night a month and every Friday during Lent.

Your donation will help make this memorial a reality for our Veterans..
A fund has been established with Team One Credit Union for the purpose of this memorial. Tax deductible donations can be made on behalf of the Sanilac County War Memorial at Team One Credit Union, or sent to Sandusky Schools, c/o War Memorial, 191 E Pine Tree Ln, Sandusky, MI 48471-9348.