Sami's Vision Therapy Fund
My good friends Carly and Steve need your help!  Their daughter Sami has been diagnosed with
Convergence Insufficiency & Saccadic Eye Movements
, which means her eyes can't track like normal. The condition makes her balance off, and depth perception is difficult. She has a hard time judging where she is in relation to others, so she doesn't enjoy sports, because she can't tell where her teammates and/or flying objects are. Reading is very trying since she can't keep her eyes in one place. She pulls letters from other places on the page, and it's hard for her to focus on what she is reading. When you tell her to look at you she looks at anything around you BUT YOU, because she knows that you are in her field of view but just not quite where. Or she opens her eyes very wide! (See before pictures)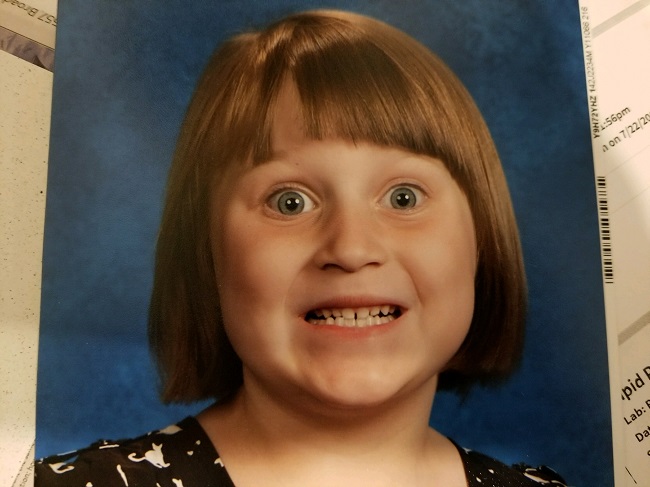 She was diagnosed with this issue in March of 2017 and started vision therapy on March 24. Carly and Steve originally took her to a pediatric ophthalmologist to see if there was an easy fix, such as glasses. Unfortunately, she has perfect vision as far as that goes. They were then sent to Denver Vision Therapy, and after running multiple tests, determined that Sami would benefit from extensive vision therapy. She was slated to need 40 sessions (one session a week), with an evaluation appointment after every tenth therapy session.
Despite having very good medical insurance, this particular diagnosis is not recognized as an "insurable" condition so none of the therapy has been covered by insurance. 
Each 10 session group is over $1100 and each evaluation session is another $175 – this will make the total cost of her therapy over $5,000, minimum. 
Sami is 1/3 of the way through the therapy sessions, and Carly and Steve have drained their health savings account, and are struggling financially to keep the therapy going.  At her last evaluation appointment, the therapist advised that Sami might also need corrective eye wear and reading education help.
There is concern that if Sami has to pause the therapy due to lack of funds, that her vision will start to regress -
please help her keep her therapy going so that she stays on track with reading and doesn't start to fall behind in her educational studies and maybe she will start to enjoy participating in sports as well!
 As you can see from this pic taken 8-17 it is helping her, she was looking at the camera!  
Organizer and beneficiary