Geometry Box- Short Film Project
This fundraising campaign will help the team of Filmians Nepal Production to create a narrative short film which is consist of a beautiful story that we want to tell the world. The following are the details and plans of our film.
Synopsis
Aayush (A 12 year old Protagonist), a school boy is good at drawing and average in his studies, however due to fights between his parents is affected with a mental fear. He sometimes gets punishment from his school teachers. His teachers are also strict and fearful as they show all the students a fear of strict punishment. One day the Mathematics teacher of Aayush asks everyone to bring 'Geometry Box', and again shows fear of strict punishment to be given to those who don't bring the stuffs.
Aayush being afraid from his parents, however, asks for the geometry box with his parents (Mother: Amisha and Father: Amrit). Both of them reject the proposal by showing lack of money; actually ignoring. The next day he finds his parents again fighting for the simple reason of money. He feels fear to ask again, so he doesn't. Aayush is afraid of the punishment as well as his parents. However, on the day to the way to school he finds himself just with his mother and explains the reason and compulsion to buy the 'Geometry Box'. Amisha buys him the box.
On final stage of the film, Aayush's final examination is just a day far and the first subject to attend is Mathematics for which he needs the Geometry Box. He is studying and his parents are fighting again for the same reason of money. Aayush still has fear inside of what would happen if the fight goes beyond just verbal fight. As the intense situation of the fight increases Amrit tries to hit Amisha by throwing the Geometry Box, but Amisha doesn't get hit rather the box passes right out of the window to the road smashed by a vehicle.
Aayush is shocked for a while and within a while he runs directly to the road and gets the smashed geometry box into the kitchen and sees everything inside broken or irregular shaped. Aayush is now confused to do anything. He neither can ask his parents for the box and instruments again as he is more feared from them nor can attend the exam without it. Thus, the film has an open ending.
Why this story?
The story of this film is based on reality of Nepalese schools and middle class families. I as a director and writer used to observe every person's behavior, personality. But this story was thought to be made even before I was a director. I once got chance to get into the private life of one of my school friends, he was not getting properly focused on studies. He was good in ECAs but due to his family fights and the fear he got from the strict school rules made him weak in both studies and ECAs. I got to sit in the class with him. He used to tell me how he was affected by all those environments around him.
Such opportunity for getting a story to be written or told through film is great for me. I did research on this synopsis for a long period of time. I was a volunteer teacher in some schools as well where I used to teach the students of 6th, 8th, and 10th Standards. There also I saw the situation as explained in this film among many students. This more encouraged me to do research in this story, and I did.
I spent around a whole year for getting this plot with lots of researches. I find this is something that the world needs to listen as well as see. They need to realize the reality around them. They need to take a positive action on such story. There are lots of such stories to be told, to be explained to the world, to the environment around us. Aayush character (Protagonist of the film) is just an example. There are thousands of such models being victim mentally. That is why, I chose this story to be filmed.
Director's statement
Naresh Dahal (Writer & Director)
As an emerging film director and having worked as assistant director and writer for many short films as well as feature films I have observed that my country's films are not going through right ways. There are very less films and their directors who make good films, films that consists of good story and good creation. I also want to bring good stories in films with the way of my own storytelling.
Moreover, I am a director with a vision to bring always new experiments into my films. I love doing experiments. I want to use new ways in narration, cinematography, edits, and yes the whole film. My ambition in this film is to use a strong narrative format with good cinematography (of course its quality). I am confident in myself that this film is to be made only by me, through a new perspective.
Inspiration
I don't want this film to get vague, rather a proper narration with some new experiments in them. I am inspired by great directors of world (Stanley Kubrick, Quentin Tarantino, and Christopher Nolan) by watching their films since childhood. They inspired me to become a film director. The way of their storytelling is the stuff that I may use in my films with proud.
Moreover, the story is inspired by the real events and realities happening in the Nepalese society. I narrated this film to many filmmakers in my circle, they got me to gather a filmmaking team and that really helped me. I got motivated by my team in improving the story further and writing the screenplay.
I believe the way this film is going to get out as a product I'll be a proud filmmaker being inspired from my circle and the world class directors.
The Team
Naresh Dahal
(Writer & Director), has worked in different feature and short films, theatres, plays, online news portal as asst. director, writer, actor, photojournalist etc. He is currently associated with Filmians Nepal Production (a film production company in Nepal) which is producing this film. GEOMETRY BOX is his copyrighted content being created with a good perspective. He currently wrote and directed a short film 'The Red Color' which was officially selected in The Lift-Off Sessions (September, 2020) and other notifications to be received soon.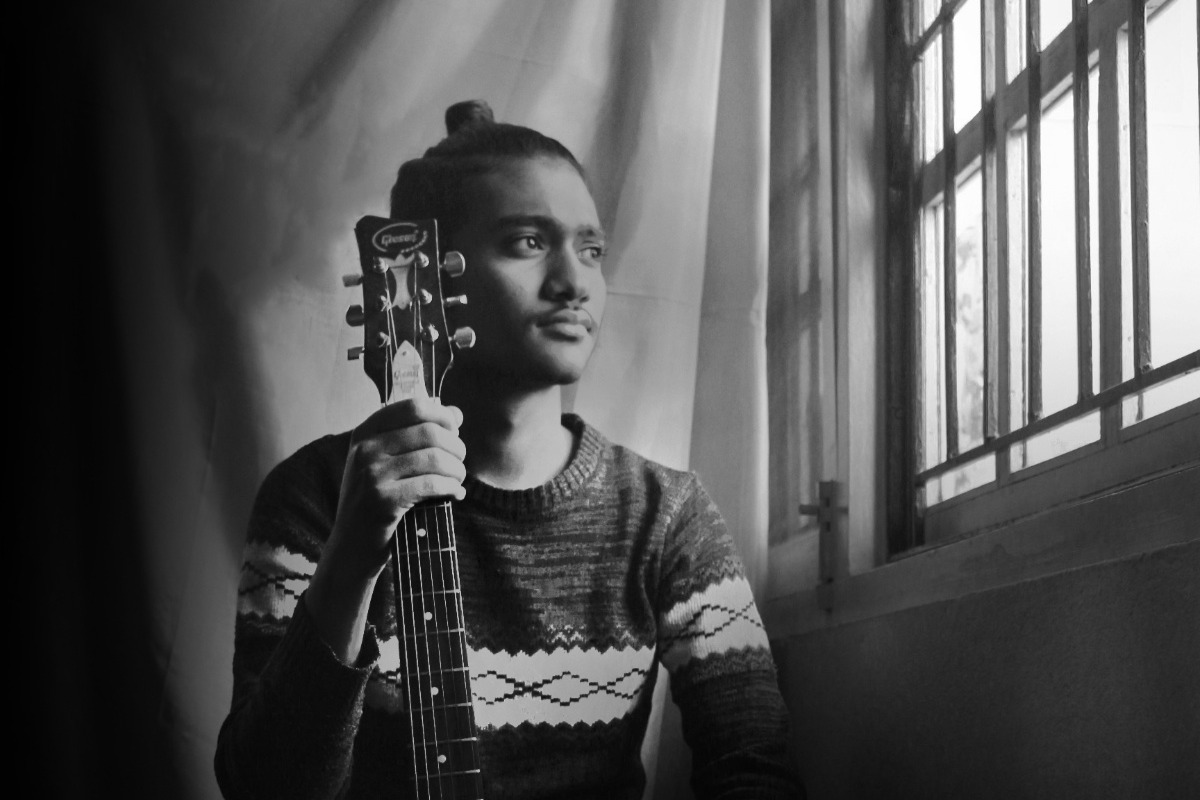 Kushal Koirala
(Editor & Chief Asst. Director and Music Composer), has been working with Filmians Nepal Production since April, 2020. He has done Diploma in Editing, and has worked in small scale film projects. He has been helping in creating a team further for GEOMETRY BOX.
Dhiraj Khadka
(Executive Producer and Music Composer), has been working with Naresh Dahal and Filmians Nepal Production since August, 2020. He is doing modelling in Nepal as well as acting courses. This is his second project.
Rajeev Karki
(Director of Photography), is an experienced cinematographer. He has worked in many small scale film projects for 2 years in Nepal. Now, he is associated with Filmians Nepal Production.
Pranish Pandey
(Asst. Director), has been working with Naresh Dahal and Filmians Nepal Production since August, 2020.
Budget

The budget of the film has been reduced as much as possible due to various reasons and challenges we are facing.  We have calculated a significant budget to form a good desirable team and create a purposeful film.
Timeline
If the situation was better without the pandemic, we could have gone for filming of GEOMETRY BOX in October, 2020. But we had to postpone the dates and schedules due to Covid-19. Till the situation is better we would spend times collecting the fund and create the setup for the film. This would help us get into the floor as soon as the situation is normal.
Why the film is to be invested
We were so much desperate to tell this story to the global audience of the film community.  GEOMETRY BOX is a constricted feeling of a child which really hampers their overall growth. They need to get free to open themselves up. That's why this story is to be told to the globe.
The fund we are raising through
Gofundme
helps us in creating a great crew for producing this film. Your donation would help us get the proper locations and gears for making the film. With the help of your donation we can get food and proper compensation to the team making GEOMETRY BOX. We could make cinematically potential film out of the fund generated.
After you've donated, please share this project to anyone you know or anyone who is interested like you are in it which would be a great pleasure for us. Please share how proud you're to donate for such projects.
And if you're not able to donate then also you can share to your surroundings who could help us in creating a good film. We really appreciate your help.
Risks and Challenges
The budget plan is made by cutting up to which we could. We plan to do very less expenses on this film and get a good result. We have greater risks of this pandemic in present time, so we have increased our waiting time. The challenge is to film in the real locations by paying less fees to the owners of locations and is also hard to go into filming immediately after everything becomes normal. However, we believe that we'd come over the problems and face the challenges making this film a good product.
Donations
Become the first supporter 
Fundraising team (3)
#1 fundraising platform

People have raised more money on GoFundMe than anywhere else. Learn more

GoFundMe Guarantee

In the rare case that something isn't right, we will refund your donation. Learn more

Expert advice, 24/7

Contact us with your questions and we'll answer, day or night. Learn more