Pastor Vinod Waghmare, his family, and the staff at
Grace Child Ministry
work tirelessly in the district of Maharashtra, India helping to spread the Gospel of Jesus Christ. Although it is a large area and their resources are limited, Pastor Waghmare is dedicated to saving as many people as he can in the name of Jesus.
Pastoral staff, making sure everyone is fed and happy
The main goals are:
1)
Caring for the children of his orphanage in Mahrastra. The children need daily food as well as beds. Right now the children are sleeping on the floor on mattresses. Pastor needs your support to build bunk beds as well as the purchasing of food and clothing.
Here are the children attending Bible School
One of the boys bedrooms, still needing bunk beds
2)
Bringing Bibles to the people in the area. Having the ability to read the Word of God for yourself is a life-changer to a new Christian.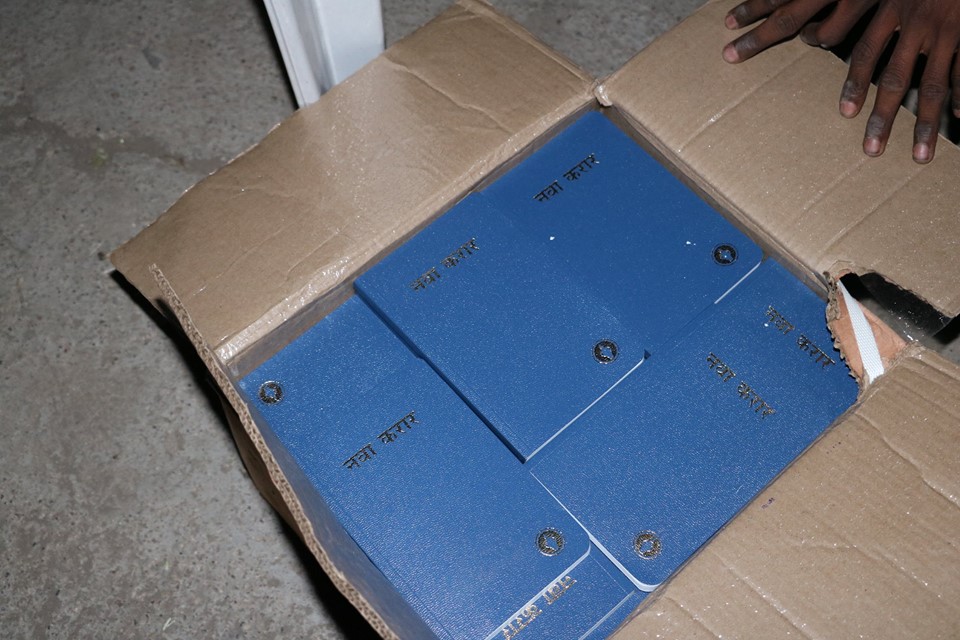 A new box of Bibles, ready for distribution
3)
Showing the Jesus Movie and ministering to those in need. Pastor Waghmare has recently been blessed with a projector! Now he and his team go about to the surrounding villages and show the people who Jesus was in video format. Often, people can't read the word due to illiteracy and this is one of the most powerful ways to show who He was.
Wherever you have electricity, you can show the movie
When the movie is over, the gospel is preached
Here's a video of church preaching vs what it is to preach at an outreach. 
https://www.facebook.com/asha.waghmare.39/videos/1691703581094284/
4)
Bringing medical aid to the town and surrounding villages. The majority of the medical aid is brought in by visiting Doctors.
Here is a visiting Doctor, distributing medicine
5)
The vehicles that the ministry uses need constant maintenance, like any other vehicle. 
The ministry also has a bike for transportation needs
Don't forget the car to get the children to school
6)
Programs such as purchasing and passing out childrens literature, takes funds to keep going. Children are a blessing to God!
People love gifts! These are gospel learning booklets
7)
The ultimate goal is to care for every child in the area, but this will take some miracles to achieve. In the meantime, the enxt step is to either find a larger building or build a new one to care for more children.
It's time for a larger orphanage to hold more activities
We are never without persecution in our lives, but when we help others it always grows exponentially. Recently, Pastor Waghmare was attacked by some bullies who threatened to stop him from showing the Jesus film in a village. Not only that, but his laptop was broken and now his phone is not working properly. Life is tough when you are sold out to Jesus.
Let's continue to be a blessing!
If you would like to give, simply click on the link on this page. If you would like more information contact Grace Home, the ministry site for Pastor Vinod.
GraceChild.Org
Or if you have questions, you may contact Pastor Waghmare directly at
his facebook page
.
Or you can get involved on the
Grace Child Facebook page
--------------------------
Questions
  Question 
Is this a scam?
  Answer
No, I know Pastor and have talked to two of his friends. He is the real deal and needs help.
  Question
Is this tax-deductible?
  Answer
No. Pastor Waghmare is just a guy who woke up one day and decided to "sell all he had and give to the poor" more or less. He is not affiliated with a 501c3 organization.
  Question
How does he run his orphanage?
  Answer
Volunteers mostly. The elders at his ministry and his family work tirelessly to accomplish the mission.
  Question
What other things does he do?
  Answer
Runs an orphanage, Holds prayer services and church services, Ministers in surrounding towns with the Jesus movie and prayer and music, Medical outreach and Bible distribution.
Do you have more questions?
Please contact Pastor Waghmare yourself! He is very responsive to facebook messages!
facebook.com/asha.waghmare.39


Still have questions? Here's Pastor Vinod explaining some of the paperwork of the "business of running a ministry."
https://www.facebook.com/asha.waghmare.39/videos/1424661751131803/
Organizer