~ at the bottom of the page you will find the english version ~
Benvenuti sulla pagina di crowdfunding di resina, creata per raccontarvi brevemente la storia del nostro progetto e invitarvi a supportare la nostra causa. Siamo Angelica, Margherita e Sara, e insieme gestiamo resina, una piattaforma per la ricerca con sede a Ferrara e uno sguardo internazionale.
Nata nel 2017 principalmente come programma di residenze a Ferrara, resina negli anni si è trasformata in una piattaforma per la ricerca, sviluppando un'attenzione particolare verso temi legati all'ecologia e individuando la necessità di ripensare il rapporto tra le persone, gli ecosistemi e le storie dei territori che le circondano.
Attraverso l'organizzazione e la programmazione di residenze artistiche e di ricerca e progetti di educazione informale e sperimentale, la nostra missione consiste nel: sostenere artist3, curatric3 e ricercatric3 emergenti, creare radici, connessioni e collaborazioni con realtà locali; coltivare e rafforzare la rete socio-culturale tra Ferrara, Italia ed estero.
Nel 2023 vogliamo finalmente inaugurare la nostra sede sistemando e attivando uno spazio privato nel centro storico della città di Ferrara; lo spazio verrà utilizzato come quartier generale di resina, studio per ospiti in residenza e luogo dove svolgere il nostro programma annuale di laboratori ed eventi aperti a tutt3.
I nostri progetti si articolano prevalentemente in tre modalità:
Residenze
Le residenze sono improntate sulla ricerca, piuttosto che sulla produzione; offrono uno spazio di lavoro, alloggio e un programma di appuntamenti che dà la possibilità a le/i partecipanti di entrare in contatto con realtà locali e con il territorio circostante.
Breve archivio: Dal 2017 ad oggi il programma di residenze ha portato a Ferrara un totale di 18 artist3 e ricercatric3. Tra gli ultimi progetti, la residenza delle artiste Sandi Hudson-Francis e Rosie Morris a settembre 2022. Per approfondire puoi dare un'occhiata
qui
.
Laboratori e didattica
In collaborazione con partner locali e altre realtà attive sul territorio, resina organizza laboratori e attività per diverse fasce d'età. Con l'obiettivo di promuovere teorie e pratiche alternative all'educazione frontale e gerarchica, lo spazio di Fondobanchetto diventerà fondamentale alla creazione e svolgimento di momenti di incontro e formazione inclusivi e accessibili a tutt3.
Breve archivio: nel 2022 resina intraprende il progetto di ricerca
Rice Songs
dedicato alla storie delle mondine e dei territori del Delta del Po, e guida i
laboratori per l'infanzia
presso il Parco Coletta all'interno dell'iniziativa Giardino Per Tutti di Arci Ferrara.
Eventi
Collaborando con vari enti, collettivi, associazioni, resina cura ed organizza eventi aperti al pubblico con l'obiettivo di condividere aspetti di ricerca interna o delle/degli artist3 in residenza e testare modalità altre di fare e fruire intrattenimento, socialità, arte. Per approfondire puoi dare un'occhiata
qui
.
Lo Spazio
Lo spazio di 50 m2, privato e offerto a resina in comodato d'uso gratuito, è situato in Via Fondobanchetto, nel cuore del centro storico ferrarese, antico castrum bizantino; è formato da tre locali, un bagno e un cortile interno.
I fondi di € 6000 andranno a coprire parte dei costi di ristrutturazione necessari per rendere lo spazio agibile, trasformandolo da magazzino a studio artistico: un'area sarà dedicata alla ricerca e alle attività laboratoriali, una zona con lavabo e angolo cottura, un bagno accessibile ed uno spazio esterno che possa ospitare aiuole destinate ad attivitá di giardinaggio didattiche.
Lo spazio vuole diventare luogo che accolga ospiti e artist3 da tutto il mondo, un luogo di incontro e dialogo con e per le/gli abitanti del quartiere e della città, di stimolo alla creatività, ricerca e riflessione artistica e culturale.
English Version
Welcome to resina's crowdfunding page, created to briefly tell you the story of our project and invite you to support our cause. We are Angelica, Margherita and Sara, and together we run resina, a research platform based in Ferrara.
resina was born in 2017 as an artist residency project located in the historic center of Ferrara, over the years it has transformed into a platform for research, developing particular attention to issues related to ecology and identifying the need to rethink the relationship between people, ecosystems and the stories of the territories around them.
Through the organisation and planning of research-based residencies and informal and experimental education projects, our mission focuses on: supporting emerging artists, curators and researchers; connecting and collaborating with local realities, rooting ourselves within the city whilst also cultivating and strengthening the socio-cultural network between Ferrara, Italy and the international artistic scene.
In 2023 we want to inaugurate our headquarters by renovating and activating a private space in the historic center of Ferrara; the space will be used as resina's headquarters, studio for guests in residency and venue for our workshops and events open to all.
Our projects are mainly divided into three modalities:
Residencies
The residencies are based on research rather than production; we offer a workspace, accommodation and a program of events that give the participants the opportunity to enter into dialogue with local realities and with the surrounding area.
Brief archive: From 2017 to today, the residency program has brought to Ferrara a total of 18 artists and researchers. Among the latest projects, the residency of the artists Sandi Hudson-Francis and Rosie Morris in September 2022. For more information, you can take a look
here
.
Workshops and teaching
In collaboration with local partners and other realities active in the area, resina organises workshops and activities for different age groups. With the aim of promoting theories and practices which provide an alternative to frontal and hierarchical education, the Fondobanchetto space will become fundamental to the creation and organisation of meetings and training sessions that are inclusive and accessible to all.
Brief archive: in 2022 Resina undertakes the research project
Rice Songs
, dedicated to the stories of the mondine (rice weeder) and the Po Delta territories; resina also leads the
creative mapping workshops
for children at Coletta Park in partnership with Arci Ferrara.
Events
By collaborating with various entities, collectives, associations, resina curates and organises events open to the public with the aim of sharing aspects of the research undertaken by the team or by artists in residency, whilst testing other ways of making and enjoying entertainment, community and art. For more information, you can take a look
here
.
The Space
The 50 square meters space, private and offered to resina on free loan, is located in Via Fondobanchetto, right in the heart of the historic centre of Ferrara, an ancient Byzantine castrum; it consists of three rooms, a bathroom and an internal courtyard.
The € 6,000 funds will cover part of the cost of the renovation works necessary to make the space accessible, transforming it into an art studio: with an area dedicated to research and educational activities, a kitchenette with a sink, an accessible bathroom and an outdoor space that can accommodate plant beds for gardening activities.
The space in Via Fondobanchetto aims to become a place that welcomes guests and artists from all over the world, a place for meeting and dialogue with and for the inhabitants of the neighbourhood and the city, which fosters creativity, research and artistic and cultural reflection.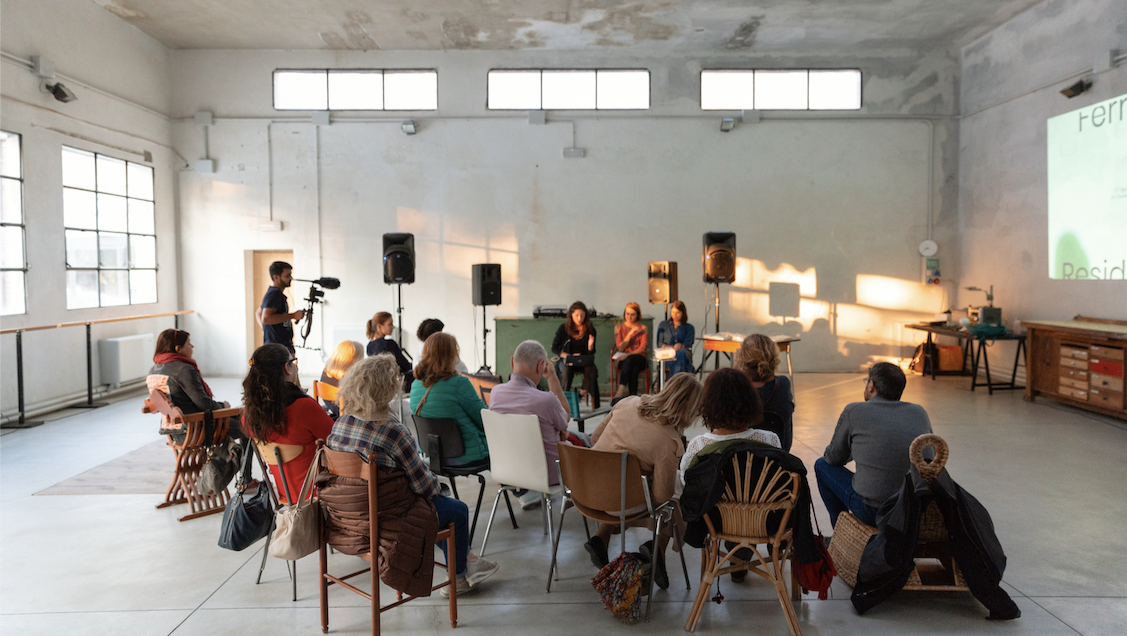 Thank you
Sara, Margherita, Angelica