Rebuild Pemenang, make a future
Hej mit navn er Maria.
De sidste 3 år har jeg brugt rigtig meget af min tid her på Lombok i en lille landsby Pemenang, hvor lokale venner med tiden er blevet til familie. Det er mit andet hjem og jeg holder ligeså meget af Lombok som jeg gør af Danmark... desværre er der sket noget tragisk...
Jeg har de sidste par uger været vidne til hvordan folks liv kan ændre sig fra det ene sekund til det andet.
Det hele startede d. 29 juli hvor et jordskælv målt til 6,4 på richterskalaen ramte det nordlige Lombok. Ødelæggelserne var minimale her i min lille hjemby Pemenang, så hverdagen var hurtigt oppe at køre igen. Men kun en uge efter sker det utænkelige... et jordskælv målt til 7 på richterskalaen rammer  kl. 18.46 lokal tid. 
Skælvet medførte at 156.000 mennesker blev hjemløse og 460 har mistet livet på Lombok - rigtig rigtig mange af disse er desværre fra Pemenang...
Der er efterfølgende blevet målt 679 efterskælv som har været mere eller mindre kraftige til at kunne forudsage flere ødelæggelser. 
Vi blev alle evakueret til et åbent område hvor vi siden da har boet/bor under presenninger og bambuspinde. Her skal de enkelte familier opholde sig, indtil de en dag har penge nok til at kunne genopbygge deres hjem, som pt er faldet sammen til ruiner. Jeg ved at det er en umulig opgave for dem, da turismen er gået i stå efter skælvet og det er normalt her de fleste af pengene kommer fra.
Det er mentalt utroligt hårdt at sidde i denne situation. Man kan se hvor hårdt alle har det og rigtig mange kan ikke se lyset for enden af tunnelen... Jeg ønsker at hjælpe alle bedst muligt ud af det her kaos... Desværre har jeg ikke selv resurserne til at kunne hjælpe hele Pemenang, så jeg bliver nødt til at spørge jer om at give mig en hjælpende hånd... 
HVER EN KRONE TÆLLER!!
Jeres donation vil gå udelukkende til genopbygning af de familiers huse som er jævnet med jorden under jordskælvet. 
Jo hurtigere de kan få tag over hovedet, jo hurtigere kan de få en hverdag op at køre igen, og jo hurtigere kan flere familier blive hjulpet.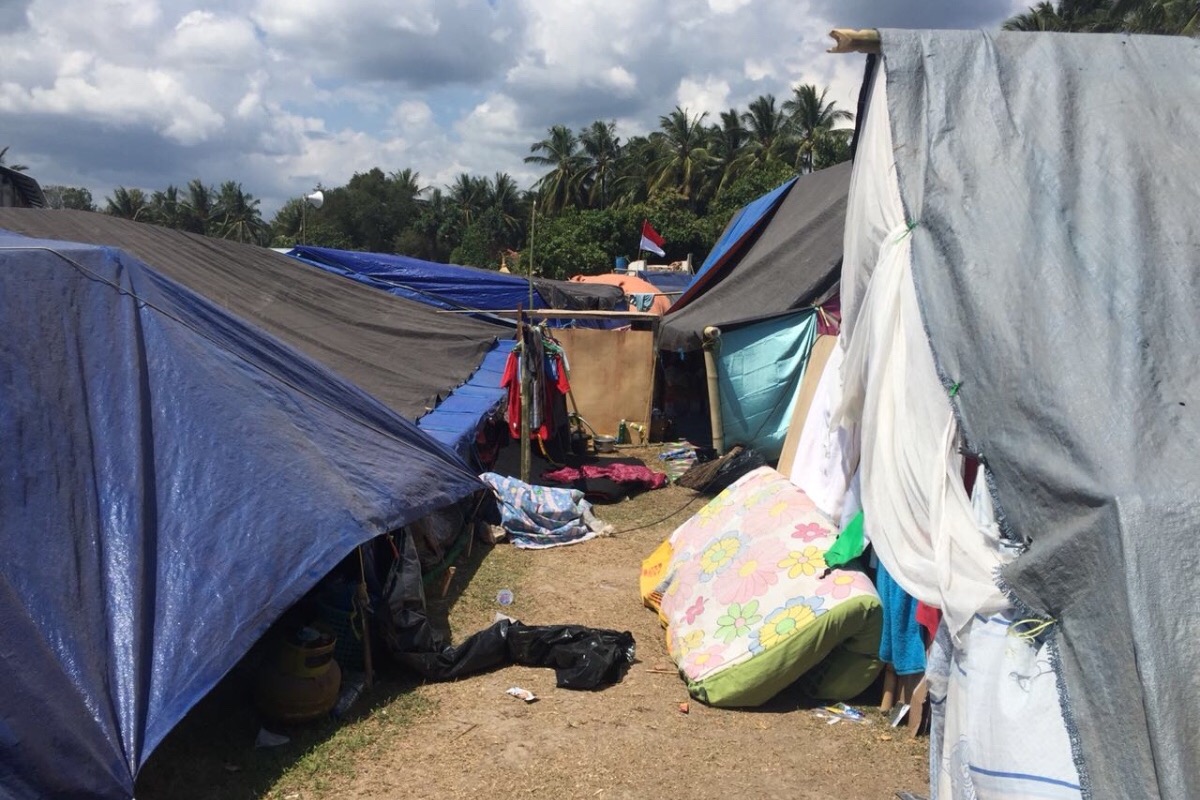 Hi my name is Maria.
For the last 3 years I have spent a lot of my time here in Lombok in a small village called Pemenang, where local friends have gradually become a family. It's my second home and I love and Care about Lombok. unfortunately a tragedy has happened ...
For the last couple of weeks I have witnessed how people's lives can change from one second to another.
It all started on July 29, when an earthquake measured at 6.4 on the Richter scale hit northern Lombok. The destruction was minimal here in my little home town Pemenang, so everyday was quick to drive again. But only a week later the unthinkable happened... an earthquake measured at 7 on the scales scale at. 18.46 local time.
The calamity caused 156,000 people to become homeless and 460 have lost their lives in Lombok - quite a lot of these are unfortunately from Pemenang ...
Afterwards, 679 aftershocks have been measured, which have been more or less powerful to predict more damage.
We were all evacuated to an open area where we have lived / live under tarpaulins and bamboo sticks since then. The individual families must stay here until they one day have enough money to rebuild their homes, which have now collapsed into ruins. I know it's an impossible task for them, as the tourism has stopped after the tremble and it's usually here most of the money comes from.
It is mentally incredibly hard to sit in this situation. You can see how It is for everyone and many can not see the light at the end of the tunnel ... I want to help all the best out of this chaos ... Unfortunately, I do not even have the resources to help the whole Pemenang, so I'll have to ask you to give me a helping hand ...
EVERY krone counts !!
Your donation will go exclusively for the rebuilding of the families' houses that are leveled with the earth during the earthquake.
The sooner they can get a home, the sooner they can get a life and the sooner more families can be helped.
Donations
Anne Birthe og John Jensen 
Organizer