Reaching out for life-saving cancer therapy fund
Reaching out for life-saving cancer 
therapy funding
Hello, my name is Nina, and my family and I are looking to raise EUR 172,000 for life-saving cancer immunotherapy treatment that we are not able to cover via the Dutch medical system.
So how did I get here?
This summer started with an unexpected road bump. After experiencing severe and intensifying headaches over a couple of days, I took myself to the emergency room where I was given an MRI scan. The terrifying result came back. They had found a brain tumour. 
This was heartbreaking and devastating news for me and my fiancé Patrick. We have a 2-year-old son, Harry, and the thought of not being there for him as he grows up breaks my heart.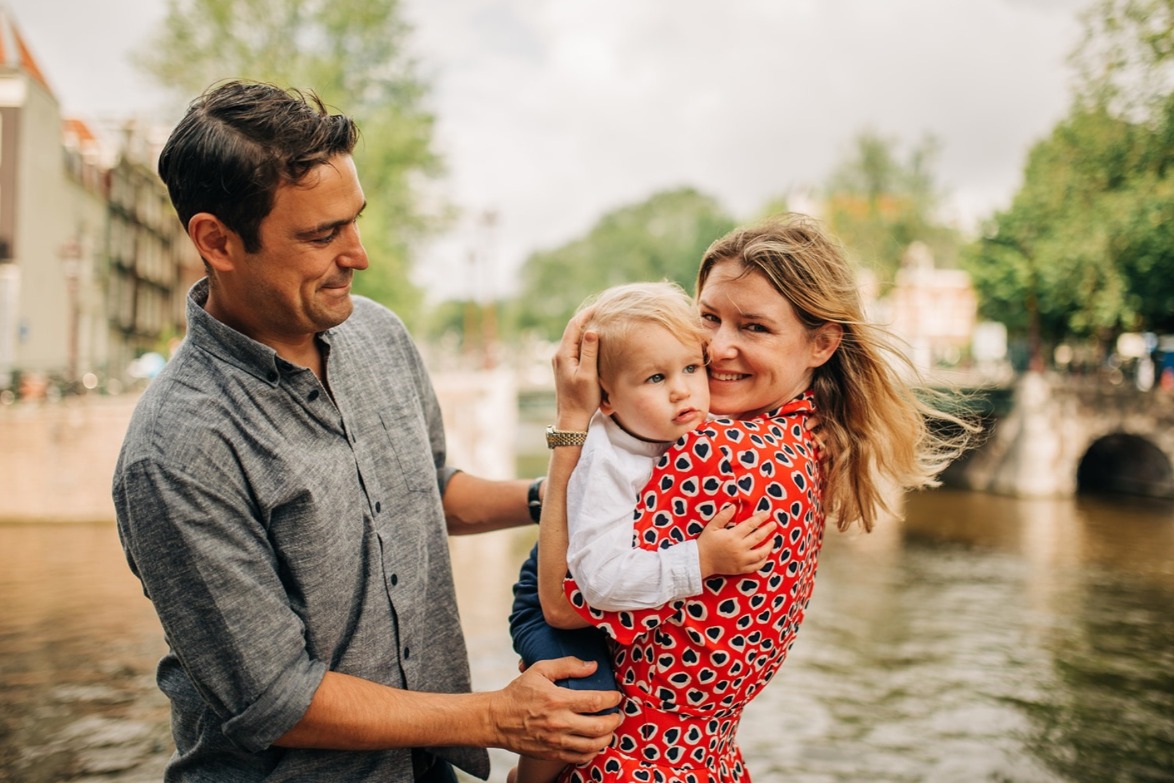 The life-changing diagnosis
4 days later, I had successful brain surgery and they managed to take the full tumour out. To our dismay, I was diagnosed with a type of brain cancer which is considered to be terminal. It is essentially a very aggressive tumour, that often causes relapse due to cancer stem cells that can linger in the body after the tumour has been taken out.
I was devastated receiving this news and so shocked but I also felt strong and extremely positive that I would fight through this. I had no side effects from the tumour nor from the operation and was able to get back home to recover only 4 days after the operation. I prepared myself for starting chemotherapy and radiotherapy. This was an extremely challenging time for me and my family. To get us through this difficult time, and to help us deal with this life-changing news, we threw ourselves deep into research day and night.
The Opportunity
I have recently finished 6 weeks of chemotherapy and radiotherapy to which I have responded very well. Last week my first post-treatment MRI came back with no pathological colouring, meaning clear! While we celebrated this fantastic news, we are very aware that this doesn't mean everything is fine or that we are out of the woods yet. Due to the high risk of relapse, we have been working hard together with our medical teams to find out what the best adjuvant therapy is to ensure the cancer stays away and does not come back.  
Whilst we knew that this was considered to be a terminal cancer we are also aware that there are many cases of long-term survivors that are living for 20+ years after the diagnosis.
Along the way, I have received some news which puts me in a unusually good position. My age, general health, the location of the tumour, the fact the tumour was fully resected in surgery, and the all clear scan is all positive. 
But I wanted more good news and decided that we need to make our own luck.  With this type of brain tumour, every patient is given what is called the Standard of Care. It's a one-size-fits-all strategy, and one that doesn't treat the patient as an individual, just the disease.
Ever since my diagnosis, Patrick and I have been doing tons of research and left no stone unturned. We want to ensure we combat this cancer from a 360-degree angle. 
Luckily we are blessed with many friends who immediately did all they could to help. This meant that from day one we were put in touch with specialists throughout the US, the Mayo Clinic, Stanford University, the National Cancer Institute and more. We have talked to German, British and Swedish brain cancer oncology specialists. We've learnt from charities, contacted drug companies, doctors and professors pioneering innovation in the field, and we have talked to survivors and families and caregivers all around the world. 
Becoming the statistic I want to be - ImmunotherapyPart 1: The science bit
Through our research, we have found a precision, personalised cancer oncologist, specialised in my cancer, who has set up a strategy that targets my specific tumour's molecular assessment all aimed to ensure that my cancer does not return. 
In the darkness, we have found light:
The positive news is the discovery of a germline POLE mutation in my cancer. This mutation means that I have a very high Tumour Mutational Burden (TMB).  Now, why is this a good thing you may ask? Well, cancer is very good at hiding from the immune system. The higher the TMB the harder it is for cancer to hide from an immune response when an immune response is triggered. 
-  To put this into context most brain tumours of my type have a TMB of     around 5 per MB (Mega Base / 1000). 
-  The cancers that do well with immunotherapy generally have a TMB       of 50 per MB. 
-  I have a TMB of 307 per MB. It's the highest our doctors have ever             seen.
This means that I am immunogenic, meaning that immunotherapy can provoke an immune response in my body to attack cancer cells. 
Part 2: Immunotherapy
Immunotherapy is a new cancer treatment for which the US researcher James Allison and Japanese researcher Tasuku Honjo won the 2018 Nobel Prize in Medicine. Their ground-breaking work has uncovered ways to activate the immune system to attack cancer. 
We are undertaking comprehensive exome sequencing of my tumor at CeGaT and Alacris Theranostics, both specialist clinics in Germany, in order to answer the key question in my case pertaining to what immune evasion strategies the cancer may have already developed.
Following this sequencing and immunomic analysis, our goal is to target all drivers of immunotherapy resistance in order to achieve a cure. We know that every cancer is a different disease and should be targeted based on data and analysis that is tailored based on the genetics of the tumour. This is personalised cancer treatment and the future of cancer medicine, something everyone should have access to. 
Following the whole exome sequencing and immunomic analysis, the goal will be to do a combination with genomically targeted agent and immune checkpoint therapy in order to achieve cure.
Whilst we wait for the full analysis of the tumour to come back, what we do know is that I need to start treatment now. The strategy my personalized cancer specialist in the US recommends is to start immunotherapy treatment immediately on a 3-week cycle for at least 1 year. 
This approach (of immunotherapy) has since been validated and agreed to by my Oncologist at my hospital, the VuMC, in Amsterdam as well as the President of the European Association of Neuro-Oncology. 
The Challenging Part - Accessing Immunotherapy Drugs
Because Immunotherapy is not yet part of the Dutch Standard of Care I cannot get the drugs here in the Netherlands covered by insurance. 
- There is one trial in the Netherlands that has the immunotherapy drug I need. Unfortunately I can't get on that trial as I currently have no visible tumour left, and the trial needs to show visible tumour before starting the treatment as the trail prioritises the need to show drug efficacy on tumour size, over curing my disease. In a strange way they want me to get worse before I can access the drug, and therefore help them prove that the drugs work! 
- The drug companies have refused to give me the drug on a compassionate basis - even though the medical team at my hospital, the VuMc, have made a case for me to access it (due to the opportunity to cure the disease in my case) - but this has been denied.
So where does this leave me?
Honestly, devastated with a feeling of double standards. These drugs are made available from drug companies for people in the US, but not in the Netherlands.
When it comes to my treatment we have been forced to look abroad to receive the immunotherapy drugs and have found a specialist clinic in Germany - the IOZK, Immune-Oncological Centre in Cologne. The protocol is to set up with the aim of to activate my immune system to attack microscopic cancer cells that might be left by using the immunotherapy drugs Pembrolizumab (Keytruda) combined with low dose Bevacizumab (Avastin). I receive this for two sessions of 5 days each on the 4th-8th of November and the 25th-29th of November together with local hypothermia and the Newcastle Disease Virus. After these two first 5-days sessions, I will continue to receive immunotherapy in Cologne over the course of a day, every three weeks, for one year. 
As of now, the cost of all this treatment is EUR 172,000 in total for the first year, and this cost needs to be paid in full by our family. 
We are putting our savings into the treatment and we are now asking for donations to help our family cover this life-saving treatment. It would massively lift the financial pressure on me and my family. 
There is only one way forward and that is LIFE!
All our love,
Nina, Patrick and little Harry
(Any funds that might extend the amount we are raising for, we will ensure that the funds goes straight to brain cancer research, helping other patients.)
Donations

Organizer
#1 fundraising platform

People have raised more money on GoFundMe than anywhere else. Learn more

GoFundMe Guarantee

In the rare case that something isn't right, we will refund your donation. Learn more

Expert advice, 24/7

Contact us with your questions and we'll answer, day or night. Learn more