Kaleb is a 14-year-old boy who is always on the move. He loves fishing, camping, swimming, and adventures in the woods. He has a great sense of humor (his favorite show is The Office) and is funny, caring, curious, and kind. He loves animals – especially his Golden Retriever Dory. In addition to Dory, Kaleb's family includes his Mom, Dad, and sister. Kaleb has Asperger's Syndrome, and struggles with anxiety and sensory sensitivities on good days. Unfortunately, Kaleb has had a lot of bad days lately and needs our help.
On the evening of Nov 14th Kaleb was taken to the local ER with intense stomach pain and vomiting. He was immediately transferred by ambulance to Carle Hospital in Champaign where it was discovered that Kaleb was suffering from sepsis and e-coli infection throughout his body. He underwent emergency surgery to clean the infections, and a hole in his intestine was discovered. A week later, Kaleb was operated on again to check and clear out any possible new areas of infection. Kaleb was intensive care for two weeks with a very high fever, high heart rate, a very severe reaction to a combination of medications, and 17 pounds of extra fluid in his body. Throughout this time, he was in constant and intense pain. A drain was placed on his side, and he endured a regiment of physical therapy and routine walks throughout this ordeal to prevent fluid from filling his lungs and causing pneumonia. Kaleb required two blood transfusions, heavy duty antibiotics, and his only source of nutrition was administered via an IV.
After two weeks with no improvement the decision was made to transfer Kaleb 140 miles from home to Children's hospital in Peoria. He endured another surgery to clean his wounds and was treated with antibiotics and blood transfusions. After about two weeks, Kaleb started to show improvement and was sent home to see if the leak in his intestine could heal itself. During this time, Kaleb could not eat or drink anything, and continued to receive nourishment only via IV. While at home, a nurse and physical therapist visited to treat and monitor Kaleb's progress, but the majority of care is performed by his parents. This includes changing bandages and drains, administering medication, and cleaning him to prevent infection.
Kaleb was home for four and half weeks and it was very difficult for him and his family. He had trouble with sleeping, severe anxiety and was in constant pain. Bathing and dressing changes caused him to have panic attacks. He developed a urinary tract infection, and endured recurring fevers and vomiting, which resulted in several trips to the ER and another blood transfusion. While at home, Kaleb has had some wonderful visitors and his sister and his dog Dory have been by his side. His parents have worked tirelessly through their own exhaustion and anxiety to care for and help him any way they can. Unfortunately, despite everyone's best hopes and efforts, Kaleb's intestine did not heal and further intervention was required.
Kaleb and his family went back to Peoria Children's' Hospital the third week in January. On January 18, Kaleb was operated on to remove a section of intestine, colon, and valve. The operation appears to have been successful, but the pain was intense and the pain medications caused terrible side effects. Kaleb required another blood transfusion. His surgery team is working to determine why all of this happened to Kaleb, and to make sure it doesn't happen again. At this time, Kaleb is struggling to recover from this latest surgery. His sensitive sensory systems are being constantly assaulted and he is in severe pain. He is battling fevers, fluid in his lungs, and anxiety as he works to go home.
Kaleb will require long-term care to treat his wounds, rebuild muscle and tissue, prevent infection and slowly integrate food back into his digestive system (he has not had anything to eat or drink since November). He will require additional surgery in a few months to repair his intestines. It will be a long time before he can resume physical activity and pursue his passions. It will be very difficult for him to overcome the additional anxiety this illness has caused.
Everyone who loves him is aware of how very lucky they are that Kaleb is still with us today. We do all that we can for those that we love, but those things are very expensive. Aside from medical bills, there are travel expenses, home health care equipment rentals and wound care purchases. In addition, special clothing had to be purchased for Kaleb to accommodate dressings and drains, along with new linens. Adding to the challenge is the fact that, in order to care for Kaleb full-time, his mother is unable to work.
We are asking for help for Kaleb and his family as they continue to climb this mountain together. It is going to be a marathon not a sprint and they need our help – in every way we can provide it. Contributing what you can to this fundraiser is just one way, and it is very much appreciated.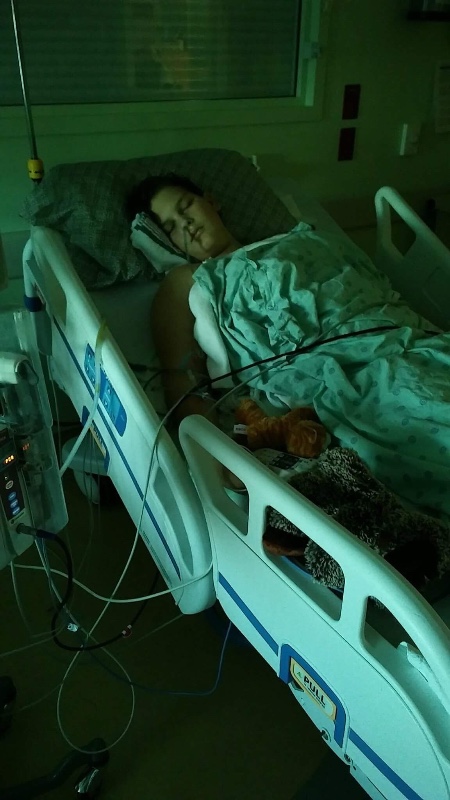 Organizer and beneficiary