Home Sweet Trailer Sharon/Tyler
Update:  October 24th, 2018.
Wow!  We are half way there.  Thank You!   My goal is to raise $10,000 to purchase a small trailer so they can homestead on an undeveloped piece of land.  We are trying to share their story so we do not forget the impact of this storm.  Hurricane Michael was so strong.  CNN reports "A wind gust of 130 mph was reported near Tyndall AFB, close to Panama City, before the instrument failed."
Right now, they are camping and have to boil their water - see the picture below.  
If you can help us share @SharonThro & @Tlyerthro 's story to folks that you think may know them, I would greatly appreciate it!  
At note from my mom, Sharon Thro​, "Well, were beginning another  phase  in our journey to rebuild after hurricane Michael. The house that was offered for us to stay at is now beginning  it's own recovery reconstruction.  We can't go back to our  7314 residence due  to legal  FEMA issues there with the owner of the land. So now were moving to our property, to camp. Looking for a camper, and then move forward from there. We have dozens of large trees that have to be cleared there as well,. Thank you all again for your love and support. Its helping me through this. I think it's (tea time)"
Please consider a small donation.  Kari Underly 
Update: October 20th, 2018
Good afternoon, this is Kari,  Sharon's daughter.  We are grateful for spotty cell service and things in the new normal are settling in.  She wanted to make sure you all knew how very grateful and humbled they are for your support.  
She wanted me to share this photo... Message from my mom (Sharon):   "trying to begin clean up, don't know where to start. I guess we'll start at the back door. We don't have power, but thankfully we now have access to water for showers."    "As in his nature, Tyler has been busy helping our neighbors cut through fallen trees to get to their homes. Tyler himself is a force of nature!"
For those of you that have just joined us, we are raising money for my mom, Sharon (Austin) Thro and Tyler Thro (my stepdad) who have been displaced by #hurricanemichael.  Right now they are living in tents.  The goal for this campaign is to raise funds to help purchase a mobile home trailer to get them out of the elements.  My mom, Tyler and myself are truly grateful and humbled by your support.  
Kari Underly
Photo credit: sharonthro
**********
Update: October 17th, 2018
Imagine what it would be like, to leave your home and within 3 hours, you return and your home has been destroyed.   
When the storm past through, mom and Tyler had lined up a home to homestead in until they made their way through the FEMA process.  Unfortunately, the home was not livable due to unforeseen circumstances.  
They are officially refugees for #HurricaeMichael and are making camp in a friend's yard.  Mom went and purchased camping equipment (Sharon #walmart) and gear to get though the next phase of rebuilding.   Their current mobile home location is no longer livable or a viable option for them to camp or live in the future.  They own a piece of undeveloped land that they will attempt to rebuild on.  I would like to help them buy a trailer that they can place on the piece of land and get them off the ground.  
So, the goal for the campaign has changed.  PLEASE help us raise the $10,000 to purchase a livable trailer for them to homestead until we learn more on the status of FEMA.  
Kindest regards,
Kari
**********
Thankfully, my mom and stepdad, Sharon and Tyler Thro survived hurricane Michael.  They were able to save their 2 cats, but their home and almost everything they own was destroyed. They're trying to salvage what they can. It's very little. 
They have lived and worked in Panama City for about 30 years. My mom works at the local #tomthumb.  If you've stopped by to get gas or for a cup of coffee, I know you received a friendly greeting and a positive attitude.  Tyler is a tradesman. His specialty is stucco.  When he's not working, he's helping out his friends and neighbors.  He's the kind of guy that will give you the shirt off his back, even if it's all he has left. 
But now they need help. They are forced to completely start over with basically the love in their hearts for one another, a few kitchen pots they found scattered in the yard, a spared random closet, and the comfort of their two cats. They have literally lost everything and are in immediate need of cash to get them on their feet to help them start over.
If you are a family member, friend, colleague, or social media pal, please help me by chipping in or spreading the word about my mom and Tyler. Let's have an old fashioned barn raiser and pull together enough money to raise the roof, maybe even purchase a small mobile home and get them back on track. 
For those of you that may not know my mom and Tyler, they are kind, salt of the earth, generous, fun loving, spiritual people.  Please help me raise money to help them rebuild their lives.
E pluribus unum - Out of many, One.
New Photo:  Sharon (Austin) Thro & Tyler Thro
Damage: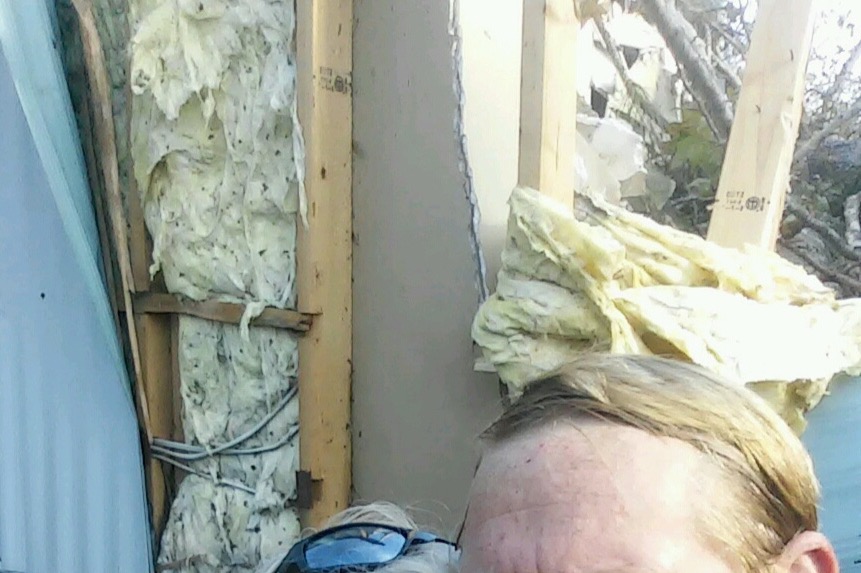 Facebook: Sharon Thro
Facebook: Tyler Thro

Organizer and beneficiary
#1 fundraising platform

More people start fundraisers on GoFundMe than on any other platform. Learn more

GoFundMe Guarantee

In the rare case something isn't right, we will work with you to determine if misuse occurred. Learn more

Expert advice, 24/7

Contact us with your questions and we'll answer, day or night. Learn more