Rainforest, Chocolate & Eco-Tourism
The Colombian rainforest is a vital part of the earth's lungs as well as home to 10% of the world's species of plants and animals.  Every year an estimated 200,000 hectares (close to 500,000 acres) of rainforest disappear.
The Sierra Nevada de Santa Marta is the highest coastal mountain range in the world, a condition that can concentrate all climatic zones.  It also contains samples of all existing biomes in Colombia, which makes it an excellent representative of fauna and flora.  Because of this, UNESCO declared it Biosphere Reserve of Man and Humanity in 1979.
My Personal Story:
I am a Venezuelan/American/Colombian, born in the United States, raised in Venezuela and moved back to the USA at 20yrs old.  With my now, 44 years of life experience as a musician, biker, server (to pay the bills), lover of nature, spiritual seeker, continual learner and celebrant of life, I have chosen to return to my South American roots.  Here my savings stretch a bit farther and I've quite literally started a new life!
With the amazing blessing of an early inheritance, I decided to purchase an affordable, 200 acre piece of land in the gorgeous "Red Zone" of the Northern Colombian rainforest.  Red Zone meaning this land was formerly home to cocaine production and guerrilla/paramilitary warfare.  Thanks to peace accords of the last decade, this land is now home to honest small-crop farmers and to Indigenous people of the Sierra Nevada of Santa Marta.  This land is now my home!
The Three Fold Vision*:
1. To preserve and look after 20 acres of cultivated land, and to leave virgin 180 acres which represent 90% of this breathtaking land.
2. To create an organic, sustainable farm and  eco-tourism site so that others can experience the life-altering beauty of this world treasure.
3. To grow a rare kind of white cacao (Cacao Porcelana) and as soon as possible produce the highest quality of organic chocolate.
*All of this is being done with the highest integrity and respect for the environment. 

The Current State & the Land:
With funds saved throughout my years as a server, help from a few family and friends and tons of faith, blood, sweat, heart, laughter and tears, the project is underway, incredible and moving fast!

The land is awesome!  Nature rules here and its presence is palpable; the sounds at night are a symphony times ten;  the water is pure and drinkable from the river and creeks that flow through the land;  plants grow almost before your eyes, even atop boulders;  the water falls and pools are hidden treasures;  Howler monkeys fill the silence of the morning with their callings for rain;  there are electric-blue butterflies the size of small plates; the stars are a blanket of x-mas lights;  at times the humming birds are as common as house flies (47 kinds registered).  This land can quite literally break your heart with its beauty and purity.  

And it is here, with the the highest respect for this nature, that my compadres and I are growing the farm and community.   We've named it CINDULI, which means Humming Bird in the indigenous Kogui language, the most traditional of the four tribes of the Sierra Nevada de Santa Marta (Kogui, Arhuaco, Wiwa, and Kankuano).  

Although the vast majority of land is and will be untouched, some building was needed.  So far a two mile dirt road has been made to access the isolated location, 5 hectares (about 12 acres) of Cacao Porcelana trees have been planted and the main house is on its way to basic completion - in the meantime we live in our temporary campsite (see photos below).   We have also planted a variety of food like corn, yuca, plantains, bananas, pumpkins, tomatoes, beans, peppers, papaya, avocado among others; because CINDULI is a 100% organic farm and we do not believe in monocultures.

Much remains to be done: detailed completion of the main house, creation of 5 simple eco-huts for visitors, preparation of the land for the growth of 8 more acres of cacao, bringing electricity to the land, building of the CHOCOLATE processing facilities, creating a recyclable and clean sewage system, cementing portions of the steep dirt road that are dangerous in the rainy season, establishing two pools for the raising of fish and very soon to be a chicken coop since the eagles and hawks are enjoying our chicks a little too much.   Although Colombia is more affordable than the USA, the costs of building, labor and transport add up quickly.

My Request:
This is where I turn to you, my cherished family and friends who inspire me and you cherished strangers who are friends-to-be.  To keep this dream, vision and "you-only-live-once-so-fucking-go-for-it!" project moving forward, additional funding is needed.  Have you ever put your 100% into something risky, that your gut knows can succeed, and yet at times you wonder how..??   And then blessings and angels come along.  YOU are my blessings and angels...
Who Will Benefit:
1.  With huge gratitude and humility,  myself off course.
2.  The local Colombians and Venezuelan refugees who have been working hard by my side.
3. The Community of the Sierra Nevada de Santa Marta, both Indigenous people and country folk.
4.  All of you as anyone who supports this fundraiser is invited to the best hospitality I can personally provide when you come visit.
5.  Quite literally the planet as the preservation of this land will help us all.
Thank you!!!!
:
This project is a dream in the making.  The intention is to both preserve and create something that will bring benefit, beauty, good taste and inspiration to a large number of people.  From my deepest and most joy-filled heart I thank you for any contributions.  Every bit will be put to use with gratitude and appreciation.  Blessings to each of you and to all of your loved ones.
Take a Look:

On the way to the farm.  Some of the views are breathtaking...
Here is the main house in its current state.  The main support logs were brought here by mules, two at a time!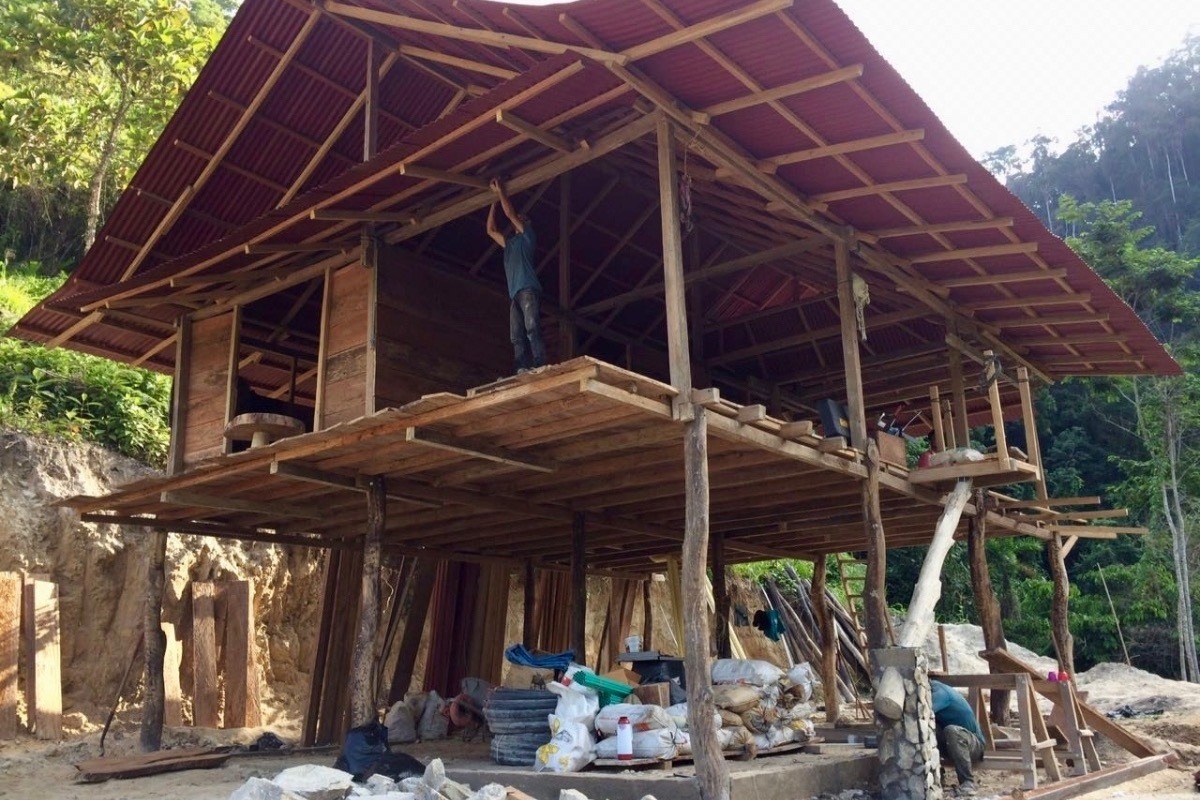 View of the back of the house.  The view from the front view is the main picture of this page.  This land is gorgeous!
The gang , our 41yr old work-horse of a 4x4, Geronimo (bought in Bogota and driven 20hrs back to Northern Colombia) and me in a traditional Colombian hat (Sombrero Volteado).
The Campsite we have called HOME for the last 10 months!
Sleeping in a hammock is actually super comfortable but nothing beats a bed when you want it so having the tent allows for both,.
Needles from a pear tree and a new shoot.  Hummingbirds LOVE the pear trees...
The search for the Cacao Porcelana seeds took us deep into the mountains of the Sierra Nevada de Santa Marta, and it was our Kogui friends who helped us find them.   Alejandro (in the black t-shirt) is Cinduli's right-hand man;  I would not be able to do what we are doing without him.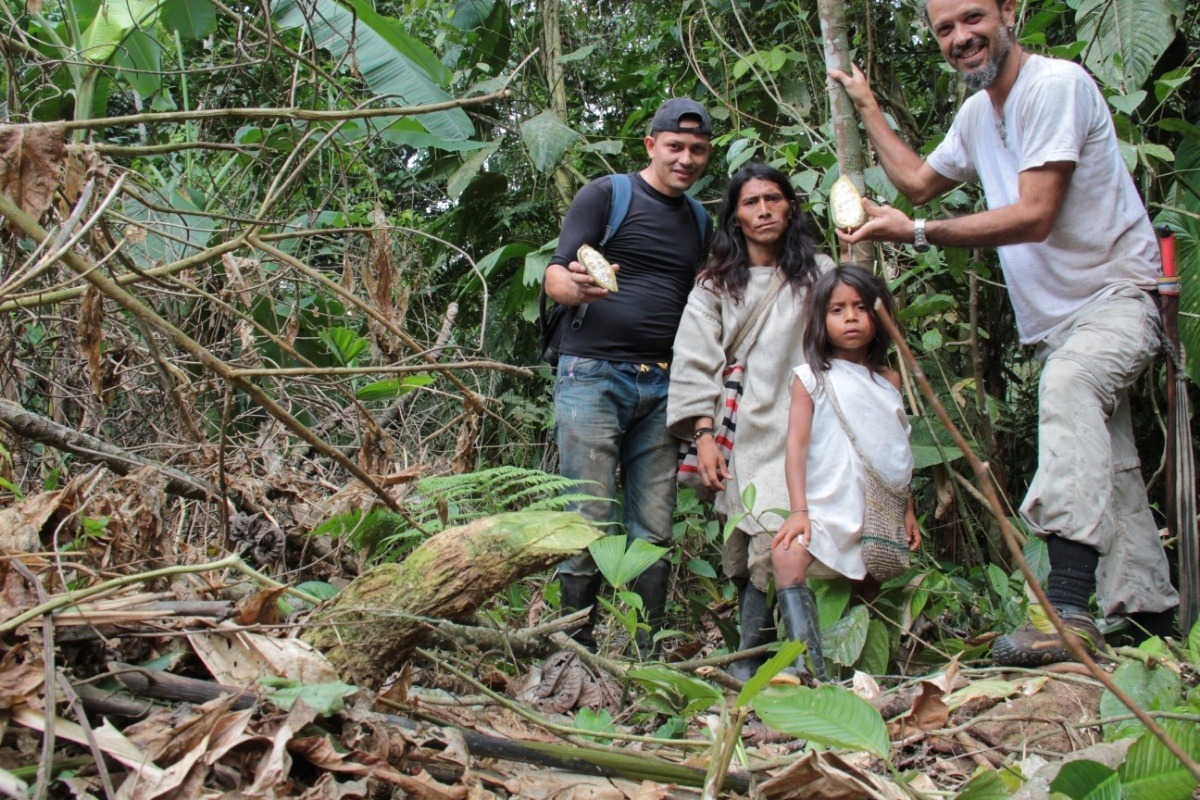 Cacao in its early stages.  Takes 2-3 yrs for a cacao tree to bear fruit.  
These Porcelana Cacao seedlings have already been planted!  We've taken them from seed right into the ground.  They're now about 15 inches tall.
The seedlings need partial shade for the first part of their life so we built this effective set-up.

One of the ten or more waterfalls and pools on the land.  Each one is unique and breathtaking.
Working on the road.  It takes constant maintenance especially in the rainy season.

The beautiful Buritaca River!  One of the main rivers of the Sierra Nevada de Santa Marta.

After the rains the river and creeks grow.
Some of the amazing crew that have chosen to live in the jungle and make this adventure side by side.
Meal time is always welcome and our plates are full!  Non-stop physical labor can have that effect : )

La Beba and Chicho,  children of a Venezuelan couple living on the land, help plant cacao during the weekends, when they're not in school.

Organizer
Cinduli Finca Organica Cacaotera 
#1 fundraising platform

More people start fundraisers on GoFundMe than on any other platform. Learn more

GoFundMe Guarantee

In the rare case something isn't right, we will work with you to determine if misuse occurred. Learn more

Expert advice, 24/7

Contact us with your questions and we'll answer, day or night. Learn more