Justin's Brain Cancer Fund
BUFFALO WILD WINGS FUNDRAISER FOR JUSTIN MASOTTI
ALL DAY – APRIL 23, 2017- 12 LOCATIONS - Take out and Bar

10% OF YOUR BILL will go to Justin if you present the flyer.   See directly below for flyers




Justin continues to do well. I am trying to get my phone fixed to take more videos.

For Donations in Ancaster and Stoney Creek Restaurants call Sonia Masotti first at [phone redacted]. If no response call the Ancaster or Stoney Creek location

For all other locations please donate directly to the restaurant of choice.

BUFFALO WILD WINGS LOCATIONS

Ancaster Buffalo Wild Wings
1015 Golf Links Rd.
Hamilton, Ontario
L9K 1L6
Phone: [phone redacted]

Stoney Creek Buffalo Wild Wings
514 Centennial Parkway North
Hamilton, ON
L8E 0G2
Phone:905-664-5554
Fax:905-664-5869

Guelph Buffalo Wild Wings
35 Harvard Rd
Guelph, ON
NIG 4V8
Phone: [phone redacted]
Fax: [phone redacted]

Oakville Buffalo Wild Wings
2501 Hyde Park Gate #A3
Oakville, On
L6H 6G6
Phone: [phone redacted]
Fax: [phone redacted]

Mississauga Buffalo Wild Wings
3015 Argentia Rd.
Mississauga, On
L5N 8E1
Phone: [phone redacted]
Fax: [phone redacted]

Vaughan Buffalo Wild Wings
580 Major Mackenzie Dr. W.
Vaughan, ON
L4L 1A6
Phone: [phone redacted]
Fax: [phone redacted]

Barrie Buffalo Wild Wings
139 Park Place Blvd.
Barrie, ON
L4N 6P1
Phone: [phone redacted]
Fax: [phone redacted]

East Gwillimbury (Yonge St. & Green Lane) Buffalo Wild Wings
18287 Yonge St
East Gwillimbury, ON
L9N 0A2
Phone: [phone redacted]
Fax: [phone redacted]

Ajax Buffalo Wild Wings
130 Kingston Rd. E. #J1
Ajax, ON
L1Z 1G1
Phone: [phone redacted]
Fax: [phone redacted]

Oshawa Buffalo Wild Wings
903 Taunton Rd. East
Oshawa, ON
L1H 7K5
Phone: [phone redacted]
Fax: [phone redacted]

London Buffalo Wild Wings
425 Southdale Rd. W. Suite 3
London, ON
N6P 1M7
Phone: [phone redacted]
Fax: [phone redacted]

Windsor Buffalo Wild Wings
3100 Howard Ave. #D10
Windsor, ON
N8X 3Y8
Phone: [phone redacted]
Fax: [phone redacted]

Updated goal to $350,000 as my family has spent $330,000 on Justin's Cancer treatments in Mexico.   Justin will be in Mexico for at  least a few more weeks.    

Will be updating all the donations on this site today.  Sorry for the long delay.

Thank you so much for all the individual  donations to  Justin's GoFundMe site!!!! Every single donation is important, no matter what the amount.

Thank you to all  the wonderful Fundraisers that truly amazing  people from  Hamilton, Ontario and area organized!  Thank you to all the people who bought tickets to this fundraisers.  All a big success!!!!

Last but not least thank you to all wonderful students and staff that helped organize the Hamilton , Ontario Catholic School fundraisers!   All a big success!!!

Justin would not still be in Mexico receiving his life saving cancer treatment without ALL OF YOU!!!!

*****************************************************
                                                                     



BUFFALO WILD WINGS FUNDRAISER FOR JUSTIN IS TODAY!!!

BUFFALO WILD WINGS FUNDRAISER FOR JUSTIN MASOTTI! FEBRUARY 15TH
5PM TO 9PM - 1015 Golf Links Rd. Hamilton, ON
[phone redacted]

10% of your total bill will be donated to Justin Masotti's Cancer Treatments!
Come out with friends and family and enjoy some awesome food!


***********************************************************

I just wanted to let you know that there is a fundraiser for Justin Masotti on January 28, 2017.

It is a Dance Party!!! It is at the Leander Boat Club from 7pm to 1am.
The tickets are $25

Not able to put contact phone  numbers or emails in GoFundme. in GofundMe
Contact me at [email redacted] for  contact information.   

There is going to be a DJ, Photo booth, light finger food because it is all about the dancing not the eating!!!
So if anyone wants to dance off some of that extra pasta or sweets that they ate over the holidays, this is a great way to do it!! Get those "Boggie Shoes" out and come dance with us.
Would love to see everyone dance the night away!!!!! Should be a great night.
Thank you so much!!
Justin Masotti and Family  
December 31,  2016 -   Premier Wynne Government Sentences Justin to Death !!!!!!  They have REJECTED PROVIDING OHIP FUNDING!!!!
Watch Justin on Facebook
https://www.facebook.com/mike.masotti.15/videos/10154289693373041/
ARE YOU WATCHING PREMIER WYNNE, AND HEALTH MINISTER DR. ERIC HOSKINS?  DOES THIS LOOK LIKE A BOY WITH NO HOPE?    IF THIS WAS YOUR CHILD WHAT WOULD YOU DO?  OF COURSE WITH YOUR SALARY AND LIFETIME PENSION YOU CAN AFFORD THE TREATMENT JUSTIN IS RECEIVING.   ORDINARY FAMILIES IN ONTARIO CANNOT!!!!
BUT..... Justin and his Family and all his wonderful Friends in Canada and Mexico have not.!!!!!!
JUSTIN'S CANCER TREATMENTS ARE WORKING!!!!
PREMIER WYNNE!!! EXERCISE LEADERSHIP FOR THE FIRST TIME AND PROVIDE OHIP FUNDING FOR JUSTIN.
MAKE JUSTIN'S NEW YEAR EXTRA SPECIAL!!!!!
I AM ASKING EVERYONE WHO HAS GIVEN ONE, TWO, THREE, FOUR AND MORE TIMES TO PLEASE DONATE TO JUSTIN AGAIN AS JUSTIN'S CHRISTMAS GIFT.    Christmas is a very difficult to for many people.       Christmas is also a time for families spending time TOGETHER!!!   My family cannot afford to spend any time together as all our money and anyone else's money is going to #KeepJustinAlive
Justin is not receiving any Christmas gifts from his family.  All our money is going to Justin's treatment.   Justin and I wouldn't be down here still without all your donations.  Please give to Justin as much as you can and Merry Christmas!!
This is so difficult to ask of everyone.  I am asking, pleading and begging for anyone who hasn't already to please send a donation for Justin.
Thank you EVERYONE for all your donations and wonderful thoughts and prayers.   You have all come through for Justin and my family.  I will never be able to say how wonderful all of you are.  God Bless you all and Merry Christmas!!!!
November 20,2016 - Increased the Campaign goal to $200,000 as Justin will be in Mexico at the clinic for at least another 4 weeks.   I apologize for increasing the Goal.  The cost of Justin's treatment is currently          $13, 700 a week.     And I do not know when the treatment here in Mexico will end.  If I did know I would provide  afinal total.     Thank you everyone for your support of Justin!  
Update from Mexico:
Justin's MRI results from November 18, 2016. For the first time since Justin was diagnosed back on January 28, 2016, not only is there no further increase in the cancer, there is a slight improvement!!!!  Normally, after one month of treatments with Justin's type of brain cancer, stablilization would be a marvelous resultl!!!!   Please continue to trend hastag #KeepJustinAlive.
Please put pressure on your MPP for the Ontario Government to fund Justin's treatment here in Mexico.
Hello Everyone
November 10 update - Reminder of Justin's Fundraiser event on November 26th.    
http://justinevents777.wixsite.com/jevents
Saturday, November 26, 2016 - 7pm ​
Where: St. Gregory the Great Church – 125 Centennial Parkway North, , Hamilton
*******************************************************
Hello Everyone,
November 1st update - Knock on wood, Justin is improving!  Please continue to give to allow Justin to continue his treatments in Mexico!!!
 Justin has made progress (for the first time since he suffered his first seizure on June 23rd of this year).    He has gone days without seizures.  He had his first round (5 days) of chemo treatment, beginning on Oct 27th, which includes  a DMSO IV to deliver the chemo past the blood barrier in the brain.  DMSO also greatly reduces side effects.   After  the 5 days of chemo, Justin has had no side effects and hasn't had any side effects since.   Justin continues to receive the DMSO IV on a daily basis.   This is not allowed in the hospitals in Ontario.  Next round of chemo begins on November 8th for 5 days.   Justin walked with assistance for the first time   last week.  He can now get himself up from a laid down position in bed  to a sitting up position.  He is now able to stand up on his own for the first time since his first seizure on June 23rd.   He is now gaining weight.  He speaking voice better.   The doctors here in Mexico are optimistic.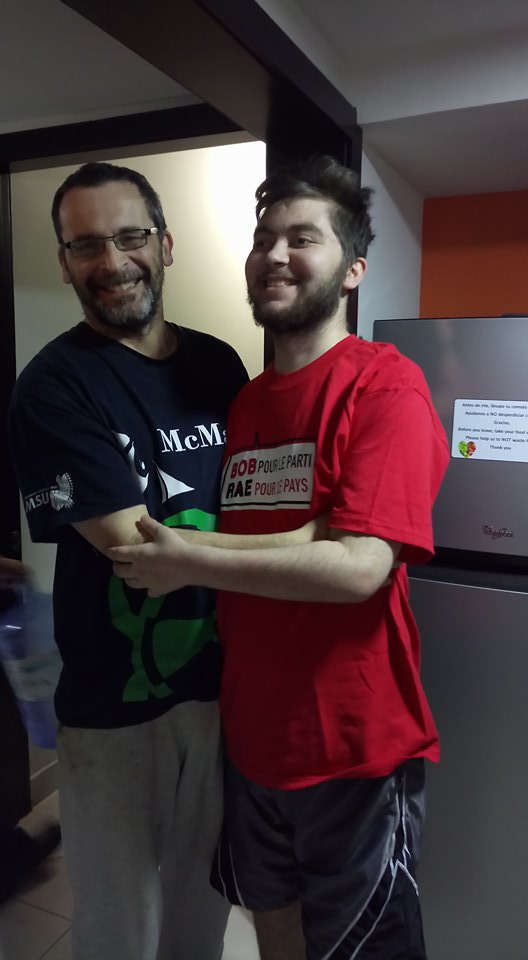 On January 28, 2016,  Justin got diagnosed with a very rare and inoperable Brain Cancer in which there is no cure.  On June 23rd, 2016, just also lost his eyesight due to 2 very bad seizures that day.   Justin has a seizure which causes extreme pain in his neck.  
Yet he remains so optimistic about his future.  He has his plan laid out for his career and spends more time worrying about his family and all his friends hoping that everyone is doing well.   Justin is an inspiration for me.  I don't think I will every witness anything like it for the rest of my life.
Please help in making all Justin's wishes come true.  Please give  as much as you can.
The goal has been increased as the cost for 4 weeks of treatment will be at least $40000 American (52000 Canadian) Canadian or more depending how things go. Also the Air Ambulance will cost $30000 American ($40000 Canadian) one way. 
See letter Justin wrote to Lebron James in the updates section.  Also on Justin's  and my Twitter account as well as my facebook account.
***********************************************************
Justin Masotti loves playing soccer. At 17 years old, Justin was being scouted, receiving phone calls from Europe and the US. This was all until January 28th, 2016 when he was diagnosed with Gliomatosis Cerebri, a very rare and aggressive type of brain cancer.
Since the cancer is inoperable and is very difficult to remove with radiation/chemo, Justin and his family have chosen alternative treatment.  He's responding to the treatments, but unfortunately they are not covered by health insurance.
Please consider any size donation to assist with Justin's treatments.
Thank you in advance for your support.
Gliomatosis cerebri facts:
Rare brain cancer. Typically involving two or more lobes of the brain.
Very resistance to treatment.
Surgical removal is generally not attempted, because it is so widespread. The tumors are not lumps but threads.
Fewer than 100 cases are diagnosed in the United States each year.
It affects males and females equally.
This cancer is so rare that it hasn't receive nearly enough research funding to find a cause, a cure, or even better treatment options.