Help for medical bills and surgery!
surgery needed desperately! Please help if you can! Also, PLEASE no scammers...I don't have any money, that is why I'm asking for this help! 
3 yrs ago I was driving and I had a seizure so I got into a really bad car wreck flipping my car 3 times. They had to fuse my spine and my neck so I can't bend my back or turn my head at all. They put all this hardware in to stabilize everything while the fusion healed but now it's healed and the hardware needs to come out! That's why I'm trying to raise the money for the surgery! I'm lucky to be alive and I'm so ready to get this hardware removed so I can start living a better life! I have 3 little boys (11,7&5yrs old) and I need to be able to do things with them that I just can't do in my condition.
*COMMONLY ASKED QUESTION: Why isn't your insurance covering more than they are?
the surgeon who operated on me & left me in this condition is accusing me of being a non compliant patient because he wanted me to wear a brace for 6 months & the brace wasn't fitted properly on me. It literally rubbed a hole in my jaw that was so bad you could actually see my jawbone! the surgeon got an attitude with me & said "surely you didn't think it was going to be comfortable to wear a brace! the brace is tight like that for a reason!" I told him that I know it's meant to be tight but it isn't supposed to rub a hole in my face where my jawbone is sticking out. Everytime I asked him any questions he would reply with short responses leaving out so much information! He made me feel like he couldn't be bothered wasting his time with me.
Given all of that, I want to have a different surgeon perform the operation that I need. I do not feel comfortable letting the original surgeon cut me open again! the insurance company says that choosing a different surgeon for a follow up surgery isn't fully covered because it is considered "elective surgery" since I would be choosing the surgeon!
I'm trying to be cautious & not allow the surgeon who left me in this condition to perform the follow up surgery and yet I'm left feeling like I'm being punished? it makes no sense to me at all. who in their right mind would let someone cut them open when they are the reason a follow up surgery is even needed!?
Thank you all so much for taking the time to read about my story ❤ 
If you prefer to donate directly I have Venmo!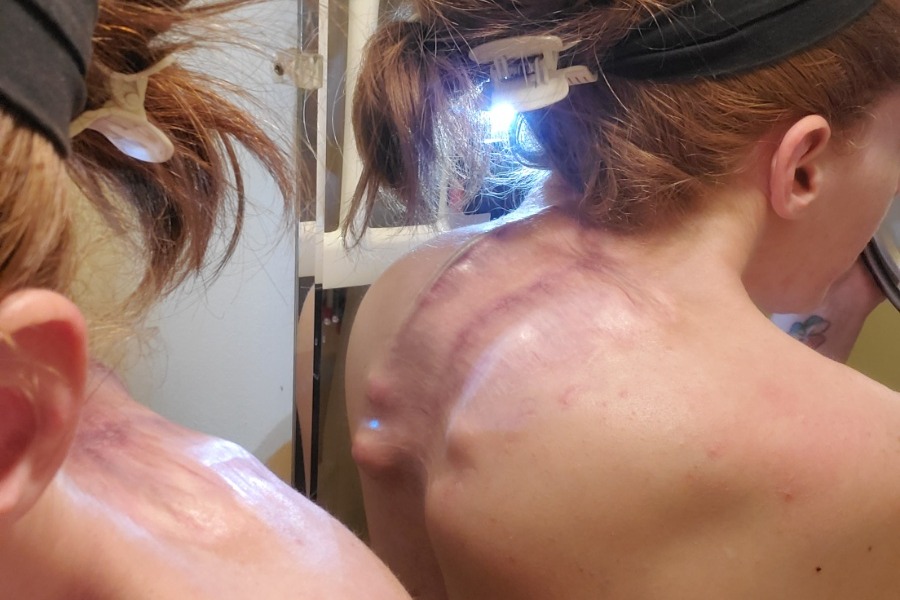 sorry for such graphic pictures but I wanted everyone to see that I really do need help. I see multiple drs every month and I cant drive so I have to pay for rides bc my husband is working all the time to provide for us and our 3 little boys. Feel free to email me at [email redacted] if you have any questions. If you aren't comfortable donating money gift cards for uber,lyft,Walmart etc would also be greatly appreciated! Thank you again so much for reading my story! GOD BLESS!
 GoFundMe Guarantee
Only donations on our platform are protected by the GoFundMe Guarantee.
Donations
Become the first supporter 
Organizer
#1 fundraising platform

People have raised more money on GoFundMe than anywhere else. Learn more

GoFundMe Guarantee

In the rare case that something isn't right, we will refund your donation. Learn more

Expert advice, 24/7

Contact us with your questions and we'll answer, day or night. Learn more