Jamie's Medical Emergency Fund
Jamie Jarvis is a single mother of two energetic and playful boys. She lives and works as a hair dresser in Mesa/Phoenix area in Arizona. She formerly lived in Salem, Oregon. She has a smile and kind words for each and every person in her life; and will move mountains to help you if she can.
Jamie is the first person to give the shirt off her back for anyone she loves. She will give you her last $10.00, because you need it more than she does.
Jamie has completely changed her life. She refused to be a mother on assistance all of her life. She moved to Arizona, went to beauty school, got her degree all while being a full time mother. To know her is to love.
Jamie was rushed to the hospital a few days ago with stroke like symptoms. She was diagnosed with Third Eye Palsy, and a bleeding brain aneurysm.
What is third nerve palsy?
These muscles move the eye inward, up and down, and they rotate the eye. The third cranial nerve also controls constriction of the pupil, the positioning of the upper eyelid, and the ability of the eye to focus. A complete third nerve palsy causes a totally closed eyelid and misaiming of the eye outward and downward.

What is an aneurysm in the brain?
A brain (cerebral) aneurysm is a bulging, weak area in the wall of an artery that supplies blood to the brain. In most cases, a brain aneurysm causes no symptoms and goes unnoticed. In rare cases, the brain aneurysm ruptures, releasing blood into the skull and causing a stroke.
There is no way to know, just how much the medical costs will be. She also will have bills to pay, and boys to take care of when she comes home from the hospital. The amount of this may go up depending upon what we learn. Each and every dollar will be to help Jamie and the boys not only survive this tragedy, but thrive through it.
Thank you so much for taking the time to visit here. #prayingforJamieJ
Jim, Jamie's dad, has been right by her side this whole time, and can also use our prayers. 
UPDATE:
Surgery was a huge success. Jamie is facing at least two weeks in ICU, and much more hospitalization and recovery time. Each and every dollar goes to her and the boys. Thank you for all of your prayers and help.

UPDATE:
Jamie is in great spirits, interviewing doctors as potential husbands. (smile) She is determined to completely and successfully heal from this. Her pain level is high today, and she just wants to sleep and rest. She wanted me to thank each and every person who is donating. You are all a huge blessing and appreciated by us all.
UPDATE:
Jamie made it three laps around the hospital today with dad's help. The tape is to help the bruising and she swelling; she is considering it a new fashion statement. She is ROCKIN' this new look. (smile) Thanks to all who have donated and helped. Please click that donate button and give what you can.... P.
UPDATE!!!
Jamie enjoys hearing from everyone and it helps keep her spirits up. Text are very hard for her to read. Please use snap chat. She will call you back when she is awake. Also, her Neurological eye specialist is NOT covered by her medical insurance, and so far, all of the hospital bills just so far are over $400,00.00. PLEASE, share this post, and give what you can. Blessings
UPDATE: 10/11.
Jamie is home resting. It's all finally hitting her. 3 different hospitals, life flights with neuro surgeons waiting for you to land; to perform emergency brain surgery. Jamie wants to be wonder woman for everyone else, and right now, she just can't be. She needs our help. Please give what you can. Every dollar helps.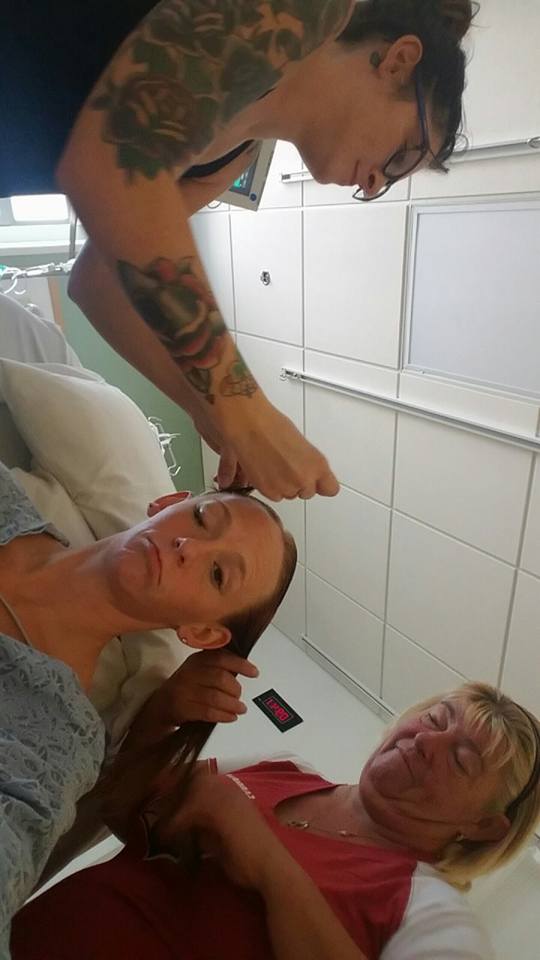 UPDATE:  10/13  Jamie is having alot of pain today.  We are searching for help in paying the medical bills, and what resources are available to her and the boys.  We are doing the best we can to help Jamie while she recovers from all of this.  Please, share this and give what you can. P.

Kamryn and Dylan first day of school this year


Jamie and her dad Jim; here #1 hero and support


Jamie and the boys having fun.   She is such a great mom.

UPDATE:  10/14.  Jamie is doing okay today.  She did not get much sleep last night and is very tired, and emotional.  She is not allowed to be alone, and is just taking it one moment at a time.  Her and the boys now have a cussing jar.  Jamie will need even more donations now.  (smile)

UPDATE: 10/15  A message from Jamie:

Can I just say I'm just so deeply touched ,by how wonderful and considerate and selfless people are to help a person like me.   I haven't really looked at this , but when I just clicked it , and saw, I just broke down, and cried, I know I have lots of battles, to come, and plenty of happy day, sad days, grateful days, angry days.
But I just wanted to say, thank you,
THANK EVERYONE, I can't even begin to tell , how much this will help with my brain surgery, and life flight costs.   And I just thank you, God is good, even in our struggles, it amazes me , the people who serve, and help, and come together, definitely puts my thoughts in a higher note tonight.   I am just so grateful, and wanted to say thank you.   I understand the people who wanted to stay anonymous, but I would also love to know, so I can please say a appropriate thank you, When my vision and writing starts to get better and I don't need any help.
But thank you all, so very much,  For prayers, thoughts, chants, shares, and gifts,  I AM TRULY BLESSED
UPDATE:  10/17
Our good friend Josh went down to see Jamie and the boys.  Jamie is still very tired, but she is a true fighter and this wont get her down.  Each and every dollar helps her and the boys.  Please give what you can.  P.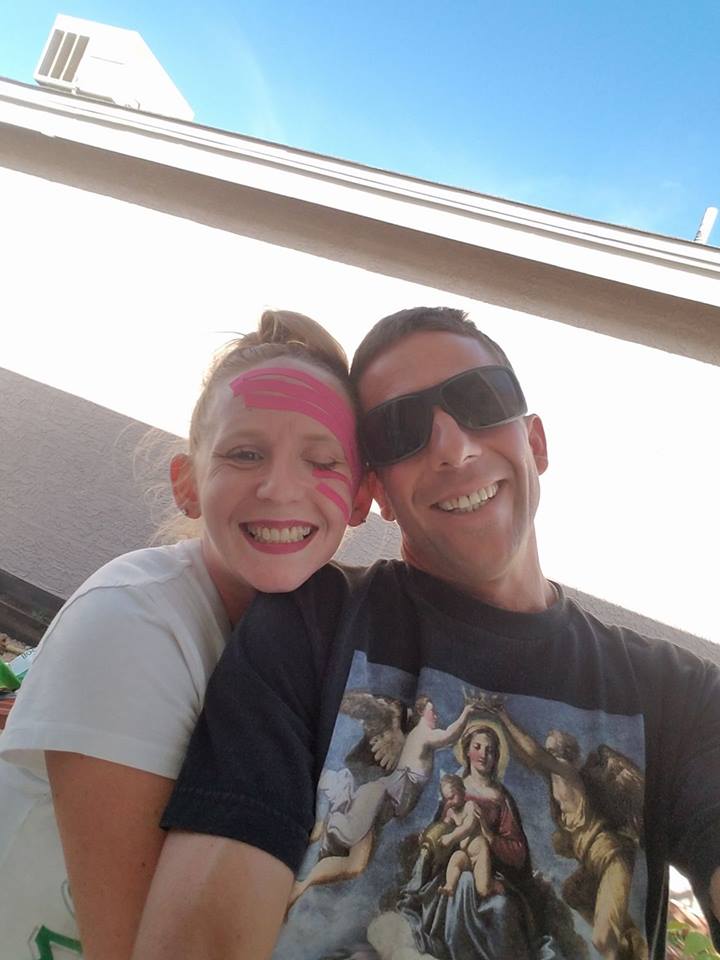 UPDATE:  10/20.  Jamie is enjoying having Josh there to help with the boys and lift her spirits.   She is having trouble sleeping, and her eye has been watering quite a bit.  She feels overwhelmed at times, and has too many expectations of being able to do more than she is.  Thank you again to everyone who has helped, we appreciate each and every one of you. 
UPDATE:  10/23  Jamie and I got to talk on the phone this morning for a half an hour.  She is still a bit overwhelmed, but in great spirits.  Her and Dylan are planting part of a garden today.  She is trying to live her life normally.  She is looking forward to her visit with Amy, and her doctors appointments are coming up this week so we have more info soon.   She DESPERATELY, needs our help.  Every dollar will help.  Please donate what you can.  Thanks. P.

Organizer
#1 fundraising platform

More people start fundraisers on GoFundMe than on any other platform. Learn more

GoFundMe Guarantee

In the rare case something isn't right, we will work with you to determine if misuse occurred. Learn more

Expert advice, 24/7

Contact us with your questions and we'll answer, day or night. Learn more