Whitney's Guillain-Barré Med. Fund
Whitney Jackson is one of the most selfless people you will ever come across.  She would give the shirt off of her back to anyone who is in need. She is fun and loving.  She loves caring for animals as a Veterinary Technician with her co-workers at Hewitt Veterinary Hospital. Most of all she loves being a mom to her little boy, Wyatt.

On Thursday, June 15th, 2017 Whitney began feeling pain and a tingling sensation in her right leg.  The next day, her arms were very weak and she had trouble holding her 1-year-old little boy, Wyatt.  By Sunday, just 3 days after the initial symptoms, she was rushed to the hospital nearly totally paralyzed.  She lost nearly all function of her right arm and hand (she can move her thumb and first finger about 2 millimeters). She also lost most function in her left arm and hand, couldn't lift or move her legs, had slurred speech, and could not swallow solid foods.  
Whitney has been diagnosed with Guillain-Barré syndrome, which is a condition that doctors do not totally understand.  What they think is that a minor stomach bug caused her immune system to get confused, and it began to attack the myelin surrounding her nerves (myelin is what keeps the signals strong between her brain and muscles).  Right now for her, trying to move a muscle is like blowing through a straw stuffed full with cotton balls.  The signals just aren't moving through easily at all. 
Guillain-Barré is a very serious condition, and may get worse before it gets better.  The light at the end of the tunnel is that most people recover and live a normal life, physically.  However, like the others that have made it through Guillain-Barré, Whitney's life has been turned upside down, and will continue to be very hard, physically, mentally, and financially.
Whitney is still in the hospital, unable to work to make money, and doctors expect her to stay there for at least 45 days, if she starts to improve today.  Once she is home she will still need extensive outpatient therapy to relearn everyday tasks like how to walk, write, and brush her teeth.  She may not be able to return to work for many months, and will be without an income. 
We celebrated Wyatt's 1st birthday in the hospital this past week.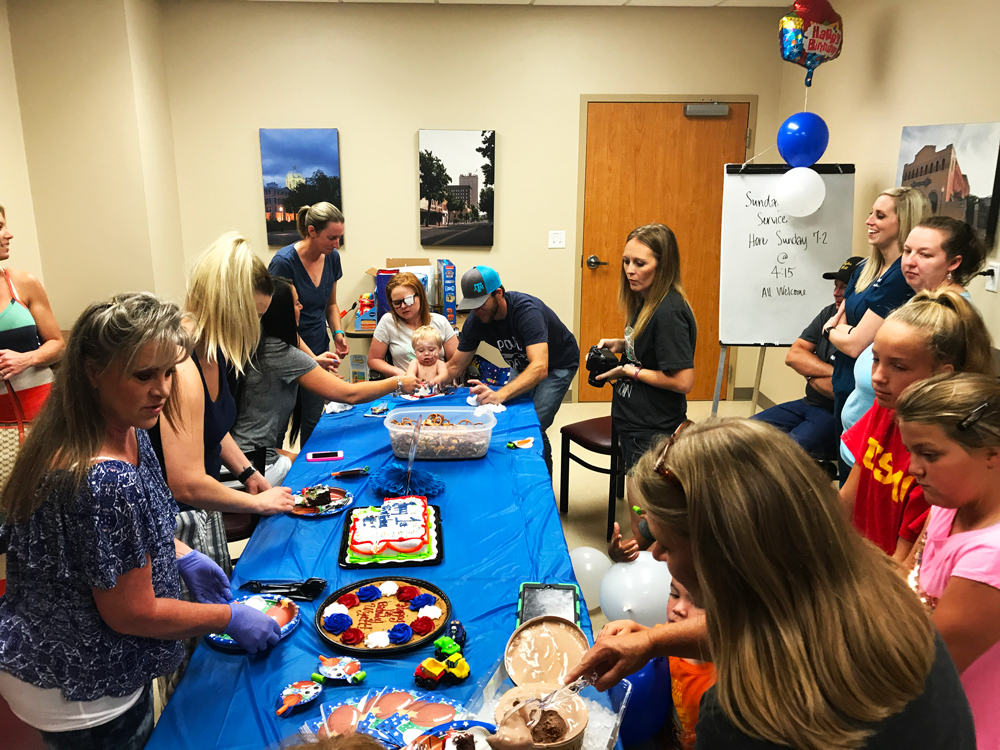 The only thing Whitney wants in this world is to be able to help people and animals again at the veterinary hospital where she works, to go to church, and to be able to hold and care for her little boy, Wyatt, and be his mom.

National Institutes of Health describes the outlook for Whitney:
"Guillain-Barré syndrome can be a devastating disorder because of its sudden and unexpected onset. In addition, recovery is not necessarily quick. As noted above, patients usually reach the point of greatest weakness or paralysis days or weeks after the first symptoms occur. Symptoms then stabilize at this level for a period of days, weeks, or, sometimes, months. The recovery period may be as little as a few weeks or as long as a few years. About 30 percent of those with Guillain-Barré still have a residual weakness after 3 years. 
Guillain-Barré syndrome patients face not only physical difficulties, but emotionally painful periods as well. It is often extremely difficult for patients to adjust to sudden paralysis and dependence on others for help with routine daily activities. Patients sometimes need psychological counseling to help them adapt."
The word has started to spread, and strangers are stepping up to support Whitney and her family.
Our collective goal is 1000 prayers and $24,000.  She needs even more than that, and urgently.  Your support will make a HUGE dent in the well over $40,000 in hospital and outpatient physical therapy bills that she is going to be faced with when she leaves the hospital, and the ongoing living expenses she will face with no income.

Please pray for Whitney - that she would continue to have an up-beat "go get 'em" attitude, and that she would know that this doesn't change the fact that she is Wyatt's mom.  Pray that she would fully recover and that her financial situation would not keep her from focusing on recovering.  
If you are unable to help out financially, we could really use your support in 2 other ways:
1. Would you send notes of encouragement to "prayforwhitney at gmail.com"
and
2. Will you please share this gofundme page within your network of friends?#prayforwhitney
God bless you,
-Whitney's family and friends
Wyatt, Jimmy, Amber, Stephanie, Megan, Ali, Mom, Kippy, Jimmy Sr., Terri, Mike, Dr. D, Dr. B, Melinda, Abbie, Dr. H, Danielle, Brandee, Kayce, Molly, Michelle, Debbie, Lois, Dr. G, Donna, Shelia, Mandy, Sarah, Kaitlyn, and Nellie.


Organizer and beneficiary