Protect Our Protectors: 100,000 Masks #PPEforHCP
COVID 19 Resources
For up to date and accurate information about COVID safety, visit the CDC or WHO websites.
PPEforHCP is a volunteer coalition effort immediately and currently delivering free Personal Protective Equipment (PPE) to nurses and doctors in need across the U.S.
We have been self-funded so far and have been grateful to be able to source and donate over 20,000 masks already:
Elmhurst Hospital Center: 2400
NYU Langone Hospitals: 200
United States Veteran's Association Hospital Santa Clara County: 1200
Salinas Valley Memorial Hospital Mobile Health Clinic: 50
Evergreen Health in Kirkland: 300
Stanford Children's Hospital: 100
Bon Secours Hospital: 100
Kaiser San Diego: 200
UT Southwestern Medical Center: 100
Swedish Hospital in Seattle: 100
UCSF Medical Center: 100
St. Jude Medical Center: 100
Henry Ford Hospital: 350
Northwest Kidney Center: 100
The Brookwood Community: 1200
Providence St. Joseph Hospitals: 1800
La Palma Intercommunity Hospital: 100
Kaiser San Leandro: 50
Kaiser Vallejo: 50
Kaiser Walnut Creek: 50
KRMC Emergency Medicine: 200
Memorial Herman SE Hospital: 50
Pongo Fund, Animal Haven, AMC: 300
Aljoya: 200
+ to more than 110 individual HCPs in need (1 pack of 50/each request) remain anonymous
Our project is radically different because we took the opposite approach than most efforts from the outset. Rather than trying to raise money first and then try to find masks, we self-backed/created from scratch a multi-pronged PPE supply chain. We listened and responded to direct messages from nurses and doctors on the frontline to make sure we didn't miss anyone/waste precious time by wading through fields of red tape and muzzling. You can see our posts in the Journal of American Medical Association (JAMA):
Conserving Supply of Personal Protective Equipment—A Call for Ideas:
https://jamanetwork.com/journals/jama/fullarticle/2763590
Sourcing Personal Protective Equipment During the COVID-19 Pandemic:
https://jamanetwork.com/journals/jama/fullarticle/2764031
Our COVID-19 experience is marked by rapid iteration and a deep-seated drive to do what's right/solve tear-jerking pain points. In the past few weeks, the team has fearlessly battled and won against a constant onslaught of systemic obstacles, e.g., PPE shortages, PPE-making supplies shortages, "day-to-day"-changing regulation, misinformation/disinformation/lack of information, importation policies, social distance between volunteers, altered hours of open businesses, censorship/post takedown, UPS/FedEx scheduling delays, data/request/fulfillment management, scale, etc.
We are an women engineer-doctor-entrepreneur led endeavor that continues to aggressively challenge the status quo to deliver free PPE into the hands of those who need it ASAP. Red tape doesn't scare us because glass ceilings don't scare us.
— — — — —
Why Our Work Matters
A nurse in North Port, Florida has said her hospital is "talking about reusing plastic gowns and hanging them on a hook, or wearing a poncho and wiping them down with bleach wipes after use. We feel very vulnerable on a daily basis being on the front line."
A Nurse in San Diego, California reported that personal protective equipment (PPE) is in such short order "it's being locked in our manager's cabinet and dispersed minimally," while yet another nurse in Philadelphia, Pennsylvania informed they have been given a single surgical mask to use "for the foreseeable future."
These stories are terrifying, and they are not unique. Healthcare professionals in the hardest hit areas around our country are facing alarming circumstances and in dire need of PPE to fight COVID-19, and to care for our families, our friends, and our neighbors. They are scared, and they are watching their patients and colleagues get sick and die on a daily basis.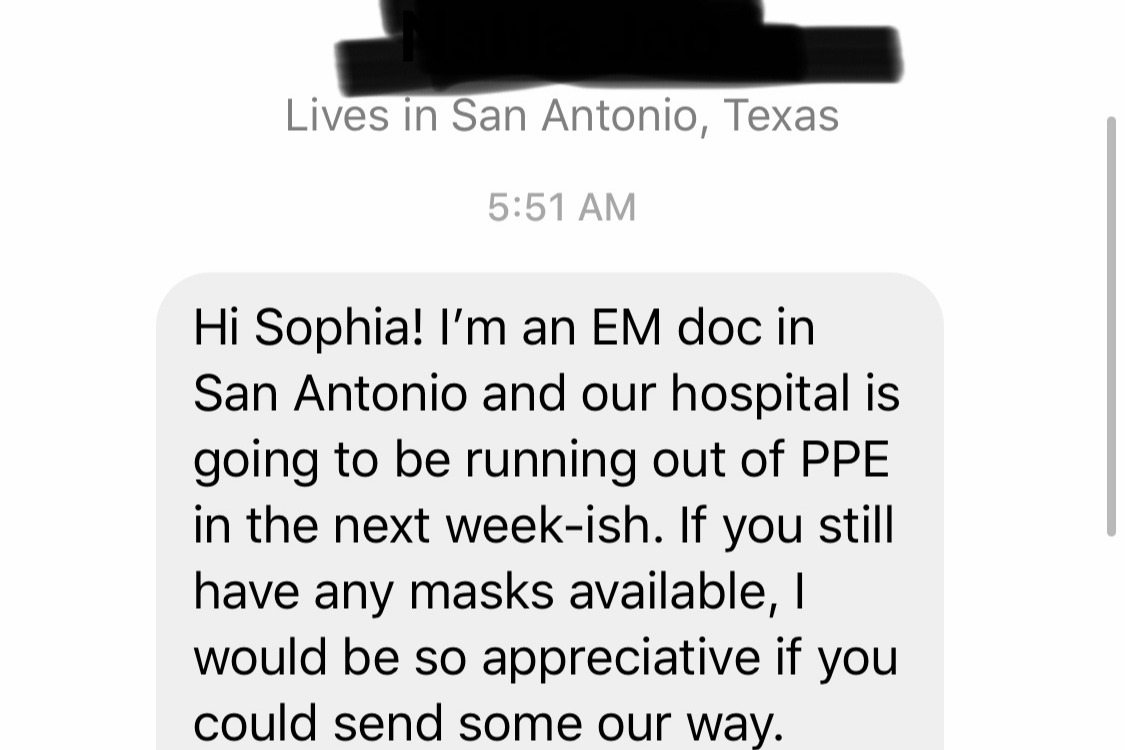 — — — — —
We Value Women's Voices
CDC reports the majority of infected clinicians (9,000 as of today) in America are primarily women. We have mostly women as our ground-pounding frontline heroes right now. Over 60% of doctors under 35 are women and over 91% of nurses are women:
New Coronavirus Has Infected More Than 9,000 U.S. Health-Care Workers:
https://www.google.com/amp/s/www.wsj.com/amp/articles/new-coronavirus-has-infected-more-than-9-000-u-s-health-care-workers-11586904265
The healthcare future is female:
https://www.athenahealth.com/knowledge-hub/practice-management/healthcare-future-female
Male Nursing Statistics:
https://www.fastaff.com/blog/male-nursing-statistics
— — — — —
Times Suck Right Now, But Together We're Stronger, Better, Faster Than COVID
We know times are tough for so many families right now, and the financial future looks like it could be ruinous. But doctors and nurses are dying because they don't have the basic protective gear needed to battle COVID-19 on the frontlines safely. We are asking you to help at whatever level you can, so that first-responders and health care providers can safely care for our communities during the COVID-19 pandemic.
With control over every aspect of the supply chain, we are able to keep our costs to a minimum. Every mask costs $1 total ($0.6/unit plus 0.667% U.S. customs/importation and shipping) and your $1 donation covers everything from manufacturing to distribution. Healthcare professionals we spoke to have told us they should ideally go through an average of four masks every shift. With an average of 25 HCPs on staff, that's 100 masks for every hospital unit, every shift.
Can you help us protect the people putting themselves at risk to treat our friends, families, and neighbors, by sponsoring the masks so desperately needed by our healthcare professionals and COVID-19 hospital units?
$20: Sponsor a healthcare professional for a week
$80 Sponsor a healthcare professional for a month
$100: Sponsor an entire hospital unit for a shift
$500: Sponsor an entire hospital unit for a work week
$1000: Sponsor an entire hospital unit for 10 days
Please visit our website at PPEforHCP.com to learn more about our supply chain, our innovative mask design, and where we are sending them.
If you're a clinician currently in need of PPE,
go directly to the website and place a request right away
. We are fulfilling FREE orders as fast as we can process/fundraise for them.
— — — — —
Our Team
Sophia Boettcher — Founder, Lead Donor: Sophia is a data scientist and lifelong rare disease advocate who built this project from the ground up. She holds the patent pending design for PPEforHCP's anti-tamper, improved protection face mask design and holds access to a wide network of suppliers/contact points in the PPE supply chain. She was one of the earliest participating health data engineers within NASA Ames-Singularity University, Manos-Google Accelerator, and CXA Connections Asia.
Dr. Melinda Costa, MD — Co-founder: Melinda is one of fewer than 100 doctor-surgeons with extensive training on rare pediatric deformity correction, novel scar-less tumor removal methods, and facial feminization. She's a double fellowship-trained board-certified surgeon who has penned dozens of published research papers and volunteered her skills as a doctor in countries in Africa to help children. She's an advocate for women's and Latinx rights. Before the shelter-in-place she distributed individual hand sanitizer/non-perishable food/electrolyte kits to the elderly homeless to make sure they would not be forgotten.
Elsa Sze — Campaign Manager: Elsa is a serial social benefit entrepreneur whose past experience includes being on the awesome Obama campaign. Even though she's 9 months pregnant, you could never tell by her continued energy to help make this project a success. She's contributed countless hours to fiddling/fighting with our strappy Wix website to make it accessible/legible via mobile and desktop. And her ability to make help crystallize our headspace and heartspace thoughts and feelings is so invaluable.
Tobias Morawietz — IT Tobias is the flying car engineer who cooks hearty, savory-salty bowls of oatmeal for Elsa and provides hair-saving data/backend support to the whole team. We would just be wading through requests/records if he didn't lend his time and expertise to automating as much as possible (while still maintaining the human touch).
Kristin Gregory — HR Kristin has really strong connections in Detroit, Silicon Valley, Chicago...basically everywhere. She's emotional and smart (a rarely cultivated combination). She's part scrum master, part healthcare provider rights advocate, and part head-hunter.
Meghan Larson — PR Meghan has her own digital ad agency so she knows her stuff when it comes to amplifying a voice across the cosmic chasms of the internet. Sophia went from zero selfie videos done in her life to relentlessly filming till she could look into the camera and coherently translate her mission into a message. No small task.
— — — — —
Yay, Your Donation Is Tax Deductible
We researched fiscal sponsorship extremely carefully, as the goal was to grow a synergistic partnership of thoughts/passions/experiences/sensitivities. After weeks of consideration, our team is pleased to be able to announce our partnership with Uprising Theatre in Chicago. It's a 501(c)(3) non-profit that supports young women Palestinian actors/the arts. They share our mission to bring masks to our frontline as well as our vision to advance universal face mask wearing (per CDC recommendations). Uprising Theatre's unique stake as a hub for expert costume sewers making fabric face masks for donation in underserved communities (of color, etc.) is why we're pleased to become friends, allies, and partners.
Additionally,
we have an anonymous donor who is matching $10,000-worth of donations
generated by this campaign. We're lucky to be able to amplify people's efforts to do good.
— — — — —
Support Us
Share this page with 5 friends! Let's get more eyeballs and "the feels" to help push our project into a place of success. Success for us means every HCP in need has the peace of mind to be able to rapidly access free PPE during COVID-19.
Instagram: @ppeforhcp
Email:
[email redacted]
Web:
PPEforHCP.com
— — — — —
Our Sponsors/Partners
Uprising Theatre:
https://uprisingtheaterchicago.com
— non-profit fiscal sponsorship (so your donations are tax-deductible)
Lashify:
https://lashify.com
— 2-day FedEx shipping labels
Momentus Space:
https://momentus.space
— 3D printed face shields
ProjectN95:
https://www.projectn95.org
— Data collaboration
Melinda A. Costa, M.D.:
https://www.drcostamd.com
— network connections with hospitals/clinicians
— — — — —
Artistic Credits
Alfonso Peduto:
http://www.alfonsopedutomusic.com/for
— music donation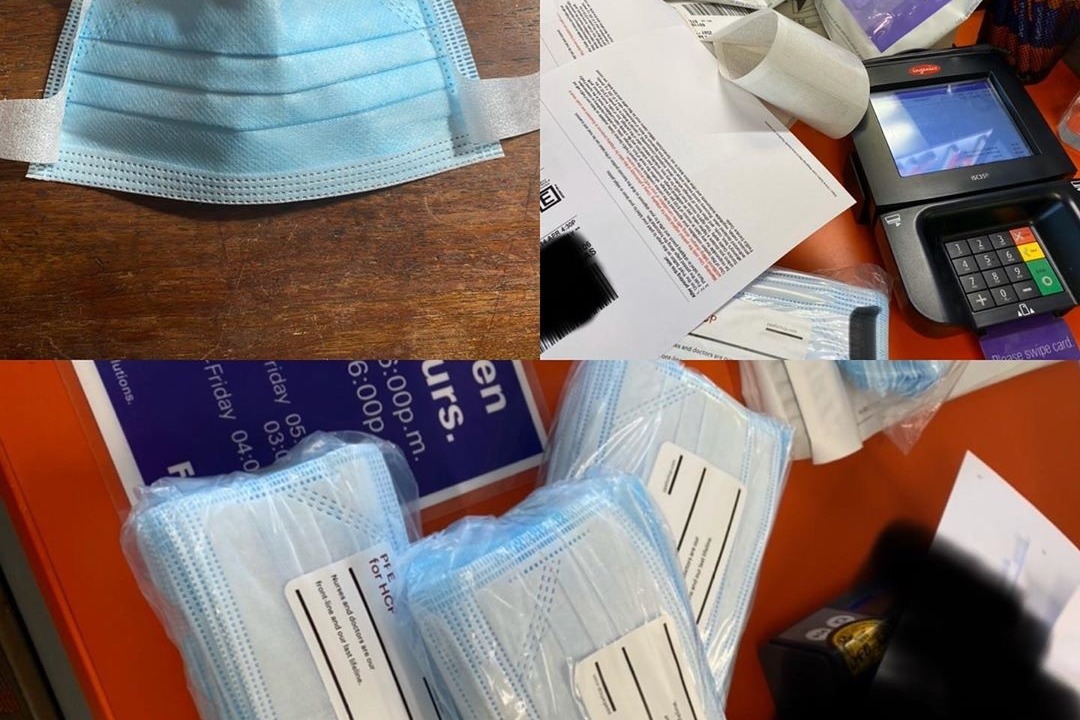 Fundraising team: PPEforHCP (5)
Sophia Boettcher 
Organizer
Raised $1,225 from 3 donations
San Jose, CA
Melinda Costa 
Team member
Raised $35 from 2 donations
Erika Boettcher 
Team member
Raised $10 from 1 donation