Ongoing support for Greg and Kelly
*UPDATED DESCRIPTION.  Original description is at the bottom.*
Hi everyone!  It's been a while since the last update.  Kelly, Greg, Clayton, and Carson have been adjusting to being all home again through the fall and winter.  There's no doubt that this was made easier by the generous donations of friends and family as well as compassionate strangers.

What follows is a breakdown of where they are right now and what they are expecting going forward.  It's an update from Greg with some additional information from me:

"Kelly has made tremendous progress. She is able to move around the house fairly well. Though she still requires someone to be with her 24 hours a day. She is still experiencing cognitive impairment that is most notable in her speech patterns, short and long memory, and word retrieval. Her right arm still has very little movement. She goes to physical therapy, occupational therapy, and speech therapy. Insurance is starting to question whether they will continue to pay for her therapy. We may need for her to go to a special rehabilitation center that insurance will not cover or we may have to continue therapies on our dime. In addition, we have to modify our house so it has easier access. This included remodeling, the bathrooms, garage modifications for accessibility, as well as front and back door accessibility modifications. Thanks to the money already raised were able to work out a reduced settlement on the Medivac bill of $40K. As well as the ambulance, plastic surgeon, and various other bills but that ate through a good portion of our funds to date. We will probably also require in home therapies and attendant to help with Kelly as well."

As of right now, there is still a bit of the donation money left to get them through the short term, but in February, Kelly's short term disability ceases and her long term disability coverage kicks in.  Because of the reduction in benefits and the loss of medical benefits, it will be an overall reduction in household income of $1800 per month.

In-home therapy will cost up to $60/hour.  Just having someone attend to her while Greg and the boys are at work and school will be around $25/hour.  These needs will likely be permanent.  To remodel their bathrooms will cost about $20,000.

The response to the initial fundraising campaigns was enthusiastic and overwhelming.  They were enough to alleviate most of the financial burdens until recently.  Unfortunately, the financial needs are not only ongoing, they will shortly be increasing.   Once again we are putting out the call for people to consider helping again.

There are two ways to donate on the GoFundMe site.  The most common is the one-time donation.  This is the standard method.  The other is to check the box to make it a monthly donation.  A few people are participating in this method.

Alternatively, if you'd like to avoid the fees that the fundraising site takes out of your donation, or if you are not comfortable using your credit card online, please contact Greg or me for alternate means of donating.

Once again, your support is very much appreciated by the family.

 

*NOTE: This is stage 2 of the fundraising.  The stage 1 page can be found here: www.gofundme.com/powell_family*

On June 1, Greg made his first Facebook post alerting his friends that Kelly and Carson were in a serious car accident and were already at the the hospital.  Over the next few days, Greg kept us in the loop.  Carson suffered some broken bones an injured lung and handled it with the same strength that he's handled everything since he was born.


Kelly fared worse unfortunately.  She's been in a coma since the accident.  This is Greg's most recent post about Kelly's condition from 11pm on June 7: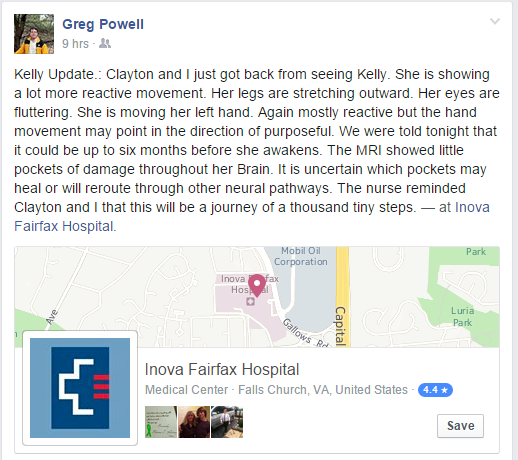 When I set up the first fundraiser, I was blown away by the support that the family received.  Friends, family, and strangers from their neighbourhood, all over the United States, and all over the world came together to chip in.  In only one week it gathered $36,793.  While it's up to the medical staff to take care of their health, we could at least alleviate financial stress. 


I also know that the Powell/Hennessa family has a great circle of friends and family locally that are supporting in every way that is needed.  


The road to recovery is long.  This second wave of fundraising is being set up with that in mind.  This campaign is also being set up properly in American currency and will be connected directly to Greg so I as the administrator won't need to act as a money mover.  I will be closing the donation feature of the first campaign and further donations will be welcome here.


You've all given so much already, but if you have the means, I encourage you to give a little more.  There is also an option to give monthly as you can see highlighted in the image below:

On behalf of the Powell/Hennessa family, I would like to thank you all for your huge amount of support so far.  


Thank you, thank you, thank you.
Organizer and beneficiary