Why am I here?  What did I do wrong?  I'm sorry I am bothering you.  I am hungry and scared.  Sadly this haunting picture is of a homeless kitten in our local community.   The eyes tell it all.  This is the plight of this kitten and his family of 10-20 other kittens and cats.  
The momma was abandoned and dumped to fend for herself.   With breeding time and time again, sadly now there are many unwanted and forgotten about kittens and young cats left to fend for themselves in one local area of my  community.   Sadly, prior to this posting, two kittens were tragically killed trying to stay warm in a car engine when the Resident started his vehicle in the morning. 
It is heartbreaking to know they have no home and food resources with the severe Pennsylvania weather approaching.  These poor babies have been deemed a nuisance to the community and Ordinances were changed that state that they are no longer allowed to be fed.  Anyone caught feeding them will  face fines and/or jail time.  Some residents were feeding them and providing shelters but are no longer allowed  in fear of being fined and/or jailed.   So all that these babies have ever known has been taken from them. 
This beautiful gray kitten has fur like velvet.  So beautiful!!  Always comes out to greet you hoping for something to eat.  The Calico kitten below is just so beautiful.  Always comes out and just lays there watching you.  Both are highly adoptable.  They are fearful but not feral.   Both would make great companions with some tender loving care and showing them human love and kindness.  So heartbreaking that they couldn't come home with me.  Imagine the heartbreaking feeling to know that you had to leave them behind to fend in the cold for themselves and pray they find food.  These 2 kept coming trying to get into the trap for food but had to be shooed away as we came for the smallest kittens that would not survive without help.   Their faces haunted me for days as they are still babies themselves. 
These 3 are the lucky ones that came home with me to a warm house and loving human touch and knowing that they never have to fend for themselves in search of food.  These babies were deemed feral.  They were fearful at first but after a day became so trusting and paid me back with lots of kitten purrs.  They are also hoping to be adopted into their forever home. 
Our goal is to trap as many as we can and have them spayed and neutered and immunized.  But with so many, we need help in funding this effort.  Any amount would be greatly appreciated.   Any dollar amount, even  $1.00 would help.   We are a group of local animal lovers and  Advocates for those who have no voice of their own.  We are not paid to do this and use our own money out of pocket to rescue.   Our goal is to find as many homes as possible.   
Just look at these 2 babies below.  They are 2 of the kittens that I rescued from the picture above.  They are very tame and love my dogs as witnessed in the picture below.  That is why I say if you can rescue them young enough, there is hope for homes for them.  It literally only took a few days for these 2 to trust me.  The black kitten is still very timid.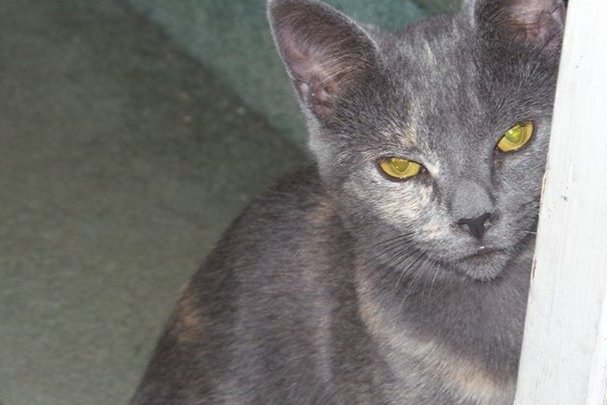 Some of these kittens and cats are highly adoptable.   For those that don't find homes, they will be placed in our Trap, Neuter, and Release program that several of us in the community are funding ourselves.   Any extra funding that remains after the spay, neutering, and immunizing will go into a fund to provide for other cats and kittens that are homeless in our community  to be spayed and neutered.  Ultimately the goal is to have less and less homeless cats and less and less breeding. 
Hopefully with education over time, more owners will spay and neuter their cats and laws will change for the better.  Hopefully more communities will step up for their homeless cats, which I like to call our Community Cats.