Please Help Korean Village Dogs
Part 1: The story of Jinsoon
Hello. My name is Jinsoon (a common name for female Jindo dogs in Korea). But many Koreans call me Poop Dog when they see a dog like me. I asked my mom why. She said Poop Dog is a derogatory term for Korean village dogs roaming around the streets and it means a dog that eats poop.
I was told that I was born at a place called City Pound. My mom gave birth to 8 puppies, but two of them were stillborn. One puppy was very lucky to be sent to a foster home, so that left five of us at the city pound. Three of us are brown like my mom; two are white like my dad. I asked my mom if we could live here forever and she said we couldn't. Then how long can we live here?
【In South Korea, if a dog is reported as a stray, the dog is captured and taken into local city pounds. Every year, one-hundred-thousand stray dogs enter city pounds across the country. If no one claims the dogs as their pet for ten days, they become the property of the city. As the number of dogs coming in always exceeds the number of dogs who find their owners or adopters, the pounds are always over-capacity. The dogs have a very short window of opportunity for adoption, typically between two weeks to a month. If no one adopts them in that time they are euthanized.】
One day, I overheard the word 'adoption'. I asked my mom what it meant. She said adoption means a person wants to take you home with them, give you good food, a warm bed, chin scratches and belly rubs.  I said "Mom, that is a good thing. Then let's wait until we are adopted!" Suddenly, her face clouded over.
【In South Korea with over 50 million people, it is estimated that 10 million (20%) have companion dogs, but only 5-10 % of them adopt abandoned dogs. The dog adoption culture is still underdeveloped in Korea. Those who do choose to adopt prefer small dogs and/or pure bred dogs. Medium-large Jindo mix dogs like Jinsoon's family have very little chance of adoption. The majority of Korean village dogs who roam around the streets and multiply, and end up being taken into city pounds, are medium-large Jindo mix dogs.】
I asked my dad what would happen to us if we are not adopted. He said we would have to cross a bridge called Rainbow Bridge.  I asked again "Dad, rainbows are beautiful, so this must be a good thing?" My dad gave me no answer.
【Every year, throughout the country, fifty thousand stray dogs who entered city pounds die from disease or euthanasia; in many cases, euthanasia is done without anesthesia, although it's against the law.】
As I asked more questions, the faces of my mom and dad clouded over more. I decided to stop asking questions. My siblings and I grew quickly. As we grew bigger, the space seemed smaller. I wondered how it would feel like to run in an open field as fast as I can, but I couldn't imagine it.
One day, my mom and dad looked happy. I wasn't sure what was going on, but it seemed like we were not supposed to cross the Rainbow Bridge after all.  We were put in a big car and driven away, leaving the city pound behind.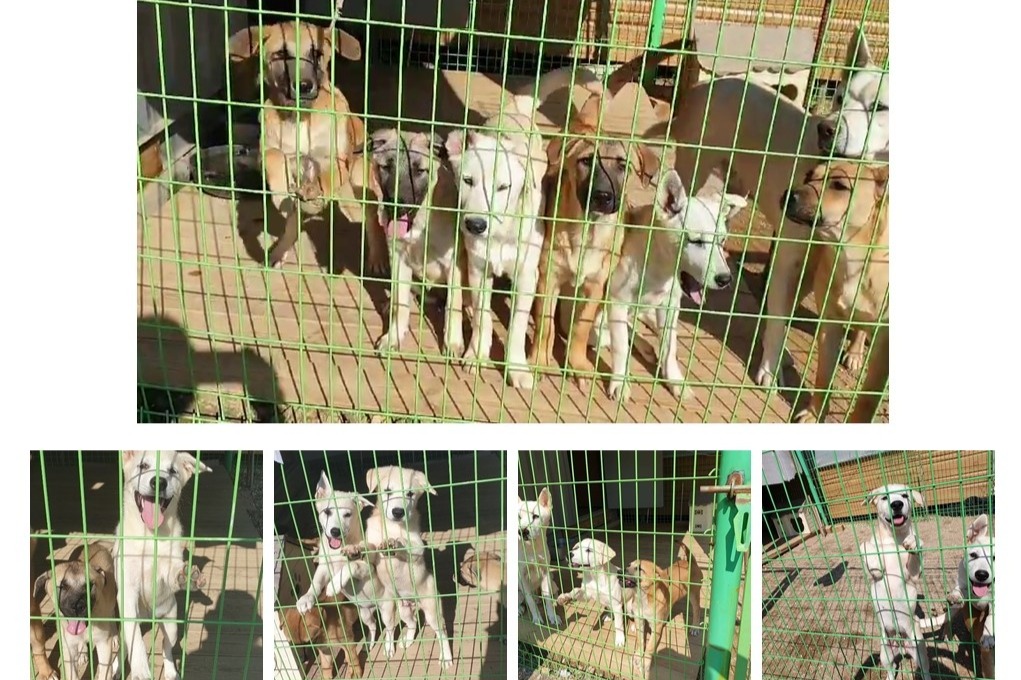 △ Jinsoon's family being transported to a private shelter
【Many individuals and dog rescues in Korea are working constantly to prevent dogs from dying at city pounds, but there are so many dogs in need of help.
Fortunately, thanks to the help of one individual rescuer, Jinsoon's family was taken into a private shelter. That's the good news. The bad news is that the chance of Jinsoon's family being adopted in Korea is less than 1%.
For the past two years, Loved at Last Dog Rescue (a dog rescue based in Vancouver, Canada) and Welcome Dog Korea (a dog rescue based in South Korea) have formed a partnership committed to finding homes for these dogs that would otherwise have no future. So far, 281 dogs have been placed in loving homes in British Columbia and Washington. Many more dogs are waiting for this chance.】
△ Korean village dogs before they were rescued
* Video link:
https://youtu.be/6qj9tYZiiRg
△ Korean village dogs after being adopted to Canada or United States
* Video link:
https://youtu.be/OYuWjxT9_WM
Part 2: The story of Korean individual rescuer
Hello. I'm an individual rescuer living in South Korea. I have a job. I don't have enough free time to do rescue work.
But when I see the photos of my rescue dogs who were adopted to homes in North America enjoying a happy life full of adventures, I know I can't give up. I must rescue one more dog and give that dog a chance to live such a life.
So I can't stop doing this.
Every day I know another dog will enter the city pound and at the end of that day the euthanasia list might be posted.
【The moment someone becomes a rescuer often happens after finding a very skinny village dog roaming the streets. The concerned individual reports the dog to a local city pound, thinking the dog will get veterinary care and adopted out to a good home. They assume that's why city pounds exist.
Before long it becomes clear to the rescuer that the chance of a Korean village dog being adopted is less than 1% and in no time they will be euthanized. Faced with this harsh reality, the individual can't turn away and decides to take the dog out of the city pound. At this point the only real option is overseas adoption, but this involves considerable expense. This is where the individual has to ask for financial help in the form of a sponsor for the dog. In Korea these sponsors are referred to as godmothers or godfathers and without their help it would be impossible to send some of the dogs overseas.】
This year, I already took 30 dogs out of city pounds before they were euthanized and put them in a private shelter. It turned out many of them were heartworm positive. Some of them needed patella surgery. I already spent all my own money and all the donations from godmothers/godfathers to treat them, but I couldn't turn away Jinsoon's family. When I moved Jinsoon's family to a private shelter, I slept fitfully with many worries. Sometime later, with help from one generous godmother, I managed to cover the expenses for Jinsoon's parents and the two of them were sent to Welcome Dog Korea adoption preparation center.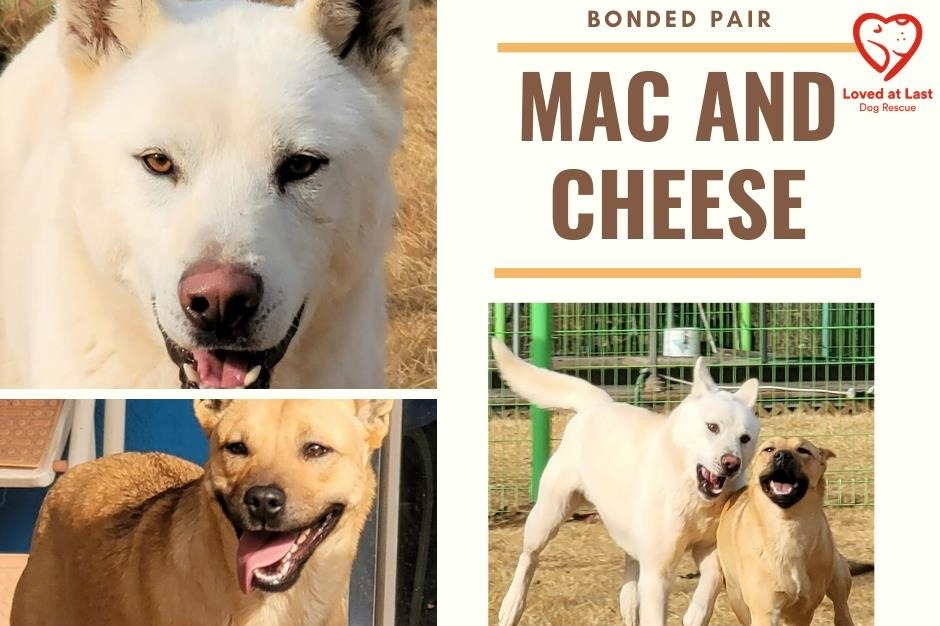 △ Mac & Cheese's adoption ad written by Loved at Last Dog Rescue
On Apr 28th, I heard wonderful news. Jinsoon's parents (who got cool English names: Mac & Cheese) were going to be adopted by a loving family living in Canada. I never imagined that Mac & Cheese would be adopted together. I was filled with joy. 
【Becoming a flight volunteer helps save these rescue dogs' lives as there is no other affordable way to get these abandoned dogs to new homes overseas. But since the start of the COVID-19 pandemic in the spring of 2019, travel restrictions have been imposed. Travelling has been sharply reduced; airlines have raised their fees to make up for the deficit. Not surprisingly, it has become much harder to find a flight volunteer and expenses for overseas adoption have increased.】
△ Thanks to a flight angel's help, Mac & Cheese met their new mom and dad on May 16th 
Part 3: Please give hope to Korean village dogs.
Individual Korean rescuers are doing the best they can to try to give more dogs a second chance, but rescuing dogs and sending them to forever families in North America is very costly.
With additional funding we can save more Korean village dogs like Jinsoon's family.
Can you help?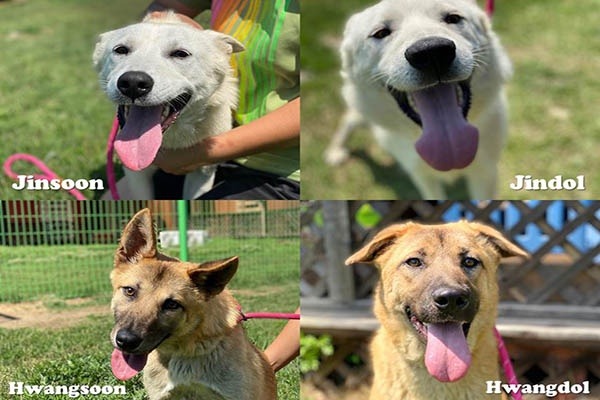 * Your precious donation will be spent for medical care for dogs (examination, vaccinations, spay/neuter, heartworm treatment, patella surgery, etc) and travel cost for dogs (crates, transportation, flight costs, etc).
* To see more about Loved at Last Dog Rescue, please visit
Website:
http://www.lovedatlastdogrescue.ca/
Instagram: @official_laldr 
* To see more about Welcome Dog Korea, please visit
Website:
http://www.welcomedogkorea.org
Instagram: @welcomedogkorea @welcomedogrescue