Pickle in Prescott Valley!
Prescott Valley Pickleball Courts Are For Everyone!The Prescott Valley Pickleball Association
is partnering with the town of Prescott Valley to build six public pickleball courts at Antelope Park, a multi-functional recreational asset sitting on 10 acres.  Existing facilities include multi-use sports field, picnic shelters, playground, restrooms, and a walking track. 
•        The Prescott Valley Pickleball Association, (PVPA), is committed to raising
$160,000
that will be transferred to the Town of Prescott Valley as a grant, to be used to build six dedicated outdoor pickleball courts.
•        Our goal is to have the courts built by
April 2019
.
•        The Town of Prescott Valley has provided the land at Antelope Park for
six (6) courts
. 
•        After completion of the courts the Town will adopt and maintain the facility into the future.  
Benefits of Pickleball
•        Visitors spend $200 average - food, lodging
•        Promotes local businesses
•        Prescott Valley recognized as "Summer destination" for Pickleball
•        Impacts home sales, re-sales, rentals
•        Further develops our Parks in Prescott Valley 

Community Opportunities
•        Target age of participants 9 to 90 years.
•        Walk-on play will be available.
•        Antelope Park will be designated as a lit community park, so night- time play is supported.
•        All members of the community are encouraged to participate. 
•        The facility will provide training, social play and tournaments  
We have USAPA Ambassadors in our Local Area
•        Ambassadors Promote the sport
•        Promote good health
•        Promote fair play
•        Promote Prescott Valley Community Projects
•        Currently over 2,000 players in Quad Area (approx) and growing
•        Promote Tournaments (Fun & Fundraising)

U. S. Census, Welcome to Quick Facts 2018:
•        43, 132 population in Prescott Valley
•        6.1% under 5 years
•        22.1% under 18 years
•        23% over 65 years
•        53.1 % female
•        18.9% Hispanic/Latino
•        4,069 Veterans
 •        Pickleball players range from 9 years to 90 years of age.
•        Age groups: Children/Youth/Adults/Senior
•        Census Data: about 22,500 population between 18 years – 64 years.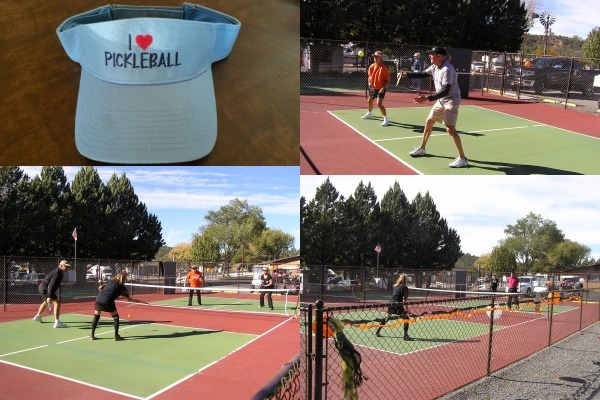 Pickleball is enjoyed by people of all ages and athletic abilities.
 Pickleball has exploded in popularity: the sport is inexpensive, social and healthy.
 Sports are a positive learning experience for anybody.  Kids especially benefit from learning how to work with others, gain communication skills, and get good physical exercise.
The courts will be utilized by the Boys and Girls Clubs of Arizona and Big Brothers/ Big Sisters of Arizona.
PVPA is a proud member of the Prescott Valley Chamber of Commerce.

Donation Level Rewards
•       
$100
  Bronze Paddle
•       
$250
  Silver Paddle
•       
$500
  Gold Paddle
•       
$1000
  Gazebo Sponsorship
•       
$5000
  Bench Sponsorship
•       
$10,000
  Court Sponsorship
Please join PVPA and help make these courts a reality.
Your generous support will make these courts a huge success!!
Everything and anything helps and is greatly appreciated. 
Thank you!
Please spread the word about our fundraiser by sharing it with your friends via Email, Facebook and Twitter.