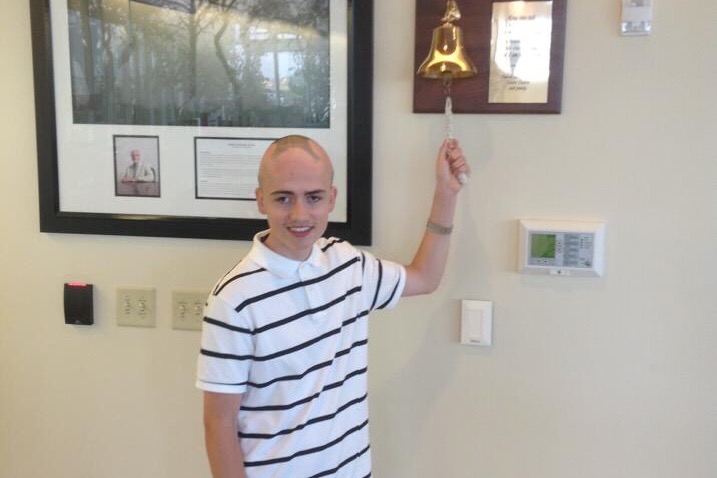 All of us here at Templar's Primary school want to show our love and support to our much loved colleague and friend Callum, his family, partner Georgia and baby daughter Isla-Grace.
Callum has been fighting for his life in critical care for the last five weeks after complications from a biopsy and now his family have had to deal with the heart breaking news that Callum has a terminal, stage 4 brain tumour. We create this page with hope to relieve some pressure from the family at this incredibly difficult time.
Callum's Story
Callum was diagnosed with a brain tumour at the early age of 6, just before his 7th birthday in 2005. His tumour was discovered due to deterioration of his eye sight, constant headaches, sickness and an obvious change within himself. 
 He underwent a 6.5 hour operation at Birmingham Children's hospital with the hope to remove as much of the tumour possible, however, the position of the tumour in his brain presented high risks and surgeons could only remove one third of the tumour. 
Callum then had 18 months of chemotherapy from 2005-2007, from the age of 7. His life during these years consisted of back and forth trips to the hospital due to infections, blood transfusions, scans, tests, temperatures and a lot of scares. 
Over those 18 months Callum was unable to attend school, therefore was home schooled and unable to do all the things that a little boy of his age should have been doing. 
 In 2013 his tumour became active and Callum was told the devastating news that his tumour had started to grow once again. This time, it was suggested that proton beam therapy was the form of treatment best suited for him. Since proton beam therapy wasn't available in the UK in 2013, it meant Callum and his parents had to fly to America (Oklahoma) to receive the treatment he needed. They spent 2 months in Oklahoma and upon completion of his treatment, Callum was awarded with a special medal to signify his bravery. 
 Despite all the bad, Callum has a huge personality; forever lifting other people's energies, always smiling, laughing and being silly. It's forever said that Callum never fails to leave a lasting impression on anyone who meets him. Determined not to let his illness hinder his life and ambitions, he completed childcare at college and landed his first job as a teaching assistant, helping children who like him, have their own disabilities.
 In 2017 Callum met Georgia, the love of his life. Happier than ever they decided to try for a baby, despite Callum previously being told he was unable to have children due to all the treatments he has had in the past. 
On February 13th 2019, they were blessed with the birth of their beautiful baby girl, Isla-Grace. 
A true living miracle
. 
 All Callum has ever wanted was to be a dad and have a family of his own, it's always been his one wish. Happier than ever, everything was falling into place, he was living the life he once thought couldn't happen. 
 Callum now works at Templar's Primary School in Coventry as a learning mentor. Being the caring, compassionate person he is, Callum adores his job and the children there, both staff and the children adore him too.
 On April 13th this year, Callum was enjoying a night out with friends when he was pushed over and banged his head. As a precaution he went to hospital to have this checked out. Unfortunately, scan results revealed a second, new brain tumour. 
Initially, Callum and his family were led to believe the tumour was very small in size, which gave everyone hope that it would be manageable. This, however, was not the case and the tumour was in fact large in size.
 Neurosurgeons and professionals advised that in order to gain a better understanding of the new tumour, a biopsy was necessary.
On the day of his biopsy, 8th May, Callum remained positive throughout. Laughing about his hospital stockings and kissing photos of his daughter, he reassured all his family of his love for them. 
 Unfortunately, the biopsy didn't go as planned. Callum had a severe bleed on the brain during the operation which resulted in surgeons placing two drains in his head to remove the excess blood and fluid, in an attempt to relieve the pressure on his brain. 
 Callum's family were told on that night that he was not expected to make it and that he is now severely brain damaged. Within a day, life was flipped upside down for Callum, his family, his girlfriend, daughter and all his loved ones.
 Since the biopsy, the family have been advised his tumour is behaving like a Grade 4 and is unfortunately, terminal. 
 His family have been by his bedside throughout, unable to work. There are no words that can bring comfort, however we hope to ease the financial pressure for the family. In aid to show how truly loved and missed Callum is by all of us here at Templars Primary school. Thank you for taking the time to read Callum's story and any donation that is made is deeply touching for all of us.