Tatum's Journey (Lifelong Struggles)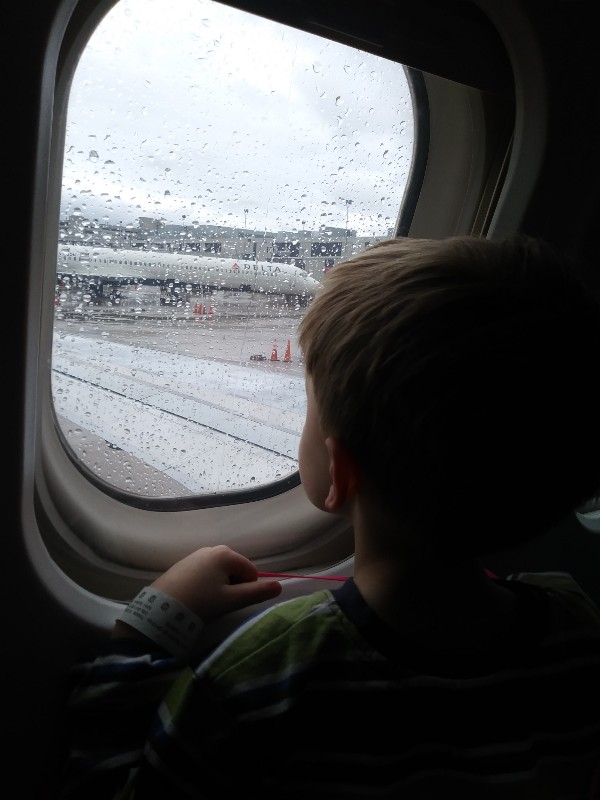 Hi Everyone! My name is Tatum, and I'm 6yrs old now. I was born with OI (Osteogenesis Imperfecta) My bones are made of glass. My Mommy and Big Brother have it too. There is no cure for OI, so I have to be extra careful when I play with my friends. I fall a lot. I've had a lot of broken bones, my teeth hurt a lot, and I've bumped my head from falling so many times I can't remember., I'm starting to fall more often lately. I have a special leg that's about 3inches shorter than my right leg. My foot doesn't bend so my heel can't touch the ground. So, I have to walk on my tip toes on my left side. My foot is starting to roll over because I'm growing bigger. I now walk on the side of my pinky toe. It's causing my limp to get really bad and my hip to get out of place. The doctors call it Leg Length Discrepancy. And the bigger I get the worse it gets. I need a bunch of special surgeries that my family can't afford and now my Mommy has to stay home with me and not go to her job anymore. I am now in the first grade! I am in what's called a 504plan. I was a big liability before school started, & mom could not put me in child care. Please help my family get my leg fixed. Thank You...... Tatum           
My Family Needs Your Help! This is just the start for Tatum. He was born with a rare disease Osteogenesis Imperfecta (type All) Brittle Bone Disorder, causing his bones to break. He's Highly Asthmatic, and has Leg Length Discrepancy. It has brought him to this journey in life that decides if he can have a chance to walk normal, or not. His insurance barely covers anything. We need to leave the state quite a few times to see his physicians at Philadelphia Shriners Hospital for Children and our Atlanta Drs.I NEED YOUR HELP to make this journey possible for my child! We have been approved for Angel Flight of Ga, which provides a private pilot to and from appointments (weather permitting) but we have to have another way on Flight Transportation. We can't do flights with them because they need a very big notice. If Tatum breaks something or has any issues, we have to leave right away. I have no way of getting him there. Shriners will cover our medical, overnight stay, taxi from airport, and food. Not Travel without 30days notice. Our insurance 0. Due to it being out of state. Tatum has to go every 2weeks for the next 2mths @Shriners in Philadelphia to change out his cast and also get a tendon procedure done where they cut the back of the heel to bring it down.  (((Update:10/7/19 Tatum had 5 cast changes and his tendon procedure done! All went perfect. Thank You for your Prayers & Support! ))))After they get his heel to come down, he will have his first major surgeries on his leg & foot.
We applied 2years ago for Disability;  Still its always another phone call from a different case worker stating he needs more medical evaluations from SSI doctors, or if I call their mailbox is full. We have reached out to Foundations, Organazations that could help. We've applied for medical grants, you name it. They just don't hand them out. He is waiting to be approved, his case reviewed, waiting list, and other factors. With 3 boys, 2yrs, 16yrs, 6 and myself that's a lot of stress. His story/Our story is below. You can read it threw my eyes the way I see how my child needs me to be his voice when he has no one.
PLEASE, TAKE A FEW MORE MOMENTS TO READ AND DECIDE IF YOU WOULD LIKE TO HELP US WITH OUR LIFE STRUGGLES... 
Half the time I don't know what to say? He doesn't understand fully that he has a disability. He knows there is something wrong with his body, but can't understand why?  And even if you tell him, He can't comprehend the severity of it. Tatum is a very active 6yr old little boy who is full of life. He goes non stop 24/7 even though his leg and foot is hurting. I don't know how he does it? He needs major surgeries on his left leg, ankle, foot starting right now. Its going to take a lot of time and money to keep our family together. Physical theraphy, special lift shoes, after care for preventing infections, and much more.
Tatum's First
Big Surgery He Needs...
 With external devices, pins and rods are inserted. They provide a path right into the bone. The screws in the external leg-lengthening device are turned several times a day to lengthen the bone, but the fasciia, muscles and tendons, require regular physical therapy to stretch and keep pace with the lengthening. The internal fixator significantly reduces the infection risk posed by external devices but still requires months of healing and lengthening. 
Myself and my 16yr old suffer greatly from this disease as well. Osteogenesis Imperfecta is a rare disease with no cure and its hell on the inside and out. I've lost count on how many bones I've broken. It is really like being made of glass. It is a daily battle for me just keep it together for my children. I have no choice but to be strong for them. But how in the world can I continue to do that when I can't be strong for myself sometimes? I have moments where I lose myself and just pray for strength to function.
I love my children more than anything in this world and if I gotta move mountains to help them have a normal life, I will dang sure try. I will reach out to anyone who is willing to help me move that mountain, give me advice or just wants to pray for us. Bullying is such a big factor these days and kids with low self esteem suffer big time. I am faced now with a life situation that I can't avoid, that I can't afford and I can't handle by myself. This is a debt that I can not pay back. All I can do is say THANK YOU from the bottom of my heart and God Bless You All. Thank you for helping me when I have no way to support my children's needs. Thank You for your compassion and understanding life's struggles. 
THANK YOU
.... The picture below is Tatum right before he hit a growth spurt.
Just less then a year ago. 
As you see his legs bow in and he leans to the side. 
THIS PICTURE IS NOW..
Tatum's Big Brother Jesse.........(Pectus Carinatum) its the deformity in his chest. He to has broken countless bones, tooth loss, and other medical conditions.


Recent Picture of Tatum 10/7/19 He just got his second brace and shoe lift. He has not yet had his length procedure done. 


CashApp: $tatum4112

10/7/19 This new diagnoses is not due to Tatums OI. Just another mountain we are facing. We go to the Urologist tomorrow to find out our surgery options. His results for this was benign! Thank You God for hearing our prayer warriors & telling our Drs. Amen!!
Donations

Organizer
#1 fundraising platform

People have raised more money on GoFundMe than anywhere else. Learn more

GoFundMe Guarantee

In the rare case that something isn't right, we will refund your donation. Learn more

Expert advice, 24/7

Contact us with your questions and we'll answer, day or night. Learn more