OC Album w/ YashAkasha Prod. Treaphort &Feat. Amor
ORIGINAL CURRENCY LIVE AT COMMUNITY SHARE FEST IN DENVER, COLORADO - 2019


About this Fundraiser
Are you ready for some fresh vibrations? 

In contrast with the mainstream rap entertainment industry... Paying homage to our predecessors... And staying true to the gritty roots of the Hip Hop movement... we bring you Original Currency... Music that's made by and for the people!... Intended to raise consciousness and promote self-knowledge, we are creating high grade sonic medicine, with no corporate backers, no hidden agendas, no monolithic label...
And we need to know that YOU care to support it, that you WANT to hear this music, and to make these dreams come true. We need to know that -- if the source of creativity within ourselves is moving us to make this art -- then maybe, just maybe, there's a listener who's anxious to receive it on the other end... Tell us... show us... could that listener be you? If so, just know, each dollar means the world, and we literally couldn't be more grateful for your contributions.

______________________


Original Currency:  A Conscious Hip Hop Collective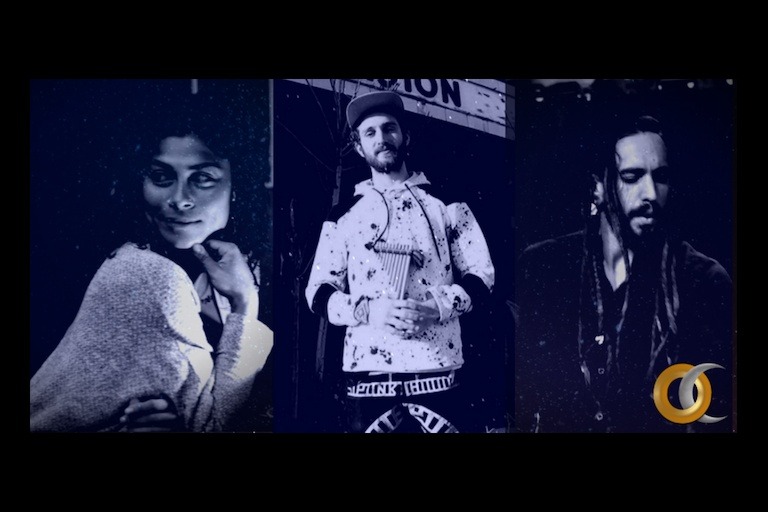 Primordial presence meets purposed creative flow... and it's fresh to death.

Beloved local DJ, Rob Treaphort, and interdimensionally touring MC, YashAkasha, have joined forces with a striking and powerful vocalist, Amor, to form a Renaissance Triad like no other. Together they co-create the ultimate Hermetic Hip Hop fusion for the Current Era. The grooves make you move, the vocals are rich and rootsy, and the lyricism is right on the money. Through the ancient codex of rhythm and rhyme, we gain access to a secret alphabet, a universal language, and a supreme intelligence.
________________________________________

Our Divine Vocalist: Amor

Amor expresses her passion for divine creativity through music and dance. In the past decade, Amor has toured internationally as a professional vocalist and dancer, performing over 200 shows in 23 different countries. In 2012, she performed a Hip Hop song in front of the president of Taiwan -- on national television -- with 150,000 viewers.

Amor is excited for the opportunity to share vibrant, animating, and invigorating music with Original Currency... and the Original Currency collective is honored by this promising collaboration. Bringing timeless melodies and catchy hooks into the mix, Amor diversifies and punctuates the sound of driving rhyme-schemes with the fluidity of sacred invocations and prophetic proclamations for the changing times.

Learn more: yopeaceyoga.com

________________________________________

Our DJ & Producer: Treaphort

Treaphort is a well-respected architect of ecstatic sounds, who has been plugged into the international dance circuit for a decade and has been producing and DJing for almost two decades, since the age of 13. He is the founder of Golden Turtle Sound, co-director of Rainbow Lightning, and co-founder of Original Currency. 

"Audio production is a form of active meditation for me; a way to center my mind and cultivate creativity. The music that is channeled reflects the state of alert calmness that one receives from practicing presence.

As my experience and knowledge of sound, vibration, energy and life deepens; so my music develops as well. I am constantly learning more about frequencies, vibration, intentional tone, etc. and how they interact and affect our bodies and minds, weaving these ideas into the audio production."

--Treaphort

Learn more: treaphort.org 

___________________________________

Our Lyricist & MC: YashAkasha

YashAkasha has been performing poetry on stage and rhyming with a passion since his earliest childhood memories. Soon after his first homemade music video quickly gained thousands of individual views on YouTube, his song for Standing Rock was selected as a finalist for a Hip Hop competition by Talib Kweli and Xiuhtezcatl Martinez. He then went on to release his first album, Rapture (2017), which was recorded on zero budget in a friend's garage and is now available through several online platforms. The Rapture album was well-received, including press coverage in Delumin/a online journal, which is also responsible for album reviews of Matisyahu. YashAkasha is also about to release his second album, Renaissance, a next-level collaboration by Original Currency, which is his new project including professional DJ and producer, Treaphort, and a striking, enigmatic vocalist who goes by "Amor".

Learn more: yashakasha.com

___________________________________

ORIGINAL CURRENCY LIVE AT HEARTFIRE FESTIVAL IN BOULDER, COLORADO - 2019


___________________________________


"What Am I Supporting When I Support Original Currency?"

->Conscious Hip Hop album debut: Renaissance
->YashAkasha's all original lyrical fire
->Original production work and live DJ'ing by Rob Treaphort
->Empowered divine feminine vocals by Amor
->International touring & events w/ dancers & special guests
->Standing for freedom of expression, mental emancipation, and spiritual sovereignty 
->Non-profit 501(c)3 production label for community building and empowering grassroots creativity
->Charity work and community building for intercultural solidarity
->Promoting education, wellness, and self-development
->Sharing spiritual practices & preserving ancient traditions
->Fair-exchange merchandise & regenerative marketplace

___________________________________

Budget and Expenses

Production Work
Production -> $150/track = $1800
Recording/Tracking -> $25/track = $300
Editing -> $75/track = $900
Mixing -> $150/track = $1800
Mastering -> $20/track = $240
Studio space rental = $678
Total = $5,718

Management
Logo design = $110
Web design = $410
Show booking = $100
Logo animation = $180
Fundraising work = $100
Total = $900

Music Video #1
Coordination = $50
Filming = $900
Dancers = $138
Editing notes = $30
Costuming = $70
Choreography = $100
Promo = $100
Total = $1,388

January Videos (#2-4)
Filming = $750
Performance = $100
Promo = $200
Total = 1,050

Vocals
Lyric development -> $150/track = $180
Vocal recording -> $250/track = $3,000
Edit notes -> $20/track = $240
Scheduling & coordination = $40
Hooks -> $25/track = $275

Total = $2,380

Grand TOTAL: $14,411--
(not counting live performance factors)

______________________________________________________________________________

About the Album

Title: Renaissance
Release date: 2019 or 2020
Length: Approx. 45 minutes
Songs: 12-15

1) Pythia
2) Onomatopeia
3) Big Respect
4) Shibboleth
5) Omniversal
6) Theia Mania
7) Kemetic Ka
8) Compersion
9) Peace Monger
10) Medicinal Romance
11) Kabbalah
12) Brainstorm

______________________________________________________________________________


Original Currency Debut & Renaissance Album Release Party 
@ the launch of HeartFire Festival in Boulder, CO - 1/19/2019


Event page: facebook.com/events/315801642590787/ 

Ticket page: worldchangers.us/heartfire

______________________________________________________________________________

Press



"I've been watching your shows online and it sounds blessed."
—Josh David Barrett
(Lead Vocals and Lead Guitar for The Wailers)

"Keep spreading the love!"
—Fantuzzi
(Famous Musician, Global Troubadour)

"I have been listening to the CD and I am impressed. It's quite the masterpiece."
--Moriah Hope
(Healer, Author at Shakti Journal)

"This is hip hop born from the need to create a new world where all people can turn up in the name of peace and unity."
—Connor Ryan
(Tour Manager for Dustin Thomas)

"I've never heard you play with the band before! That was awesome!"
--Alais Clay
(Hip Hop Artist, Lightworker at Star Tribe Alliance)

"A do-it-yourself musical throw-down of youthful enthusiasm and commitment to change-making possibilities that will drive a crowd of ecstatic dancers…"
—Delumin/a 
(Album review by Pir Netanel Miles-Yepez)
Click here to read the full article 

______________________________________________________________________________

About Our Record Label



Worldchangers Organization

Worldchangers Organization is an interdisciplinary 501(c)3 nonprofit and spiritual school dedicated to personal transformation and inner peace as a vehicle for global transformation and peace in the world. As a public charity and a youth-led international movement our primary initiatives include: Education, Creativity, Healing, Sustainability, Diversity, Leadership, Spirituality, and Reciprocity.

Learn more: worldchangers.us 

YA Productions

More information about YA Productions TBA shortly!


______________________________________________________________________________
Organizer
Yash Akasha
Organizer
Boulder, CO