Open Studio Cambodia COVID Relief for Artists
Now is the time to show your support for the artists of Open Studio Cambodia!
Open Studio Cambodia artists have lost 80% of their business to the pandemic and COVID cases are sharply rising. We need your contributions now to support the artists we work with. For example, $50 pays for a week of food, lodging, utilities, and basic necessities for one of the families we support. If we meet our fund raising goal we will be able to offer $200 stipends per family per month for 3 months. The funds we raise will be used in the following ways:
- Financial assistance of up to $200 per family per month to sustain their basic needs as they endure lockdown measures to prevent the spread of COVID which prevent them from reaching the studio, selling, and shipping their artwork or working in general as in the cases of our driver, installation assistant and full-time admin staff. If we meet our fund raising goal, we will be able to provide this kind of stipend to up to 10 families for up to 3 months.
- Assistance to pay for the rental of our gallery/studio space in Siem Reap, Cambodia ($400 per month). This space is essential to safely create, exhibit, sell, store, ship, and teach art for all of the artists we support. Our gallery and studio space is a necessary part of our future success when tourism resumes in the future.
-The development of sustainable sources of income through of art-based products and projects to provide income to the artists which can be produced outside of Cambodia and sold online, for example, a book about disabled block print artist, Morn Chear's life and vision illustrated with his own original artwork.
Any donations of $200 and over will receive a small, signed fine art print by post (USA & Cambodia-based donors only) when the situation allows.
Thank you for your contribution to the artists of Open Studio Cambodia!
Open Studio Cambodia is an artist collective working out of Siem Reap, Cambodia, the gateway to the ancient temples of Angkor Wat. It was founded in 2018 by Seattle-born Japanese American artist, and long-time resident of Cambodia, Lauren Iida. Together with her team, Open Studio Cambodia mentors, represents, and provides free quality art supplies, gallery space, a fully-equipped studio, marketing, and international exhibition opportunities to a group of six Cambodian emerging visual artists who work in a wide range of mediums including block print, painting, drawing, photography, sculpture, and more.
The Open Studio Cambodia community consists of ten families, all of whom are from impoverished rural areas including two physically disabled visual artists who are unable to find alternative work. One young, female artist relies on Open Studio Cambodia for safe, permanent housing. Two families we support are currently under extreme lockdown in Phnom Penh, in the infamous high-COVID count "red zone" areas where their food security is currently threatened and they are not allowed to work for the foreseeable future. All of the six Open Studio Cambodia visual artists rely on their once-thriving art sales as the primary income for their families and this income is now seriously jeopardized due to the pandemic. Currently, due to strict lockdown measures throughout the country, we are also experiencing intermittent suspensions of international shipping, making it difficult to send our artwork to potential buyers outside of Cambodia, virtually eliminating our ability to make essential sales.
We believe in the power of art not only to enhance the lives of the artists we work with, but as an important platform to share the stories that define all of us. In this challenging year we have remained steadfast in our commitment to our artistic practice and supportive communal studio environment, and adaptive to the changes all around us.
Your contribution will enable us to continue supporting the artists we work with and our greater Open Studio Cambodia family through this extremely difficult time.  Thank you for your contribution. 
Cambodian artist Morn Chear explains the impact of COVID on his livelihood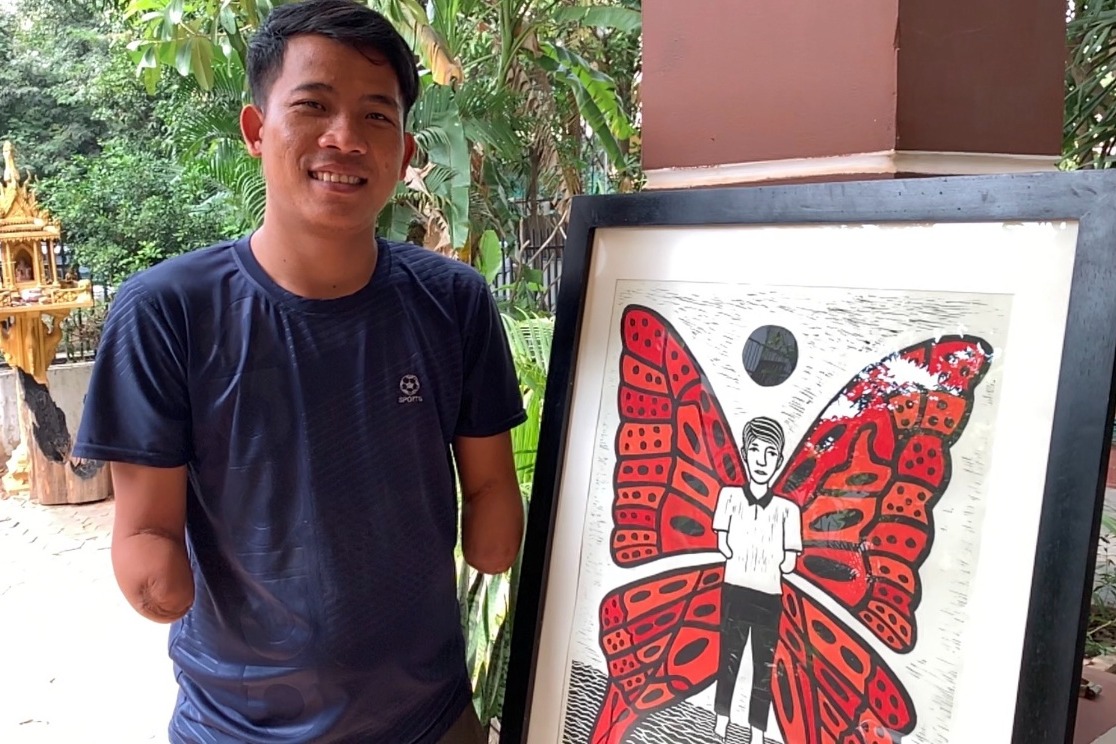 www.openstudiocambodia.com

#openstudiocambodia